A few weeks ago I wrote a post about riding on El Hierro, the smallest of all seven Canary Islands.  Over winter break I spent about a week there with my host family and my Brompton folding bicycle.  After the new year dawned (welcome 2014!) we caught a ferry to go to Tenerife, the largest of the islands.
The red dot in the figure to the left marks El Teide – the highest peak in all of Spain.  It rises 12,198′ above the sea in only 4.5 miles (as seen from above).  The entire island is very mountainous, and riding through the various elevations showcases a fantastic diversity of plant life.  The warm temperature and polite cars certainly added to the wonderful time I had cycling!
I did three main cycling day trips during my time there.  The first trip was the most ambitious:  I started in the university town of La Laguna, and climbed into the scenic, northern part of the island.  This area is mainly a national protected area.  Unfortunately, it is also famous for the clouds that form when the warm ocean air hits the steep hills.  On this particular day, the clouds were out in full force and I even got rained on.  The ride was still stunning, however.
Within an hour I was out of the heavily populated zone and into the protected area.  The trees grew over the roadway, the pavement was smooth, and traffic was sparse due to the cloud cover and the extreme curviness of the route.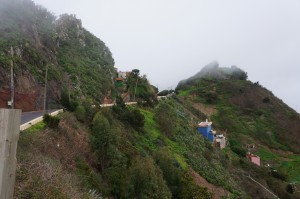 To the left is the road I traveled on.  At this point a couple of men got out of their car to take a photo.  They complained of the cold weather.  It was about 50 that day, and I smiled and told them how cold it was at that moment in Pennsylvania.  They gasped obligingly.

A particularly photogenic curve in the road.
Eventually, I began to descend back to sea level.  It was a very long descend, but it was wondrous to finally emerge from the clouds to find a warm, sunny day below.  The road ended in the small town of San Andres.  Most of the houses here are built into the steep walls of the mountains, and the region is famous for its seafood stews.
San Andres is connected to the big city of Santa Cruz by a narrow strip of highway next to the ocean.  There is a nice pedestrian walkway the entire length of the road, which I used to arrive quickly.  Once in the city I folded the Brompton up and boarded the light rail to return to La Laguna, where my family was waiting.  It was a beautiful little loop!
My other two day rides were in the same protected areas, but on lesser-traveled roads and on sunnier days.  I even met up with a trio of touring cyclists one day!