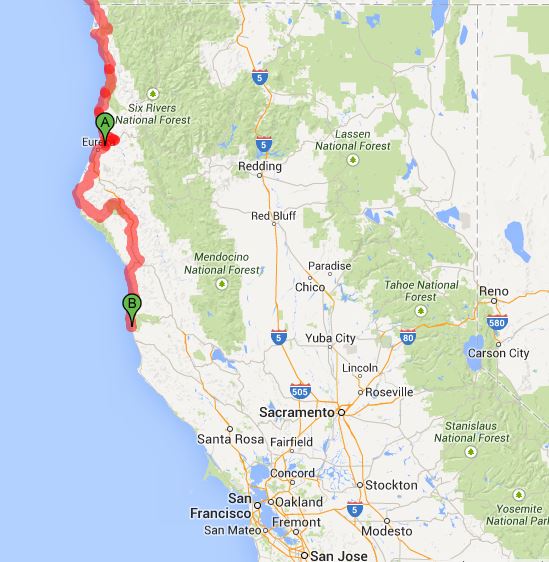 We have been on the California coastal route for a few days now, and we have definitely had a lot of experiences and formed some opinions about the area! Our favorite part of the coast was the section known as the 'Lost Coast' because of its steep hills and isolation. We spent two days on an alternate route through this area. We have also enjoyed more redwoods, the rugged coastal cliffs, our interactions with other cyclists, and the hiker / biker areas in the state parks. The traffic has been frustrating, as has been riding on a major 4-lane highway for portions. Also, we have had some funny, and harmless, interactions with the local free-spirits. More on that later. To the left is a little map of our route for these few days.
We spent most of a day resting in the Arcata / Eureka area, which was very much needed. We actually didn't do much besides eat, read, and sleep at the local KOA (Kampgrounds of America – obviously the founders weren't winning any spelling bees). These are the Hiltons of campgrounds. They usually have pools, playgrounds, billiards, and pancake breakfasts. We were just happy for a quiet spot out of the way to read all afternoon.
Immediately after our rest day we started on the Lost Coast. The turn-off was tucked away behind the quaint Victorian town of Ferndale, which we really enjoyed. The Lost Coast is cut off from most of California by some very steep, very forbidding mountains. We were amazed at just how steep the road in was – definitely over 10% for at least four miles. The pavement was pocked, patched, and neglected but the views at the top were stunning. We could see for miles! Surprisingly, most of what we saw was cattle. Yes, you read that right. Ranchers use the tops of these forbidding mountains to graze cows. Wow.

Downtown Ferndale. They had a great grocery store too.
We even slept in a field with a bunch of cows! A rancher invited us to camp in his field, and came by to check on us and tell us about his 'eternal flame'. There is a spot on his land where natural gas constantly seeps out of cracks in the dirt. Someone lit it with a match long ago and it has burned ever since. We were certainly in awe when we found it, and we wished we had some hotdogs to roast over the flames.
The rest of the lost coast was much the same: very few people, uninterrupted coast and hills, and cows. The hills were very steep, and so were the descents. At the end of it, when we rejoined the main route further inland, we rode through magnificent redwood forests. Many many cyclists ride the coastal route, but we guess that less than 10% do the lost coast. It adds 8,000′ of extra climbing and about 50 miles, but we think it was worth it!
Back on the main route, we started to see cyclists. One night we camped in a state park with at least 15 of them! It was neat to see so many cyclists, and also a little bit overwhelming. We particularly enjoyed chatting with a father and sons group traveling from Portland to San Francisco. The very next night we stayed in a campground that was about six miles shy of the park where most cyclists stay. It turned out we were the only cyclists there! What a change. Those other cyclists probably knew something we didn't though, since in the middle of the night a bunch of really drunk campers came by and made a ton of noise in and around the bathrooms next to our site. We finally gave up trying to sleep and just read our books for about an hour!
So about those free spirits in California. I don't really know how to describe them, but they are everywhere. They aren't necessarily vagrants, and they also are almost always friendly, but they say the most hilarious things. We see them hiking on the side of the road with their dogs, lounging at the picnic table in front of gas stations, and most particularly outside of grocery stores. We usually interact with them outside of grocery stores, since one person always stays with the bikes while the other shops. Yesterday's interactions were the best. Jason stayed with the bikes while I shopped, and he learned all sorts of tidbits. He learned about the old guy who only wears one shoe because he gets more money that way, and about some other guy's buddy who stepped in a hole in the graveyard, heard a crunch, and broke a rib (of a dead guy). Don't worry – he went back with some dirt later and filled in the hole. Oh my oh my! When I finally got out of the grocery store a lady outside looked me up and down before saying 'Very nice – blue is a power color'. I was wearing a blue dress. Ha!
We only have about three more days before we hit San Francisco. Can you believe that? Three more days! Once there we will spend a week as tourists with Jason's family in a timeshare. We cannot wait for the luxury of sleeping in the same bed for many nights, and having a kitchen to cook in. Cookies!