When last we updated we were in the charmingly named town of Tamazunchale, where we took the laziest rest day ever.  Mostly, we laid in bed and read novels, only venturing outside once to buy food supplies.  It was great!  Since then, we have climbed back up and over the beautiful Sierra Gorda mountains and into the arid Mexican highlands surrounding Mexico City.  We spent an amazing night in a tiny town church celebrating the villages patron's saint day and learning their traditional dance.  Back in the highlands we stayed with another welcoming host and then did some fast riding to visit ancient ruins – including the third largest pyramid on the planet!
Now, some pictures and highlights.   
Climbing over the Sierra Gorda again took us three days of effort.  On the first day we enjoyed the climbing and felt good, but the clouds rolled in around 2pm and visibility was so bad that we decided to call it a day.  We got a hotel in a little hill town and I (Daisy) managed to sleep from 7pm until 7am the next day.  This was after I ate most of a large papaya and a big dinner of mole chicken with lentils.  I was stuffed!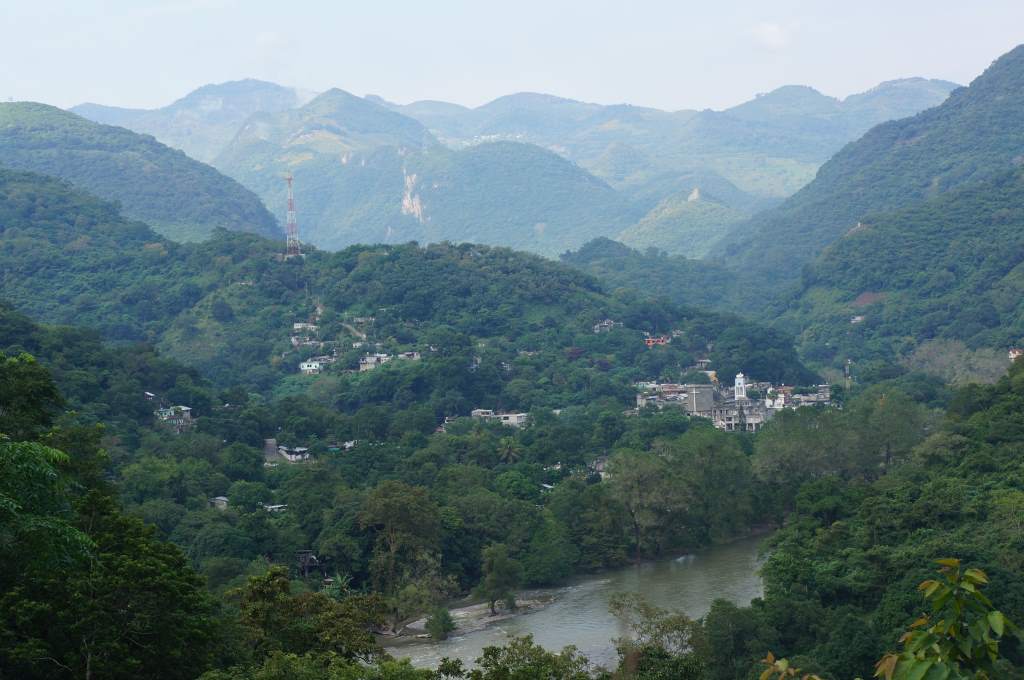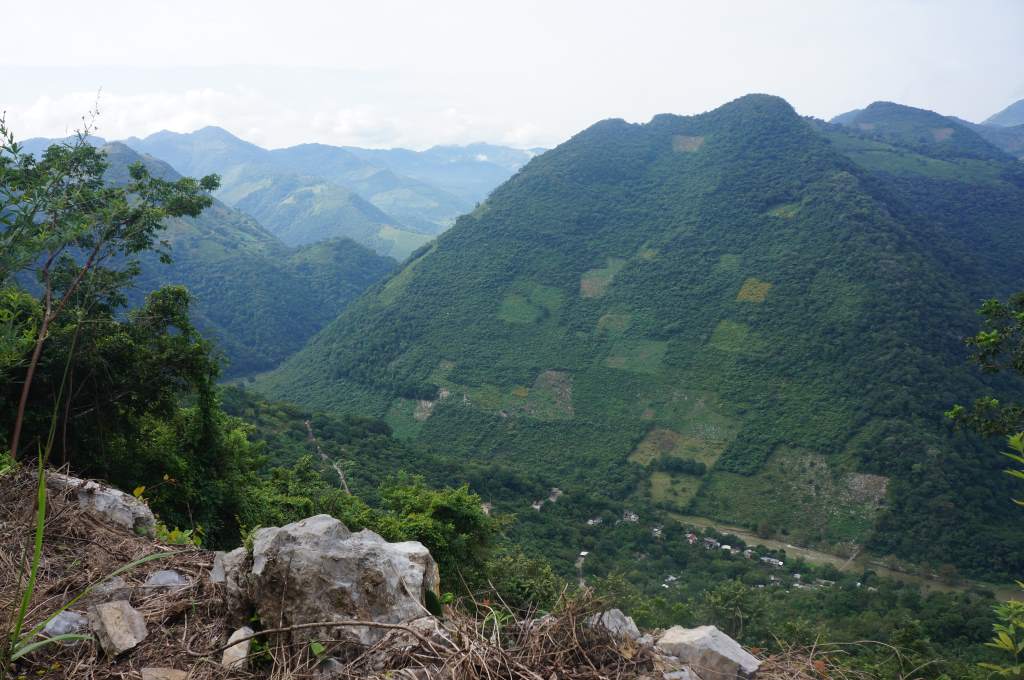 The next day we hoped to make a lot of miles (70?), but then reality hit us hard.  There was still about 5,000′ of climbing to do that day, and there was no way.  We did stop for ice cream in a little town after the one bit of downhill for the day.  After that it was up, up, up to about 8,000′.  We entered the high altitude pine forest, which was beautiful, but we were very tired well before our intended stop.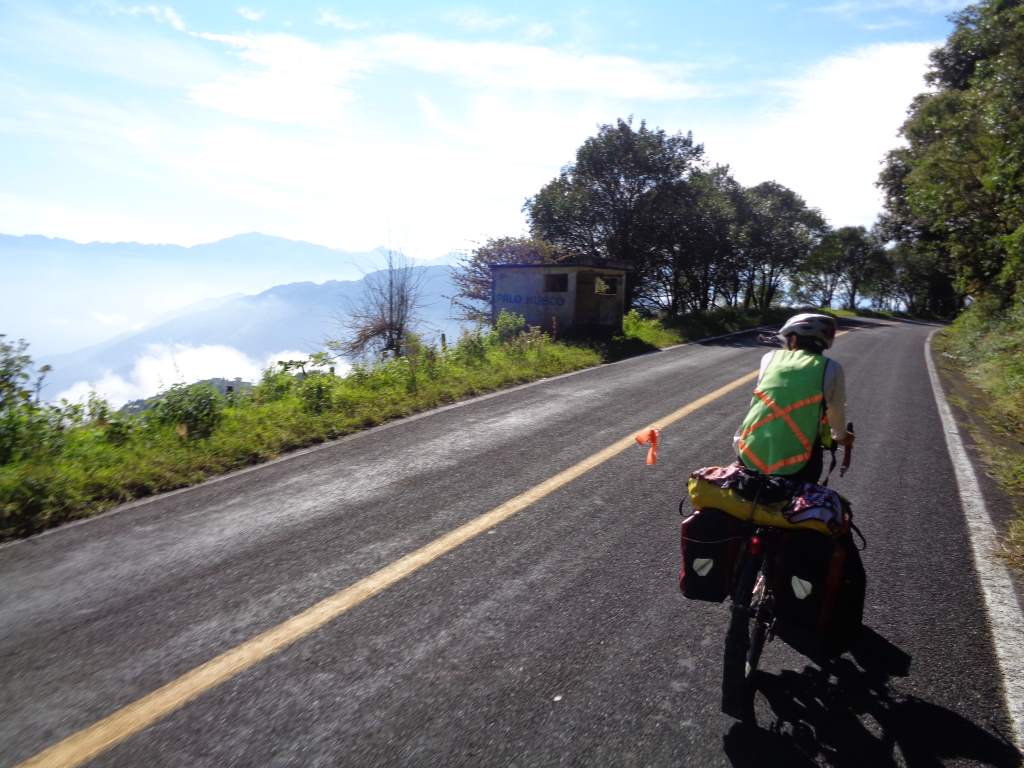 That is when something amazing happened!
The next little town we came to was called Nogales, and seemed to consist of a few houses, some unfinished, and a tiny little church with a nice flat yard.  We decided to try and get permission to stay in the yard of the church. We couldn't find anyone, but a couple of teenagers told us that the whole town was at a party up the road. Following their directions, we took a little road a mile into the hills where sure enough, the whole town was having a party.  They had a big tent set up outside a church, with music playing, big pots of tea and punch, and steaming plates of food. Apparently, it is the day of the patron saint of the town, so there was a big fiesta!
As we rolled up, all the ladies in the food line looked at us curiously, and by the time we parked our bikes and walked over to say hi they had already dished up two plates and sent them over! We were made to sit down with the young folks crowding around us to eat. As we ate they kept bringing us more things to drink – soda, black tea, fruit tea. This whole time we chatted with a growing group of village kids. Eventually we finally got to asking about where we could camp. We got permission to camp "anywhere", but the food ladies insisted that we sleep in the church kitchen, where it would be warmer.
At this point the party was winding down. Jason and I helped put the chairs away, and Jason helped carry a heavy table back to someone's house. The matron of the house insisted I go along with him, and then she sat us down in her kitchen to share some spiced Mexican coffee and a crazy fruit that they like to eat with coffee. We spent a while there, and then returned with her and her family to the church. Once there, we were roped into dancing with a small group of the local folks. We learned the traditional dance of that area and had a fun time. Of course, we were really tired by the end of this! We laid down in the church kitchen and were asleep before the dancing was even over. What a night!
The next day we finally emerged from the lush mountains and re-entered the arid Mexican highlands.  Not too much to remark about this day except that we finally were able to do decent mileage again.  Also, it was my birthday!  Not that we really remembered or did much to celebrate except for getting a nice(r) hotel room in the next bustling town.  Oh!  We did each eat an entire bag of potato chips in celebration.
We entered the city of Pachuca on another festival day (aren't we lucky?), and found the central plaza swarming with police and workers setting up stages for musicians.  Apparently it was exactly a month before Christmas and time to light the giant bizarre looking Christmas tree in the central square.  As we later saw, there were even fireworks.  We spent the night with Enrique and his family.  His mother really took us under her wing and insisted we eat, eat, eat.  She also spoke very slowly and clearly so that Jason could understand everything.  His Spanish skills are getting so much better.
Finally, our last highlight for this section was the ruins of Teotihuacan.   We spent the morning visiting the archaeological ruins, which were visually stunning. It was strange to realize, however, that the pyramids and other buildings were mostly just lumps in the field until the Mexican government got to rebuilding it with concrete. We weren't sure how authentic the rebuild was, but it was still fun to imagine what the site was like a thousand years ago.
Also, the on-site museum was excellent. We particularly enjoyed watching the school field trip groups walking through. The little kids oohed and ahed at the human remains section.
Now, we are heading off into the countryside again to explore some backroads and head south towards Oaxaca.  This upcoming area promises more mountains (no surprise) and also more jungle.  Finally, there are few more random photos I would like to share that didn't fit anywhere else: