When last we updated, we had just completed our first week of riding in Patagonia. There had been wonderful mountain scenery, open vistas, and strong winds. We stopped for a day in the small town of Calafate, which is mostly new construction and infested with crowds of tourists. Because of this almost overwhelming tide of trendy tourists in outdoor gear, we didn't spend much time in town. We did, however, go to the area's main attraction: the Perito Moreno glacier. It was well worth it!
This glacier is one of only two in all of South America that is actually advancing. Every day it advances up to 2 meters, and chunks of ice are constantly breaking off its face to crash into the lake below. We took a 90 minute bus ride to the viewing area, which was actually 5 km of metal boardwalks that criss-cross the hill overlooking the glacier. It was incredibly well-done, and despite the large volume of tourists we never felt like it was a zoo, and we always had a great view.
It was fun to just relax in the sun and watch chunks of ice calve off the glacier. The glacier is as tall as a 24 story building. For you folks back in Bellingham – that's 9 stories higher than the tallest building in Bellingham! The sound of the ice chunks falling all the way to the water below was a deep rumble that we could feel even from our relatively far off vantage point. We couldn't get close because it is dangerous. Before they restricted access, 32 people had died at this glacier after being struck by ice spears. Scary stuff indeed.
After we left Calafate we headed back out into the Argentine plains for another couple days. The wind was yet again a major factor, but we were lucky to shelter in an abandoned house for a night. This house is somewhat of a legend among touring cyclists, and over time it has been cleaned up a bit with many cyclists having left their mark.
Our last day of riding through the flat, windy expanse was a bit of a tease. We could see the iconic peaks of the Patagonian Andes slowly growing closer over the course of five hours of riding. The wind got stronger and stronger, until we were crawling along at 6 miles an hour. Eventually, however, we reached the base of those incredible peaks and entered the small town of Chalten.
This town was like a theme park for hikers and backpackers. It is known as the 'National Trekking Capital', since for some reason here folks always 'trek' and never 'hike'. Perhaps hiking sounds too mundane. In any case, the town was incredibly scenic and we enjoyed a free night of camping at our first 'Casa de Ciclistas'. It was a private home run by a local woman who loved to host touring cyclists. Her backyard was jam-packed with tents.
When we finally left Chalten it was to ride 22 miles on a gravel road to a secluded lake where we would catch a pair of ferries separated by a hiking trail where we would need to push the bikes. More on that in the next post. For now, here are some photos from that phenomenal gravel road and the first boat ride.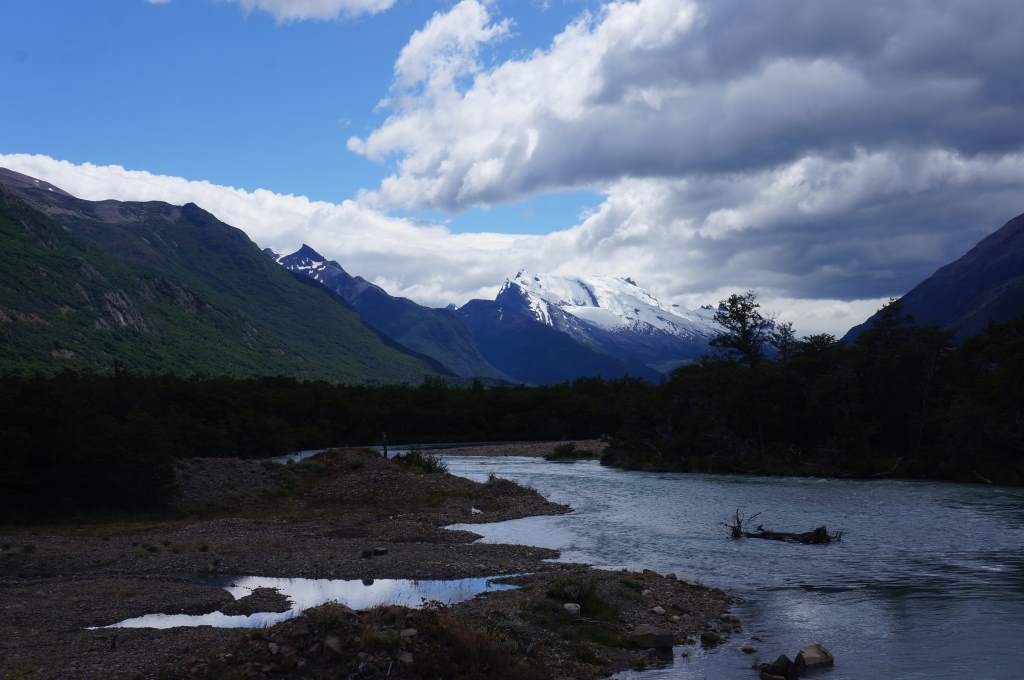 We camped on the far side next to Argentine customs, and I'm not sure I've ever slept in so scenic a location.