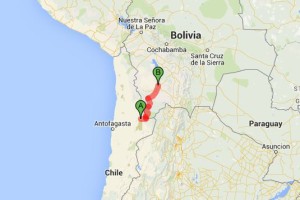 The last nine days of riding have been by far the most difficult of the trip.  Of course, they have also been among the most scenic, otherworldly, and downright surreal.  Leaving San Pedro we climbed 7,700′ (2260 m) and entered Bolivia, country number six.  We then proceeded to spend the next five days above 14,000′ (4300 m) as we rode very slowly through the Bolivian Lagunas.  Up here in the altiplano we have seen too many llamas to count, a string of colored lagoons, snow-topped volcanoes, hot springs, tiny villages, and even other cyclists.  As you will see from the photos, this is adventure riding at its best.  What you won't see from the photos is how brutally hard it was.  I will try and include some stories about that in the narrative!  Note, this post is a tad longer than normal with a ton of photos.  What can I say, it's been an incredible section of riding.
Leaving San Pedro was exciting for us, even though our bikes were heavily loaded with eight days worth of food and two days worth of water.  It was only 28 miles (45 km) to the top of the climb, but it would take us a day and a half.  The road wound up and up the same hillside, so our entertainment was in watching the huge Volcano Licancabur draw slowly closer.  Some sections were so steep that we were forced to push the bikes for miles at a time.  Even pushing, we could hardly go more than a tenth of a mile without resting to catch our breath.  We called it a day after only 20 miles (32 km) and made camp.
The next day we triumphantly finished the climb, topping out at 15,300′ (4665 m).  It was cold and windy up there, so we were glad to turn downhill and enter Bolivia.  We were granted 30 day visas by the friendly border guards and we rode off along a sandy road into a national reserve of Andean fauna.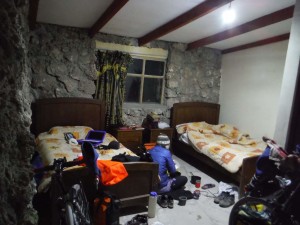 That first night we spent in a simple refugio with warm blankets. Even inside our room  it was near freezing.  Up here the nights are incredibly cold  despite being technically in the tropics.
The next morning we set off into the sand to make our way around two lagoons, over an even higher pass, and finally to a thermal pool for a bit of relaxation.  Riding around the lagoons involved choosing our own path among the many sandy tracks created by tourist jeeps. It was a bit like a choose your own adventure book, but more "choose your own torture", as most of the tracks alternated between jostling us senseless and sucking our wheels into deep sand.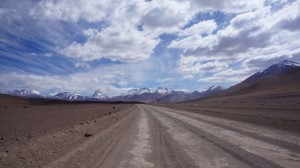 Eventually we joined a more major track and started a slow climb back up to 15,300′.  As we climbed we started to see bicycle tracks, and as we neared the top a pair of large, slow moving rocks became two cyclists!
After a brief chat with Anna and Ernesto, two young  Brazilians, we agreed to meet at the upcoming thermal pool.  What a wonderful pool it was too! Way up high in the frigid plains a volcanic hot spring bubbled up, creating both a tourist destination and a warm oasis for flamingos. We were allowed to sleep on the floor of a nearby dining hall, and had a fantastic soak with our new friends.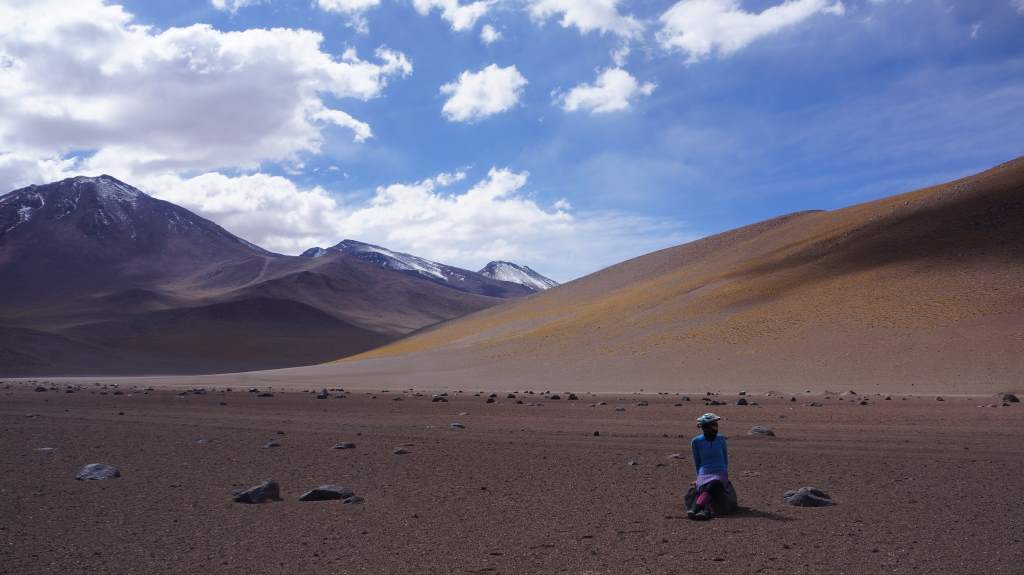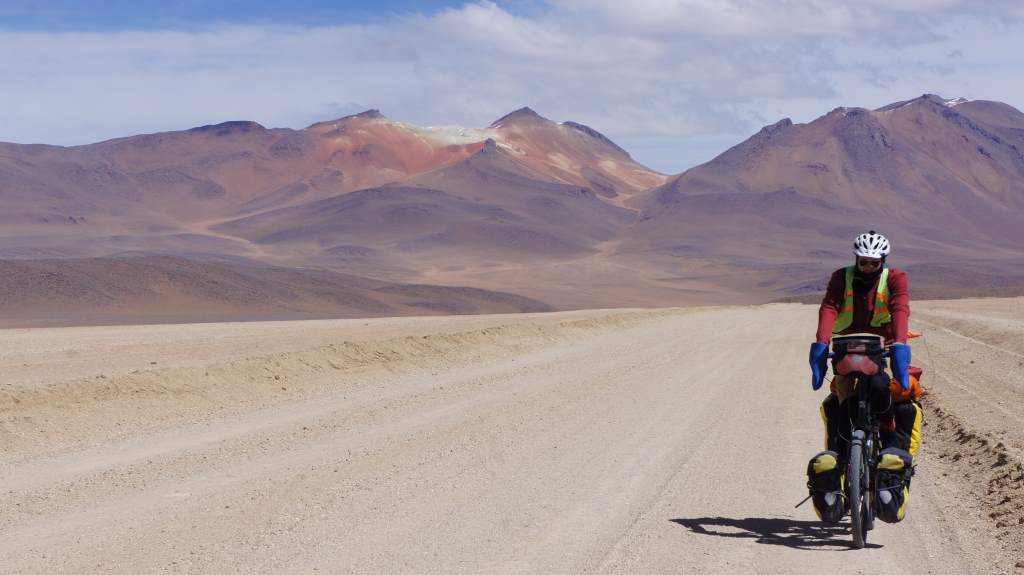 The next day was a true challenge.  In the morning we wound our slow way up a high pass.  When I say 'high' I really mean it: we topped out at 16,200′ (4940 m).  We were gasping for air and fighting a vicious cold headwind.  The plan was to descend nearly 2,000′ (600 m) before camping, but the road surface became absolutely horrible and our progress slowed to a crawl.  We were forced to camp at 15,600′ (4750 m ) in the inadequate shelter of a dirt pile.  As soon as the sun set the temperature plummeted.  We wore all our clothes, zipped the sleeping bags together, and settled in for a shockingly cold night.  Just before dawn our thermometer read -6 degrees F ( -22 C).  Our breath had created ice on the sleeping bags themselves, and any water that we hadn't brought in the bags with us was frozen solid.  Mostly, we were just happy to have survived.
After that unreal night we took two very short days to recover some strength.  There were more sand roads, more lagoons, flamingos, and llamas.  We spent two more cold nights in the tent, but nothing approaching the dangerous cold of that one night.  Some pictures from these days:
On our sixth day in Bolivia we finally descended from the very high plains to the high plains.  It was a lovely ride down a canyon populated by llamas and tourists in jeeps.  At the bottom we rode through a wide valley to a small village.  It was with great excitement that we found beds in a simple hostel. For dinner the hostel owner made us delicious llama steaks and vegetable soup.  Finally we spent the night warm and snug in real beds.
The next day we descended even further to 12,600′ (3800 m).  The air here was starting to feel thick and oxygen rich!  Just outside the next village we met two more cyclists: Emma and Debbie.  They are two women from New Zealand on a 6 month trip  and they are tough as nails.  We had a great evening with them in another hostel, and they convinced us to take the flat road into the next major town.
After a day of flat, fast riding we camped with them in a wide field, and the next day we rode together to the dusty frontier city of Uyuni.  After nine days of truly remote riding, we were all overjoyed to enter a full service city.   Together we did an extensive hotel search before settling on a backpackers hostel.  Sure, it is a bit pricey ($10 US per person), but the bunks are comfortable and warm, breakfast is included, and the internet actually works!
We are resting for a day here and enjoying our time with Emma and Debbie.  They are super fun and have tons of good stories.  Tomorrow we will leave this comfort to start another iconic adventure: riding the Salar de Uyuni, the world's largest salt flat.  It might be a bit before we can update (again). Maybe that's the new norm for us now that we're in Bolivia!