Since our last update we spent two magical days on the Salar de Uyuni, which has the distinction of being the world's largest salt flat. The salt flat is the remains of an ancient (and massive) lake, and it provided perfectly flat riding on a lovely surface. It also warps your sense of perspective and scale, allowing for some fun and hilarious photo opportunities. For the most part, this post is just a good excuse to share with you some of the pictures we took during our ride on the salt. Of course, we also spent a magical night on the salt, explored a desert island in the salty expanse, made our own path back to land, rode through a llama field and a mud flat, and had a couple of adventures in small Bolivian towns. First, the salt!
The first part of the salt flat was packed with tourists in jeep tours. They all run out of the jeep to take perspective photos, and then when they see us they freak out and swarm. We had to answer the same questions umpteen times, but a few were new. One woman from New Jersey asked us if it was flat all the way to Ecuador! The answer is a resounding NO, for the record!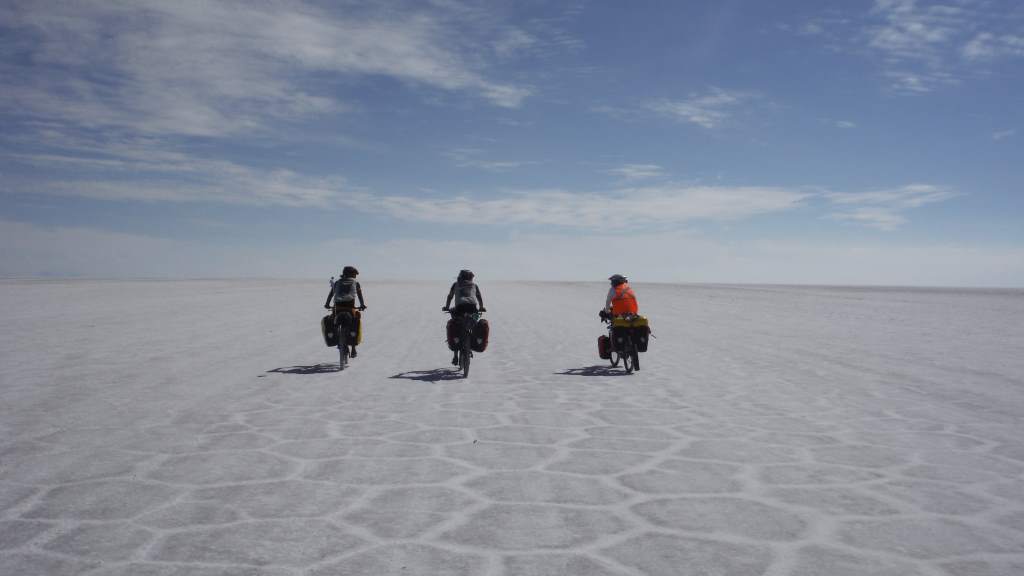 We rode away from the salt hotel and other tourist spots near the edge of the salar and headed towards the middle. About 40 miles from 'land' we stopped for our own photo shoot, since we had reached 13,000 miles! We are still riding with Emma and Debbie, the New Zealanders, so we were lucky to have someone else take our photo for once! Here are some of the photos:
Did I mention we finally made it to 13,000 miles??!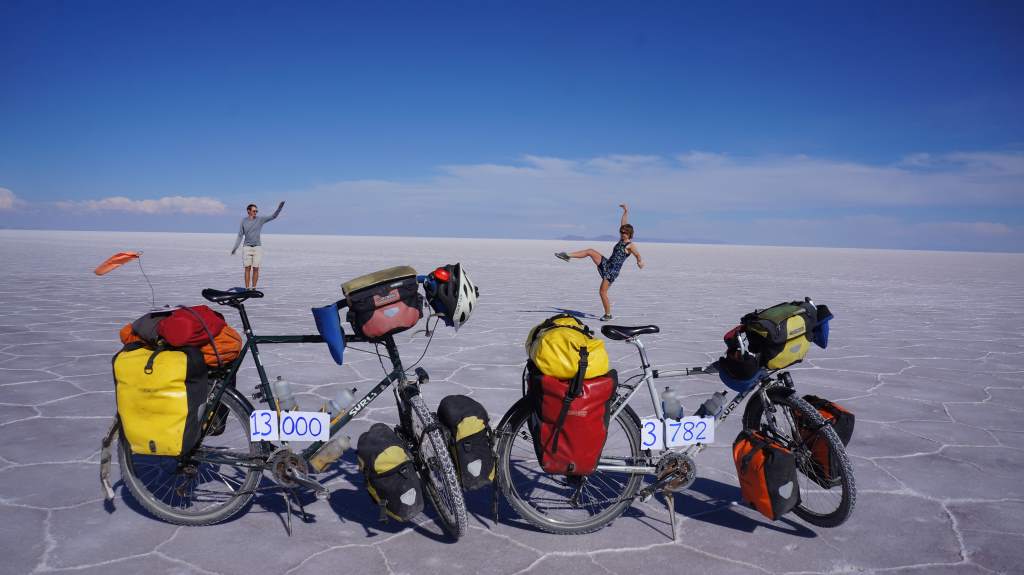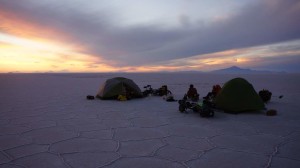 That night was camped on the salar in the vast expanse of nothing but hexagons formed by salt. We watched the sunset, which seemed to happen in slow motion, and then after dark we watched distant lightning storms in the mountains. It was a wonderful night.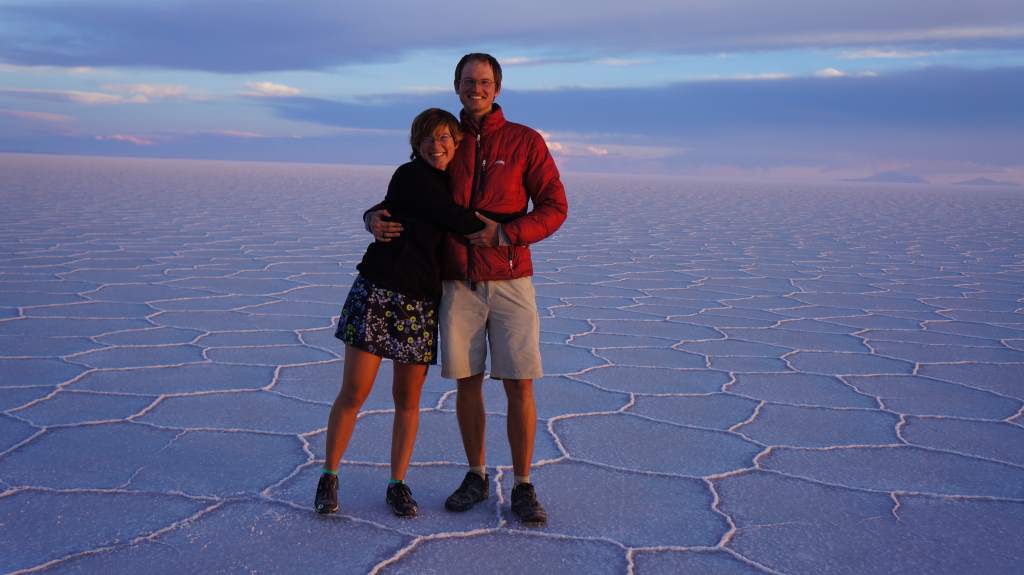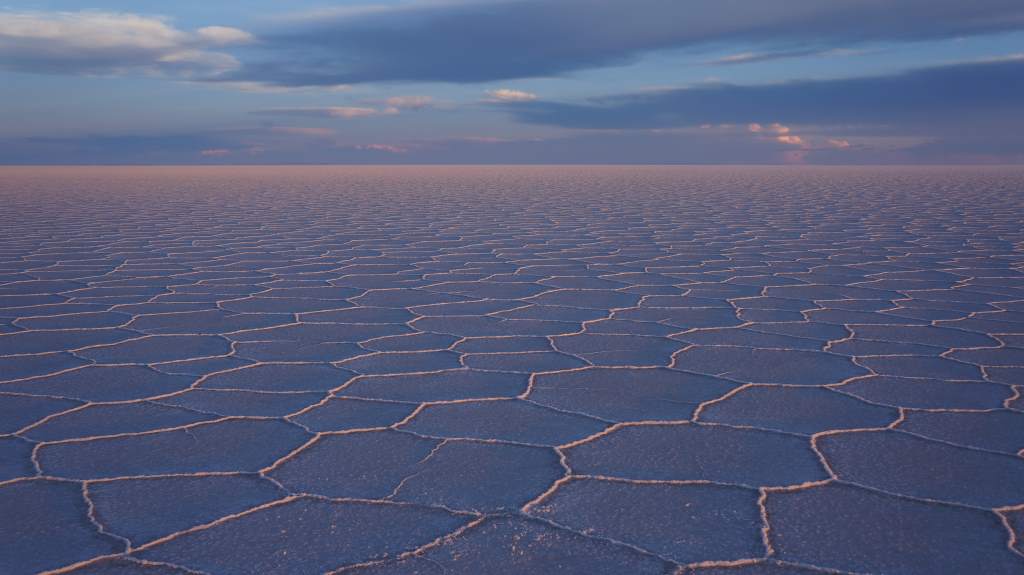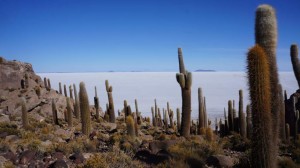 The next morning we reached the Island Incahuasi, which is another huge tourist draw. Lucky us, we had the whole place to ourselves since we are on a different schedule from the jeep tours. We hiked to the top of the island, saw many many cacti, and enjoyed the peace. From there we rode on the salt again, straight towards a towering volcano. It was a completely different experience to be off the jeep "road", and to simply choose our own path. We decided to ride around the volcano on the salt, and then head for land on the far side. Sometimes the salt surface got soggy, and we had to race across it to keep from sinking! Even when we did reach land we had to cut through mud flats and across fields before finally finding a track to ride.  The track led us through fields of llama and quinoa before it led us to town.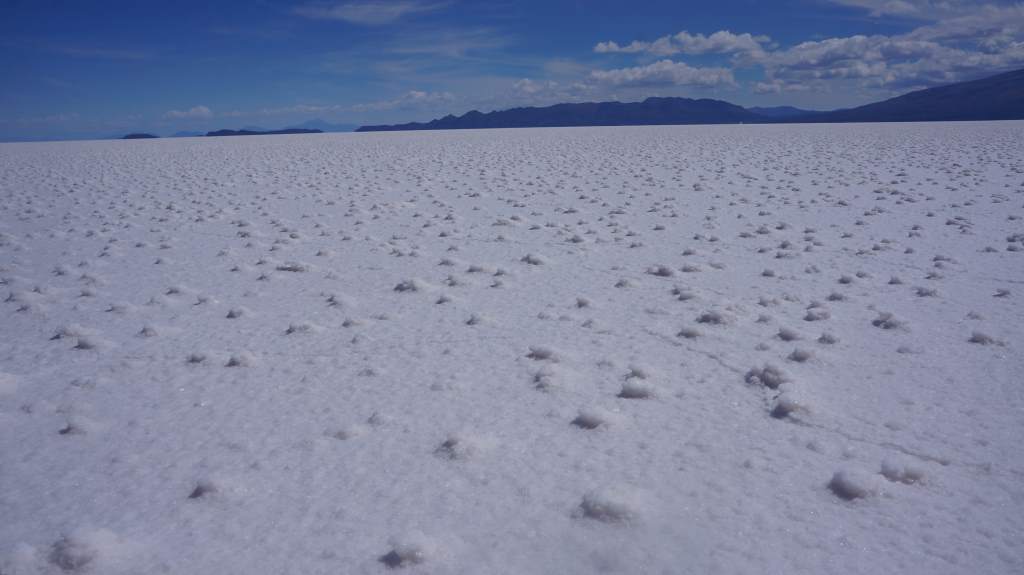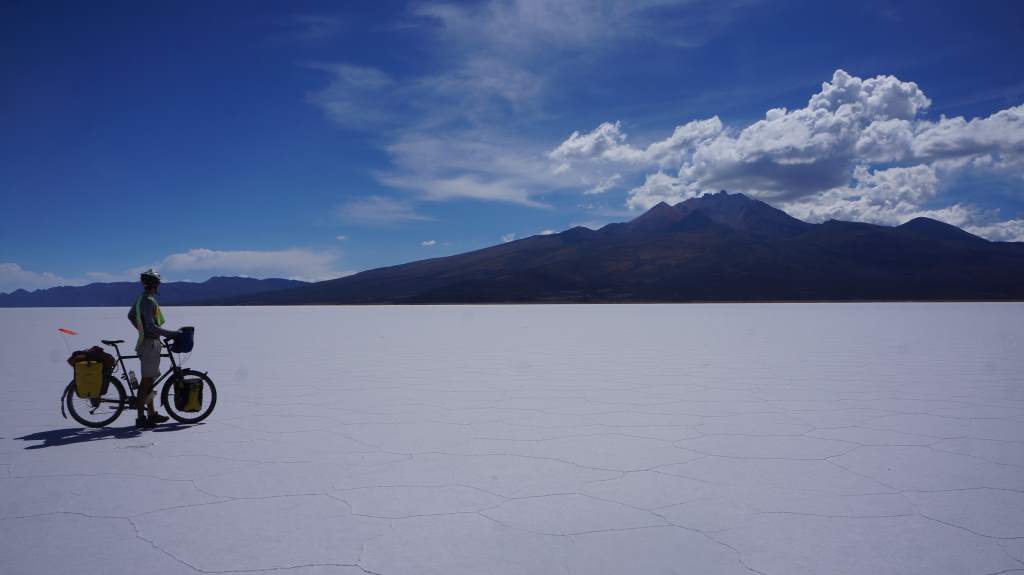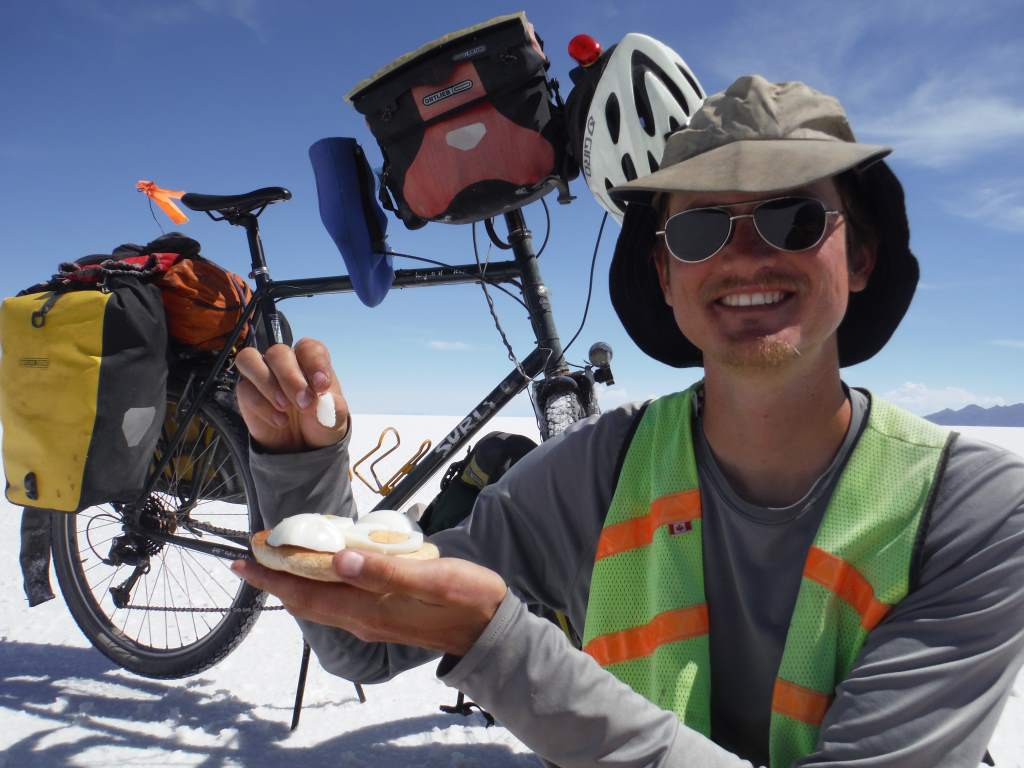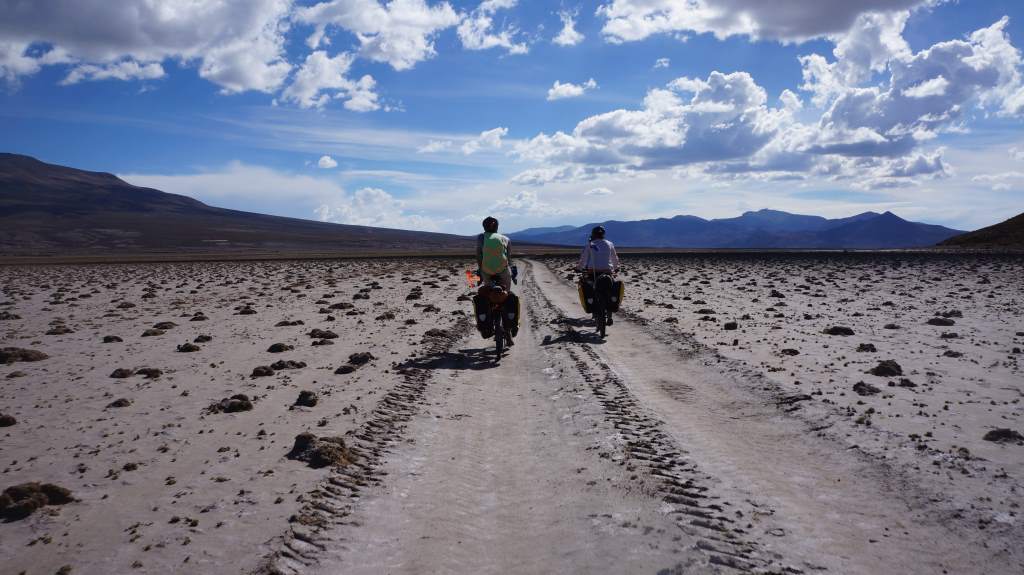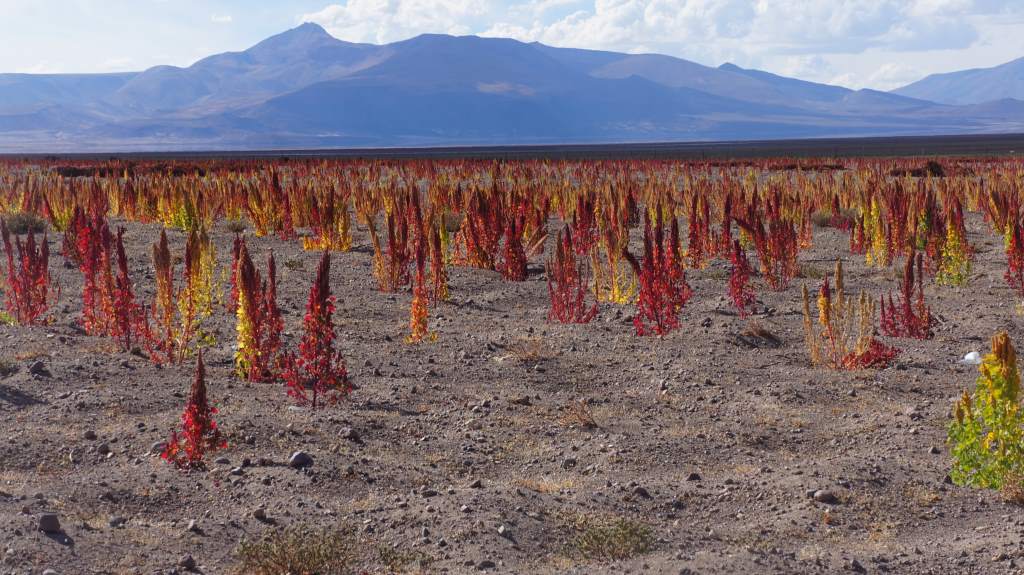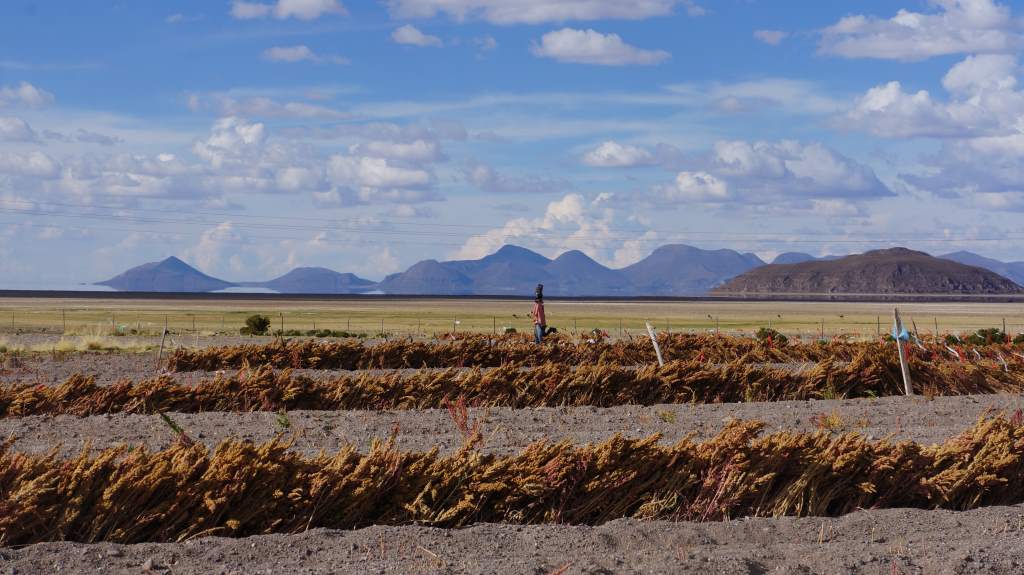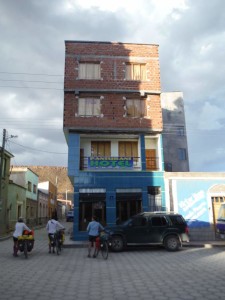 That night we stayed in the town of Salinas, which was a charming place with a beautiful plaza, friendly little kids, and very nice women selling fresh bread on every corner. We stayed in a hotel which was clearly not up to earthquake code, but luckily we made it through the night anyhow.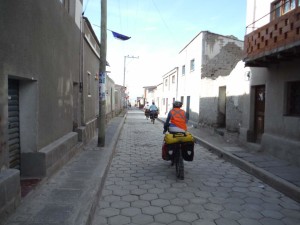 After Salinas we made fast time across the flats on good roads. We wanted to stay in more small towns, but the lodging options were abysmal or nonexistent so we had to camp. One night we had a wonderful campsite next to a river, and the next night we had a desperation sort of campsite along the road.
You see, we had planned to stay in the mining town of Poopo (funny name, right?). Poopo claimed to have a resort-style hotel next to a semi-olympic swimming pool, so we headed in to town after a long day of 70 miles riding into a headwind. We arrived at 4:30, but no one was at the hotel. A nice guy on the street called the number on the door for us, and learned that the attendants were watching a soccer game and would arrive in an hour. That sounded ok to us, so we just waited around for a bit chatting with the Kiwis. An hour and a half later… no movement. We got another nice guy to call for us, and the attendants said they'd be there in an hour. Uh oh. At this point it was starting to get dark, and we really didn't like the sound of things. We asked the ladies at the pool if we could camp there – NO. We asked the city government people what to do, they said we should just wait. We asked the police if there was another safe place to camp, they told us to put the tent up in the street in front of the hotel!
We were shocked and a bit sad that no one would help us, so we just got on our bicycles and rode out of town. It is never fun to set up camp in the dark, but we managed. It helped that there were four of us. We found an out of the way spot and settled in. Remarkably, it was a quiet night, and no one bothered us a bit. New rule: if we're not in the hotel by 5:00 we move on and find a good place to camp! It gets dark around 6:15 here.
Now we are in the big city of Oruro. Our guidebook warned us that it was a gritty place without any good food, but we have found the opposite to be true. The streets are full of life here, and we spent all morning wandering around huge street markets. They are very different from the markets in Mexico: much quieter, with less yelling and a lot less food. We are learning to bargain a bit, but mostly just gawk at everything and everyone. In three more days we'll be in La Paz, which is legendary for its markets. We are very excited!
Now, a few more photos that didn't make the narrative: