Our time in Bolivia (on bikes) has been restricted to the high and dry altiplano, but we wanted to get a glimpse of the tropical lowlands before leaving the country next week.  For this reason, we decided to do a three day hike that starts in the high mountains and winds down a river valley into the steamy jungle.  We also wanted to break in our new hiking shoes (bought in La Paz) before our 4-day hike to Machu Pichu which we will start in another couple of weeks.
Because we didn't have backpacks, and we were nervous about undertaking the hike, we decided to hire a guide through a travel agency.  Our 'guide' turned out to be more of a porter and a cook.  This was all good and well, but we could certainly have carried our own gear and cooked our own food.  We were disappointed that he didn't tell us anything about the areas we were hiking through, and even more so when it came time to return to La Paz.  It was a nightmare half day of finding public transportation (4 separate vehicles), and our guide seemed just as lost as we were.  In fact, Jason was the one who found us the main transport to La Paz!
Despite the shortcomings, we are glad we did the hike.  Our legs are more or less destroyed from descending so many miles on rough, slippery trails, but we got to see the lush jungle and even a wild monkey!  In the narrative below I'll try to share a bit about our time on the trail.
Day 1:  
We were super excited to start the hike, and a little nervous too since it's been over a year since our last real hike. We agonized over what items were actually worth carrying. We decided we only needed one sleeping bag, and that we didn't need too much warm gear since we could use our sleeping bag liners as warm togas. We might have looked a bit funny, but it worked!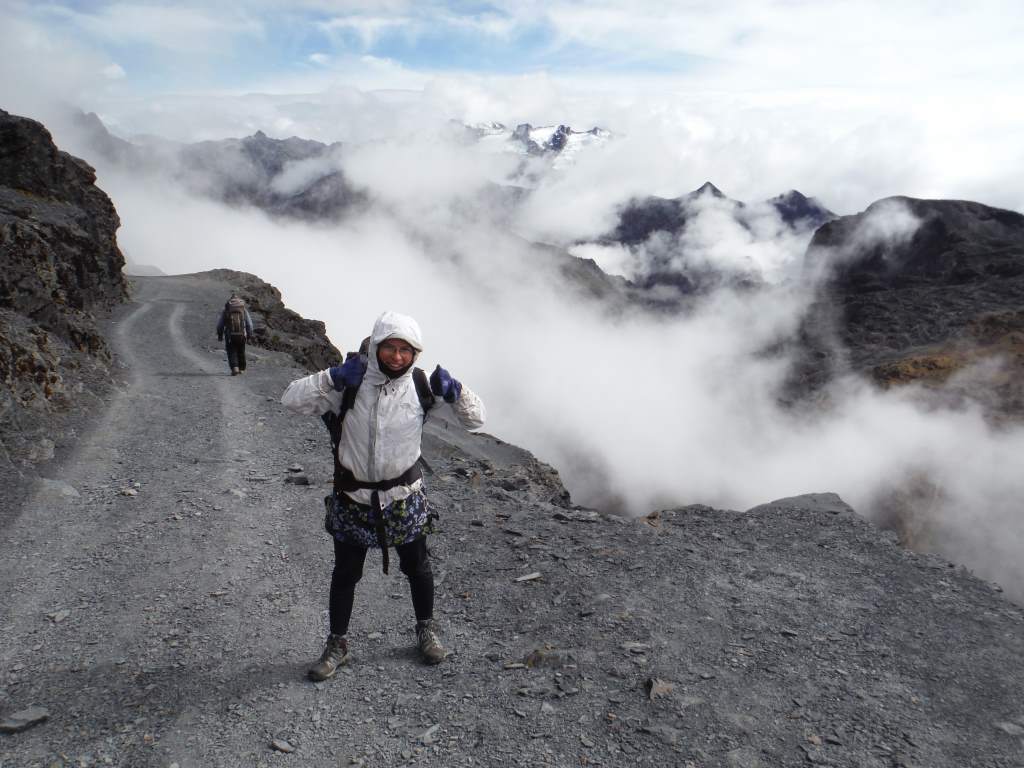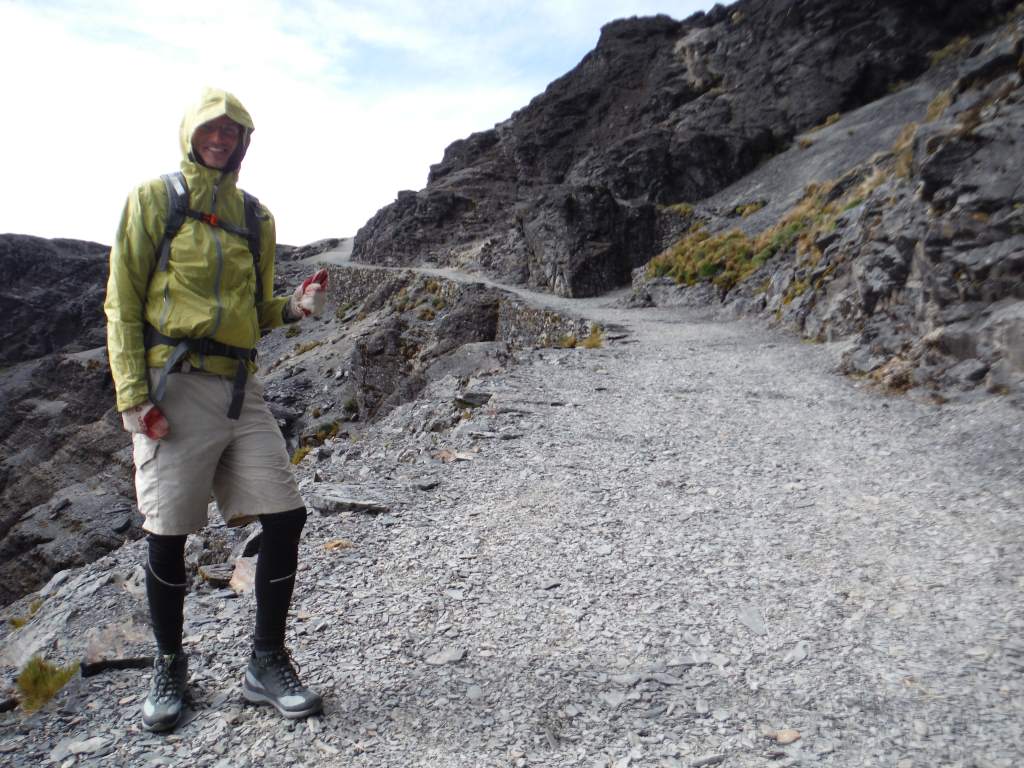 We were transported in a taxi to the highest part of the trail. When we got there it was high, beautiful, and cold! We got wrapped up in our sleeping bag liner togas, and started down the trail.  The views were good when the clouds parted enough to let us see. Our guide took off in front of us, and we made our own careful way down the steep and rocky path. This first bit of hiking before lunch ended up being one of our favorite parts of the whole thing. There were very few plants, but there were steep rock faces, cute llamas, and stone ruins. We watched the clouds rise from the depths of the valleys until we were in them, and for the rest of the day all we saw were clouds.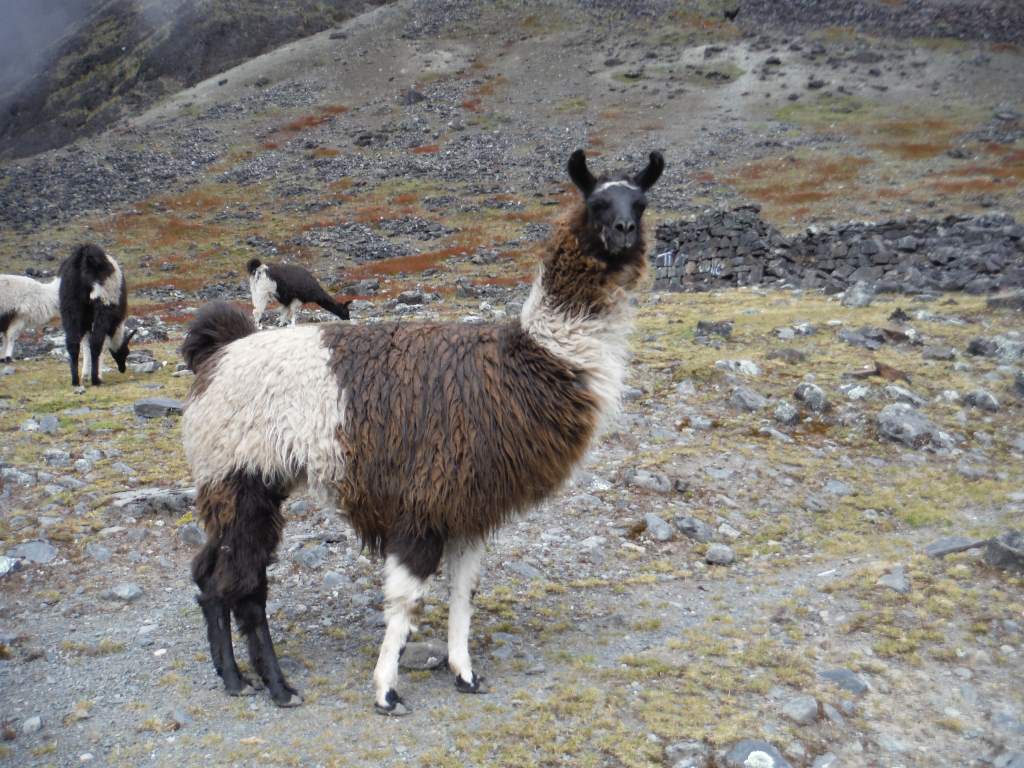 Just as we stopped for lunch the rain began, and it continued for the rest of the day. The path was actually very nice, and we mostly stayed happy, but not completely.  They didn't give us a rain cover for the rented backpack, and we had to do quite a bit of shuffling to get our gear in places where it would stay mostly dry.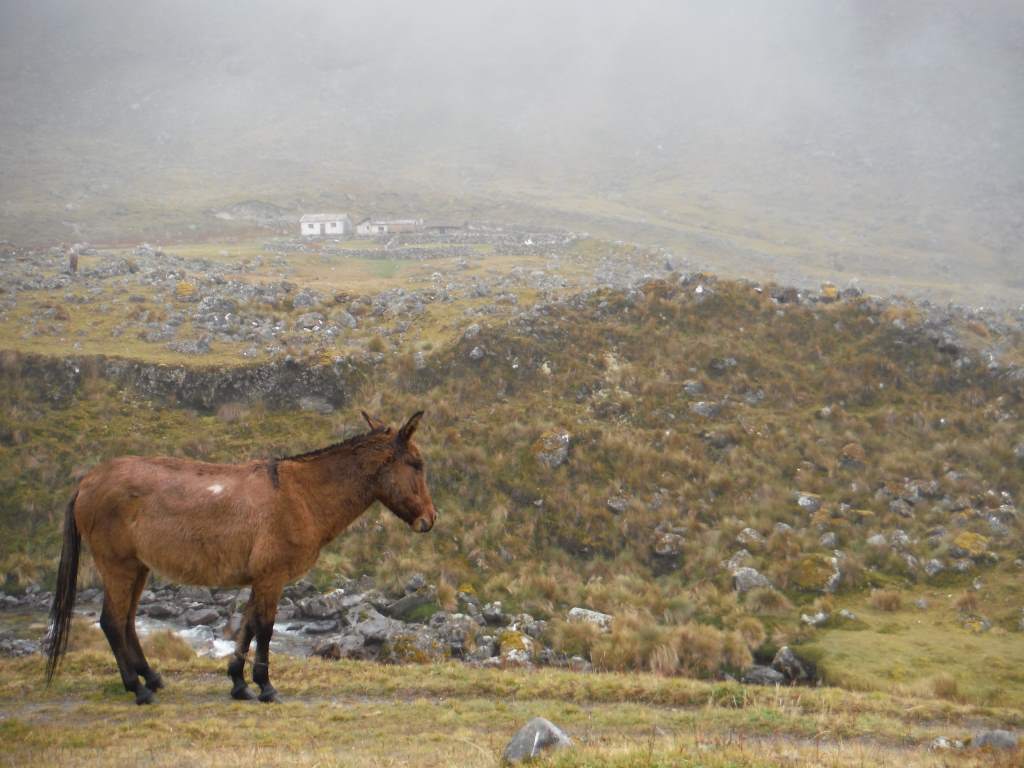 For the rest of the day we picked our way downhill steeply on slick stones, with our guide somewhere off ahead of us. It was with great relief (and the beginning of tired legs) that we arrived at our intended destination with a covered camping area.
That night was pretty fun. We had snacks and a little chat with our guide, Tomas. He has four mostly grown kids, one of which is in college. It was nice to chat with him, and this was our only chat for the rest of the trip, which was passing strange. He cooked us a yummy dinner of soup, pasta, meat, and some simple veggies. We chatted some more with a lovely Belgian couple also doing the hike, then headed to early bed.
Day 2.
Luckily, the day dawned a bit drier, and it wasn't too cold.  Tomas insisted that we get up at 5:30 am, so the alarm went off in complete darkness.  We were hiking by first light.  The trail began to be overgrown with jungle-type plants, and there were many crossings of raging streams. The first three hours were super slippery, but after that the trail improved and we could walk more or less normally. Of course, by this time our legs were already sore from the previous day.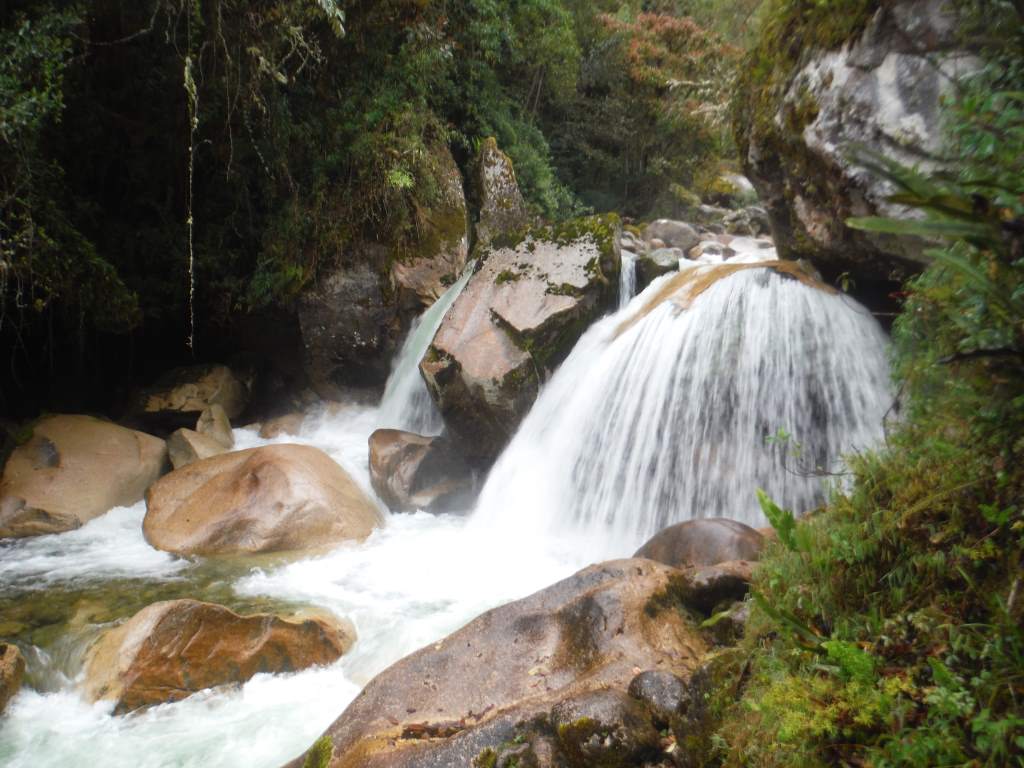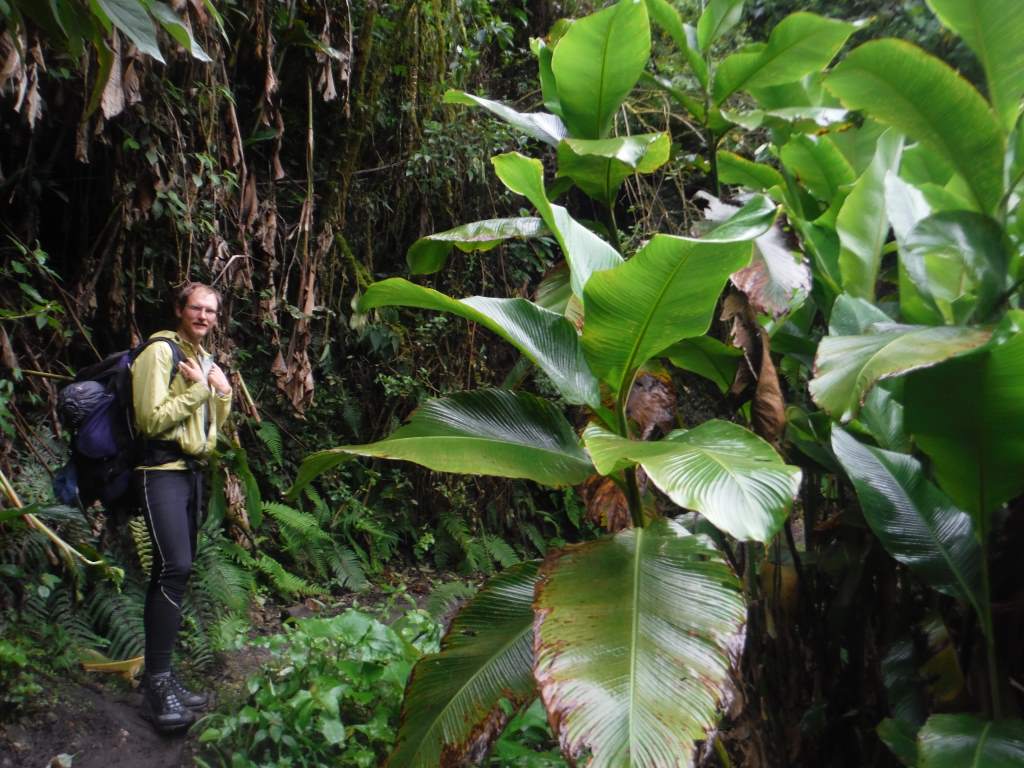 The entire day was long and tiring, but through lovely scenery with some great views when the clouds parted. At times the hot air rose from the valleys and made us feel like we were in a sauna. At other times a cold wind came down from the hills and cooled us off. The trail went up and down, following the side of the mountain and dipping down to cross many streams.  We finally emerged to our destination of Sandillani. It used to be a happening place, with manicured japanese gardens, an eco-hostel, and snack bars. Currently, however, it is abandoned and strewn with trash.  We set up the tent, hobbled around a bit, and were mostly incredibly sore from 8.5 hours of hiking.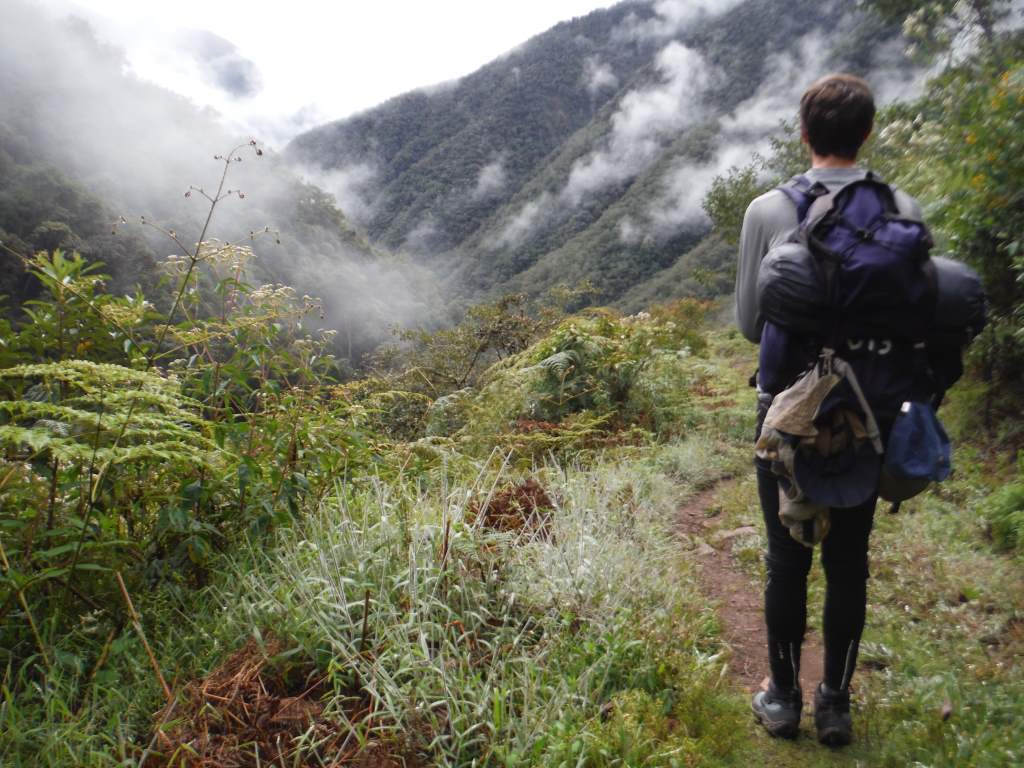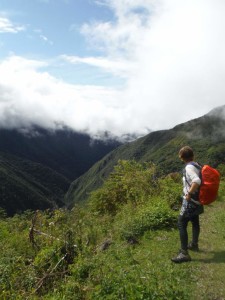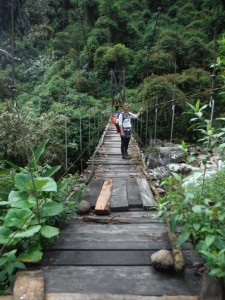 Day 3.
That morning was lovely – our other favorite part of the trip. The day dawned clear and the sunrise over the mountains was beautiful. We enjoyed taking pictures from the overlook and having a slightly more mellow morning. Our guide suggested that we get on the road by 7 so that we could be in town by 10 in time for the direct bus back to La Paz.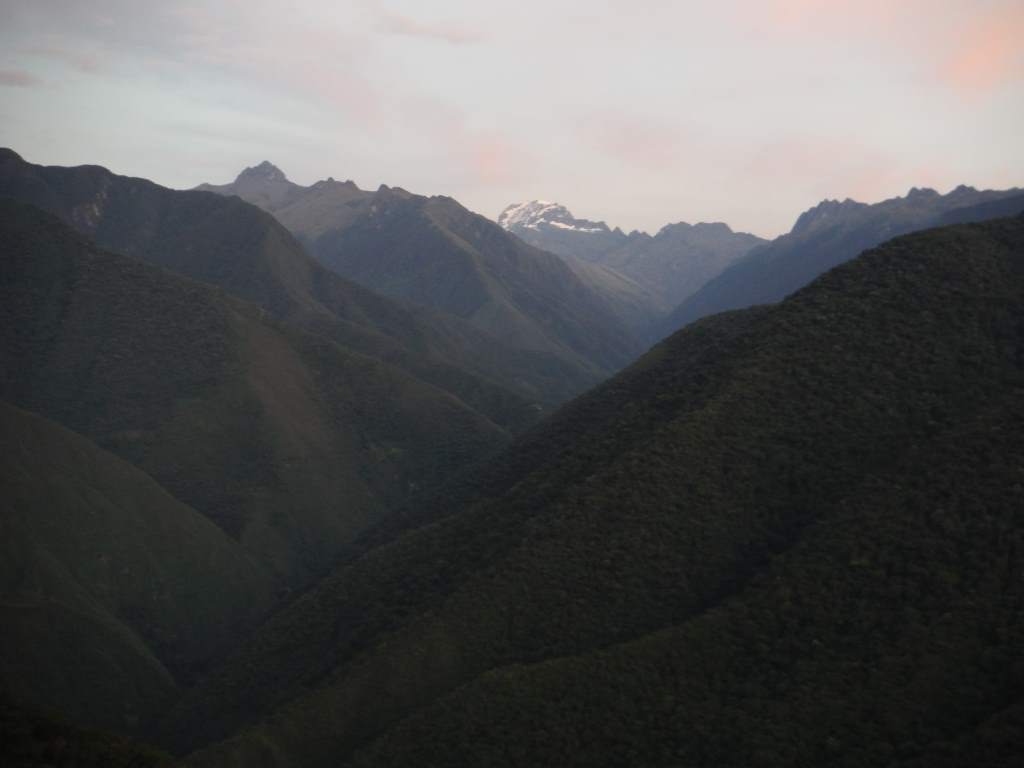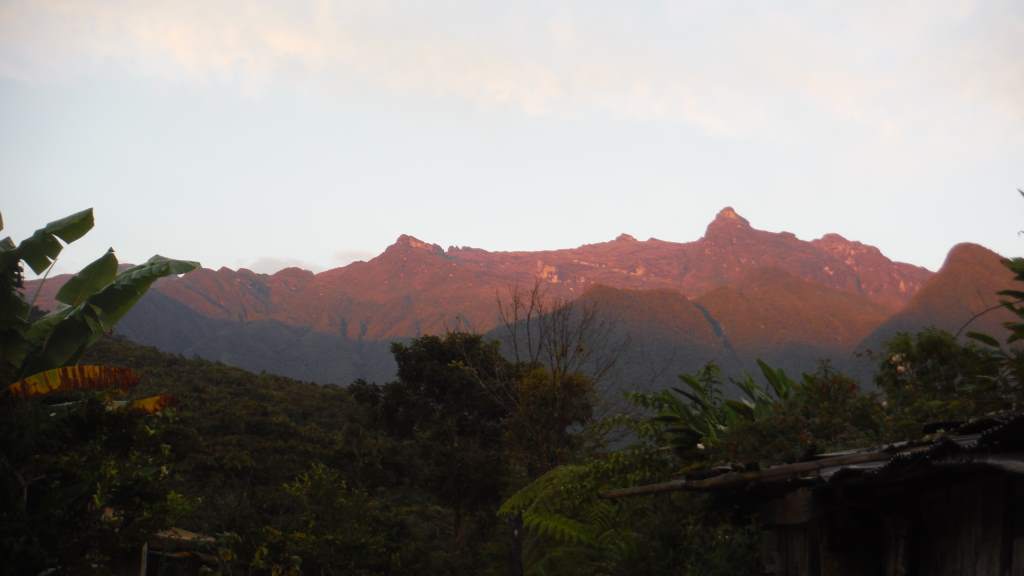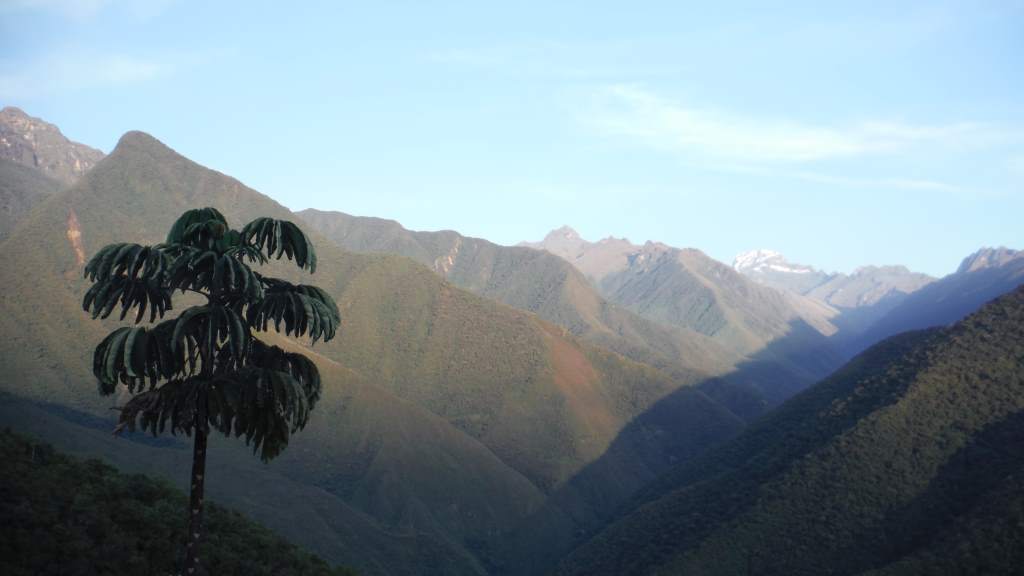 Our final descent to civilization was a mostly easy and pleasant 2.5 hour walk. We kept our pace up high so that we could get the bus, and we were super relieved when we emerged from the jungle. This was when things started to go wrong, however. Our guide seemed to have been confused about the timing to the bus, since this first town didn't have one and it was an hour walk along the road to the next town. When we got there we learned that the only bus was at 2 pm. Our guide was supremely uncommunicative regarding how we would get back to La Paz, and he seemed mainly concerned about doing it in the cheapest way possible. We kept asking him what was going on, and he would respond evasively. He said we needed to get to the main road, but wouldn't pay the 5 Bolivianos per person to get us there in a vehicle. We were exhausted at this point, but still unwilling to start paying for the transport that was included in the tour. We started walking, but luckily a truck was willing to give us a free ride.
At the main intersection we had to stand there and hope for a minibus to come by. After a long while, one did. It was a crowded and incredibly bumpy 30 minute ride in the wrong direction to get to the hilltop town of Coroico.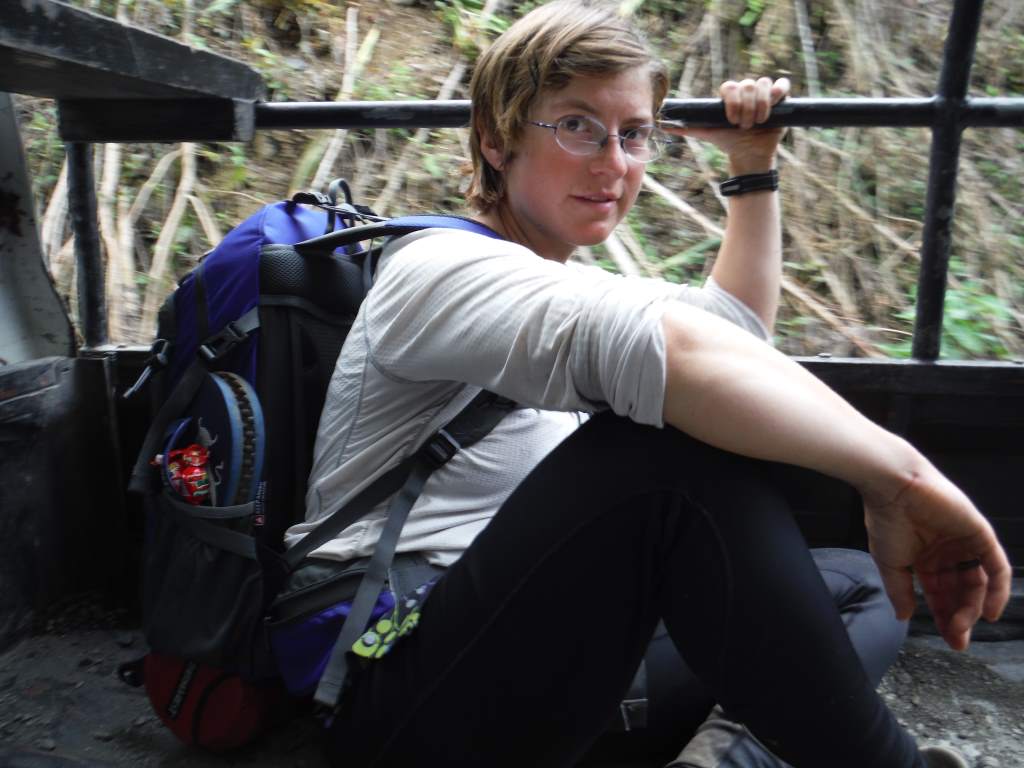 Once there we needed to transfer to a minibus for La Paz. The guide didn't seem to know where to find one, and was hesitant to look at the nicer seeming ones because of price. Jason found the minibus for us, and within moments we were flying back down the bumpy road towards La Paz.   Our guide didn't give us the promised lunch, so we bought empanadas from some ladies at a quick stop through the bus window during the ride. We finally reached La Paz, but still had to transfer once more to another crazy minibus to get back downtown. It was with very great relief that we returned the backpack, gave our guide a reduced tip, and hobbled back to the casa de ciclistas.
We are now taking another day of rest in La Paz to let our legs recover before we brave the climb out of the city.  My legs feel like someone has been hitting them with a meat tenderizer!  Next we will ride the two days to Lake Titicaca, where we might take another hike.  From there we will enter yet another new country: Peru. We have heard fantastic things about Peru, and we are very excited to get there!