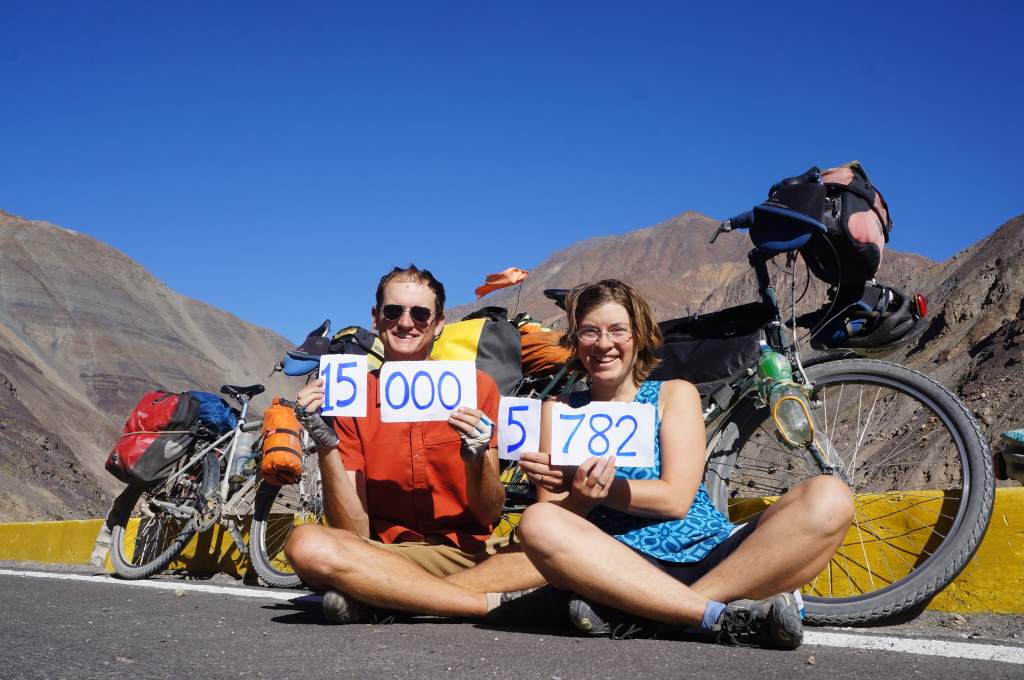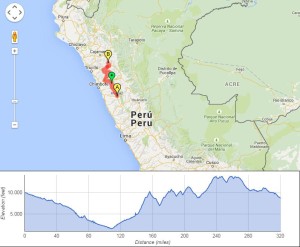 After our hike in the Huayhuash it took us two days resting in Huaraz before we were ready to hit the road again.  Huaraz is a modern, hectic, Peruvian town with just enough American style restaurants to make us want to stay even longer.  We also had made friends in town, which was exciting in its own right.  Adam and Tarunya met up with us twice for lunch, and we met up with Bala (another Pan-American cyclist) for a home-cooked curry dinner.  Thank you to all three!
Our route from Huaraz took us from 10,000′ all the way down to 1,000′ over 3 days.  You are probably wondering why it would take us 3 days, it was all downhill after all!  Well, the road surface was awful for two of those days, and we spent an entire day bumping downriver at about 6.5 miles an hour.  The upside, of course, was the scenery: we were in a massive, deep, and narrow canyon.  We passed through more than 35 hand-carved (and unlit) tunnels!
We hit bottom, and pavement, in the tiny settlement of Chuquicara.  Population 100.  There was a single hotel, three small stands selling mostly out of date food items, and a couple of restaurants.  It was enough for us though.  The next day was to be a big one:  we had to climb up all that elevation we had just lost, and in a single day.
We spent a very very long day climbing back up those 9,000′.  At first it was easy and gentle along a river, but then it was straight up all afternoon.  Traffic was non existent, so we listened to a book on tape and crawled up to the town of Pallasca.  This town was built at the very top of a hill, and we loved their plaza which was packed wih topiary animals.  We spent an exhausted night here before continuing on our up and down road.
For the next few days we went up and down over and over again.  At the top of each climb we could literally see the next town just across the valley.  Each time though, it was 20 tortuous miles down to the river and back up again.  We slept in little hostels, watched elementay school marching bands, ate popcorn on the street, and crawled along roads that were sometimes dirt and sometimes brand new pavement.
Yesterday, on our way into the town of Cajabamba (where we're resting now), we were forced to stop where a group of vehicles were gathered.   As we approached we were concerned it was some sort of accident or protest, but we soon found out the truth.  A very small bridge (less than 15 feet) had fallen over a week ago, so anyone travelling through here was forced to get out of their cars, walk down to the stream and back up, then find a new car on the other side.  Of course, we had no problem getting the bikes across, but I am reasonably sure that everyone there had a blast watching the gringos pushing their bicycles!
Now we are taking one final rest day in Peru before setting off again.  In less than 2 weeks we will be in Ecuador!  There are a few more tough climbs left, but we think that the craziest parts of Peru are behind us.  We are really looking forward to spending a few days in the Amazonas region, and getting a glimpse at the more lush, jungle side of this country.  After that, country number 8!