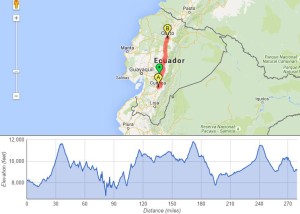 I am happy to report that our days of torrential rain in Ecuador are behind us. Since we last updated, we spent a mostly restful day in Cuenca, five challenging days of riding on the PanAmerican highway, and two fun (but not very restful) days in Quito. We have been able to do longer days without the rain and mudslides, but our constant companions, wind and mountains, are still with us. First, some pictures from our lovely day in Cuenca. Everything was closed because it was a Sunday (yet again!!), but we still did a good deal of wandering.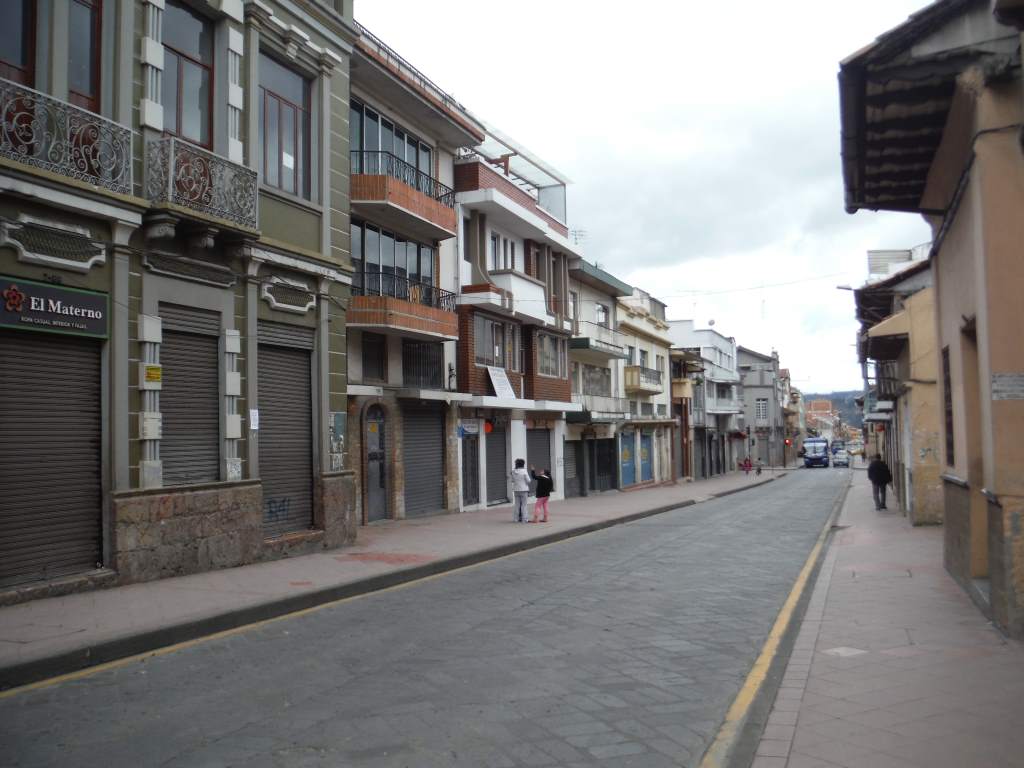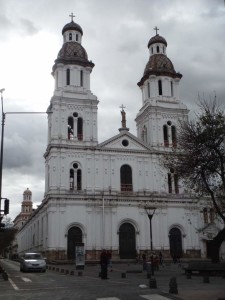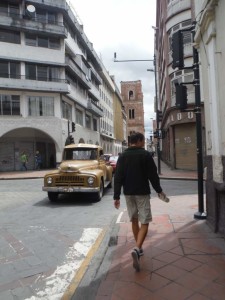 Leaving Cuenca was surprisingly easy. We flew downhill on a huge highway, taking up a whole lane. Other cyclists had told us that the PanAmerican in this stretch was pretty rough trafficwise, but we found it to be just fine. All the vehicles gave us plenty of space. The best part of the day was lunch – pizza! Our last night in Cuenca we bought two large pizzas, and we carried one of them down the highway and ate it for lunch. Deelish!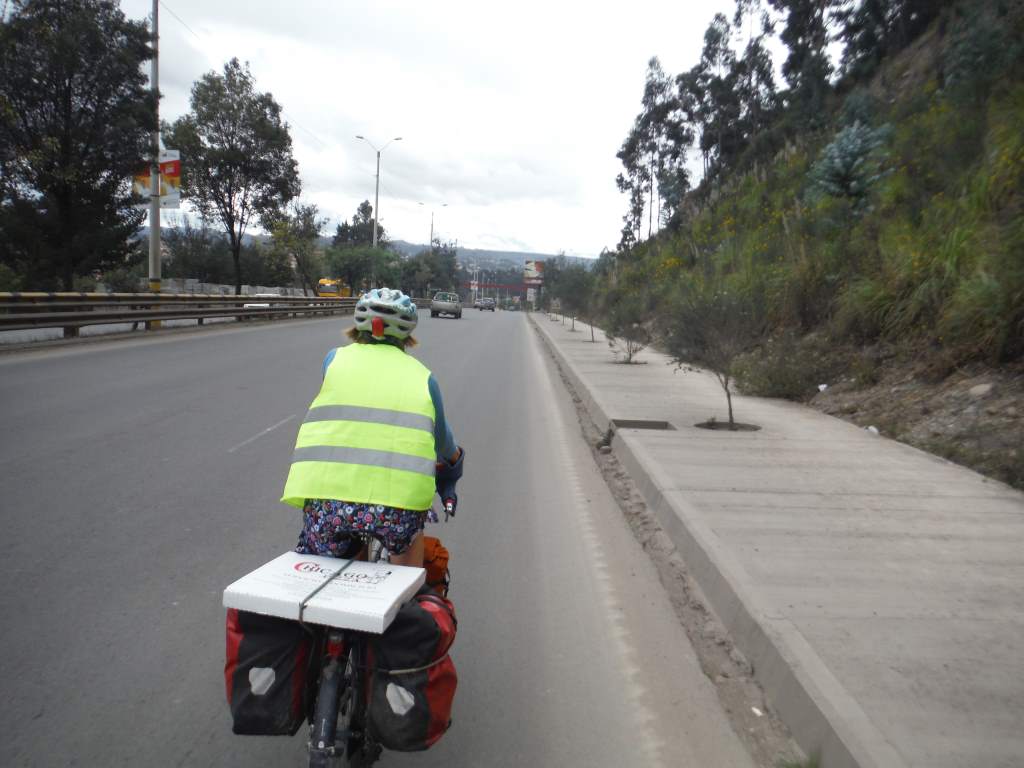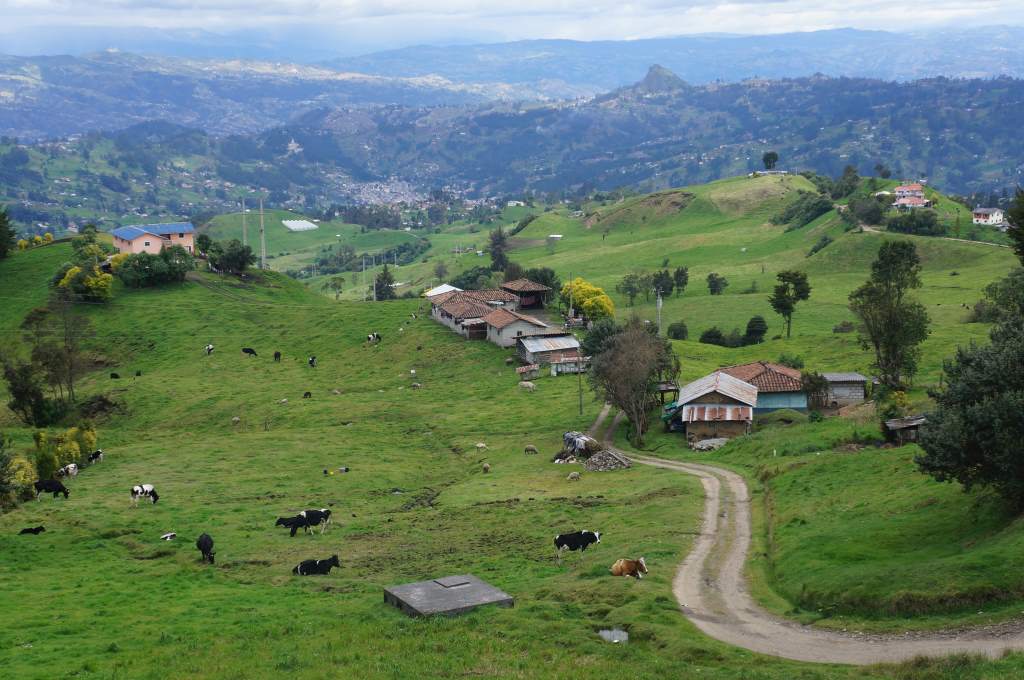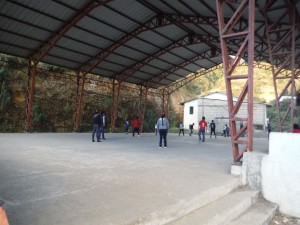 That day we made it even farther than we expected, and we ended up in the tiny crossroads town of Zhud. It turns out that there is nothing in Zhud except a long line of stalls selling fried pork with corn and potato dumplings. There are no hotels, nothing. We ended up camping at the local covered football field after watching the local kids play until sunset. It seemed like a great place… then the wind picked up.
All night long the wind blew and blew. The tin roof over the field was breaking. It banged against the rafters continuously, and chunks of it ocassionally were fell off and were blown across the concrete field below. In short – there was very little rest for us!
The supposedly very busy Panamerican highway became a barely trafficked two lane road that wove up and down along the Ecuadorian Andes. We had two days of fantastic riding under blue skies. We spent a night in a town that runs on train tourism.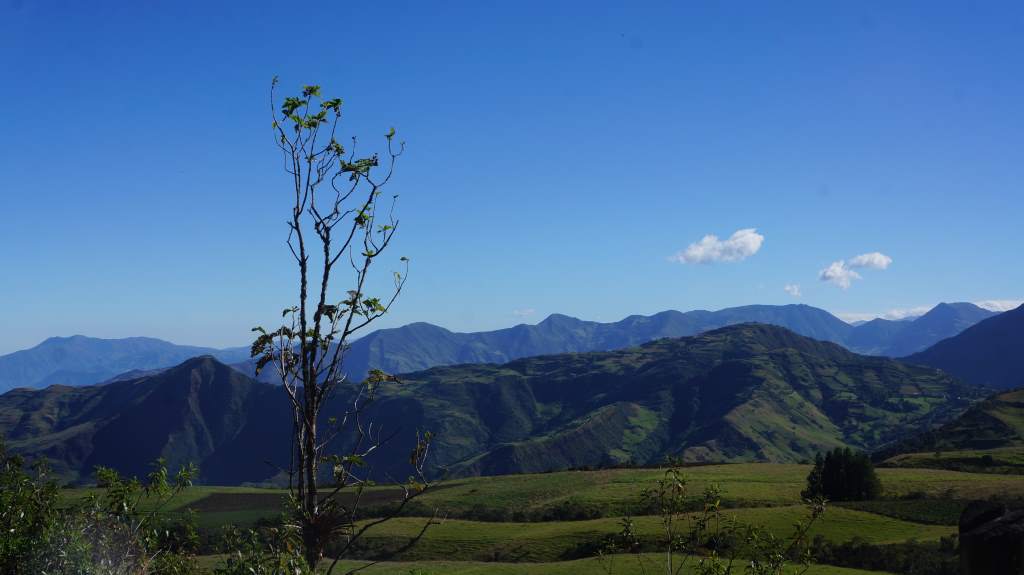 We also decided to take a dirt road shortcut to avoid a major city (and a major climb!). This shortcut was actually very pleasant, and even included some bonus pavement. That night we slept in the only hotel in the city of San Andres. It was a very fancy place! Strangely, there was not a single restaurant in the entire city (we asked multiple people), so we ended up making soup on the roof with our camp stove.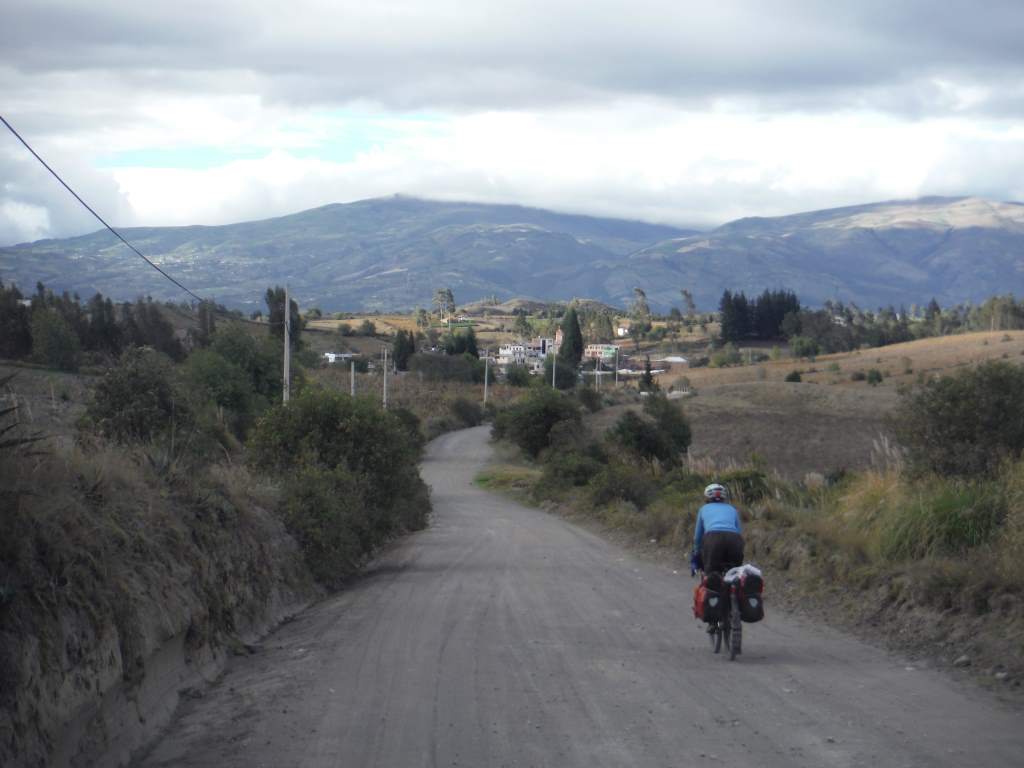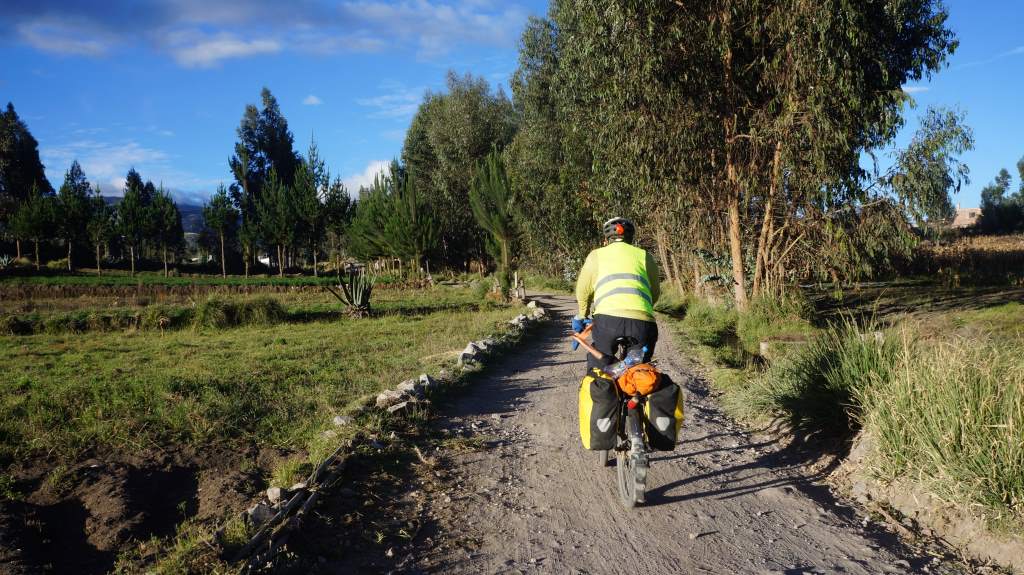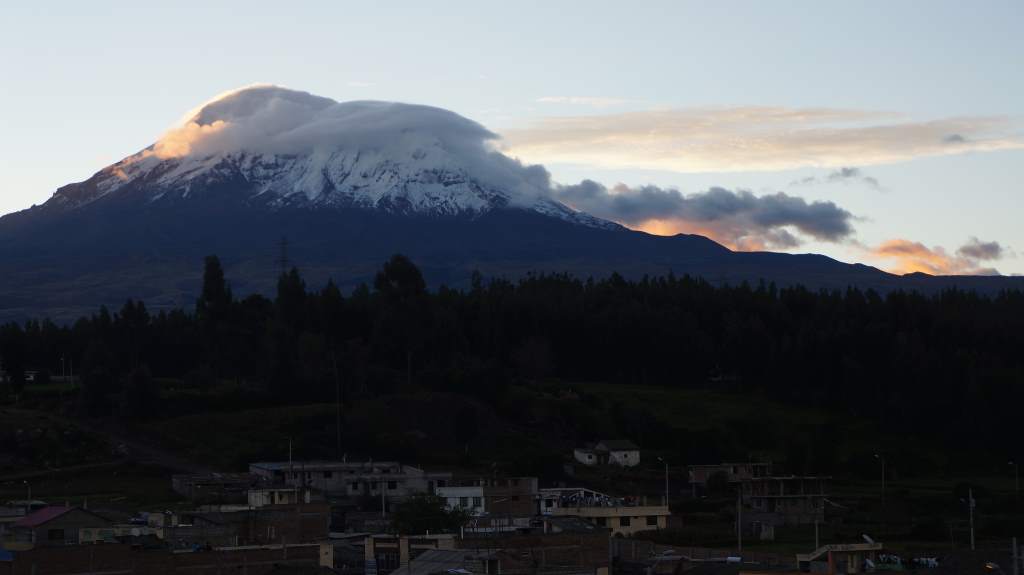 Our last night before Quito we spent in the city of Latacunga with a host family. This was our first time using Warmshowers in all of South America! We spent a nice evening with them chatting about how Ecuador has changed in the last decade. They told us that in the past year the polic installed many traffic cameras along the highways to enforce speed limits. Apparently one city to the south has made $2.6 million in tickets over the last 6 months alone!
The last day of riding into Quito was all along a busy two or three lane highway, but we rode safely and made it without any close calls. It was a surprisingly simple entrance to a massive city. Our friend Tarik, who we first met before we were even a couple, is living in Quito right now and offered to host us for a couple of nights. We found his place and were welcomed by his girlfriend, Zora.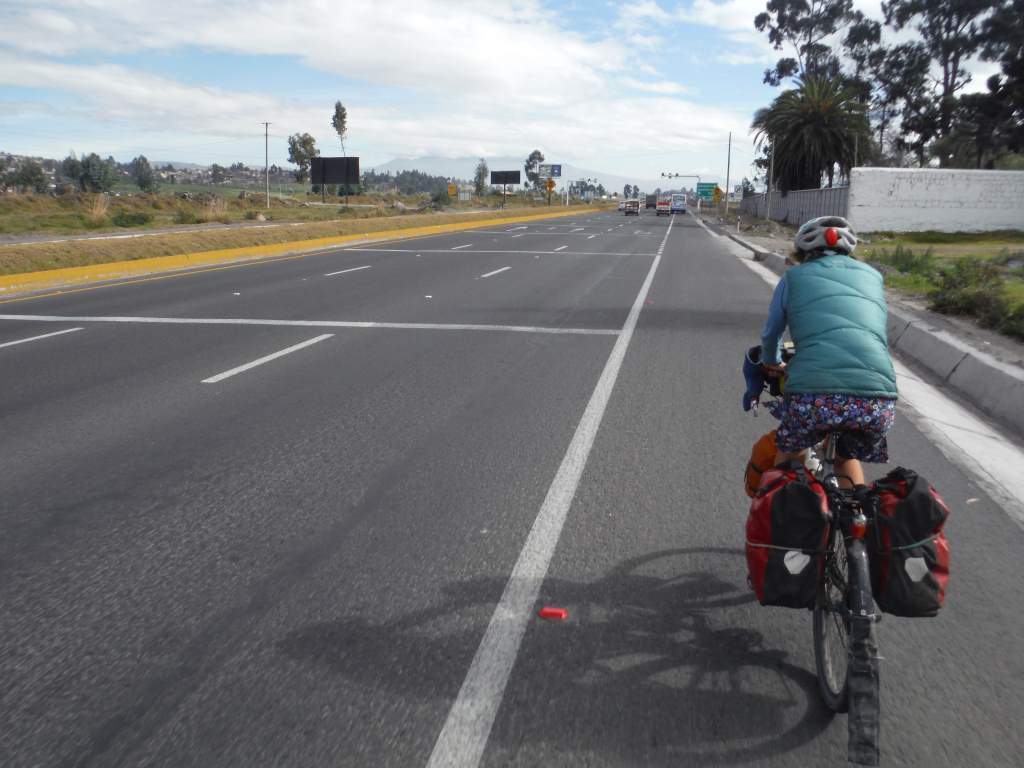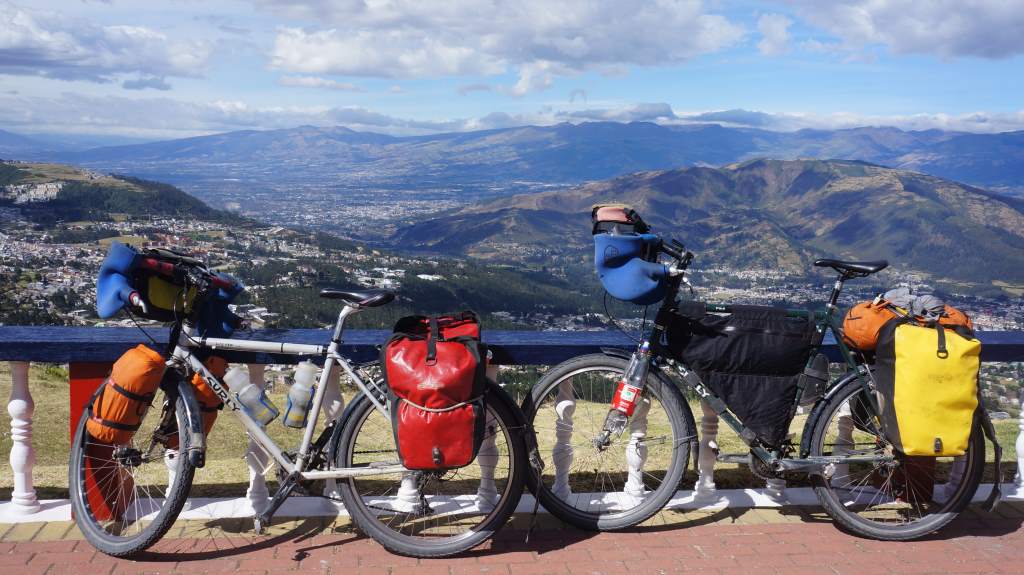 We spent three nights and two days with them, and had a blast chatting, eating, and seeing Quito. We went to old town, climbed up a church tower, saw an outdoor concert, rode in a cable car, and hiked up a volcano. We also made granola, ate their delicious cooking, and used their fast internet to find an apartment in State College for when we return. In all, it was an action-packed weekend for us! Thank you, Tarik and Zora, for being excellent hosts. You really tired us out though!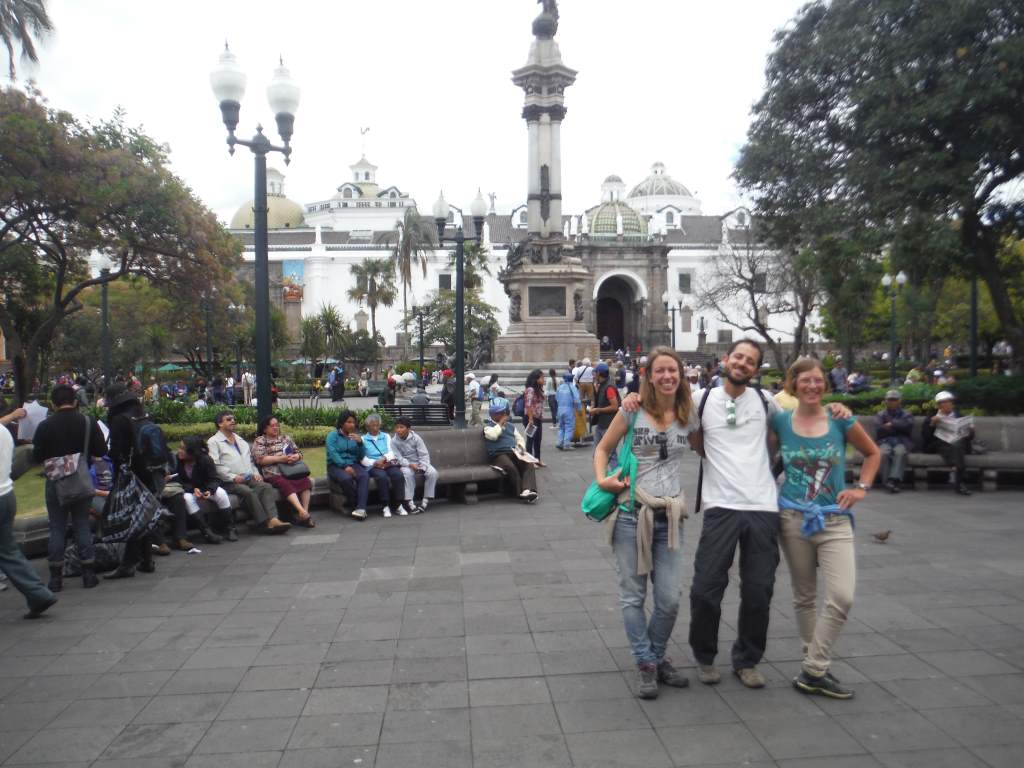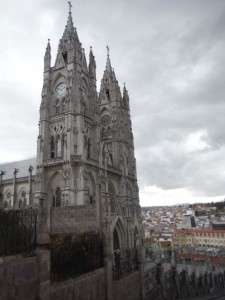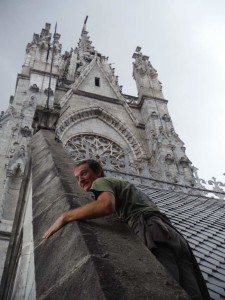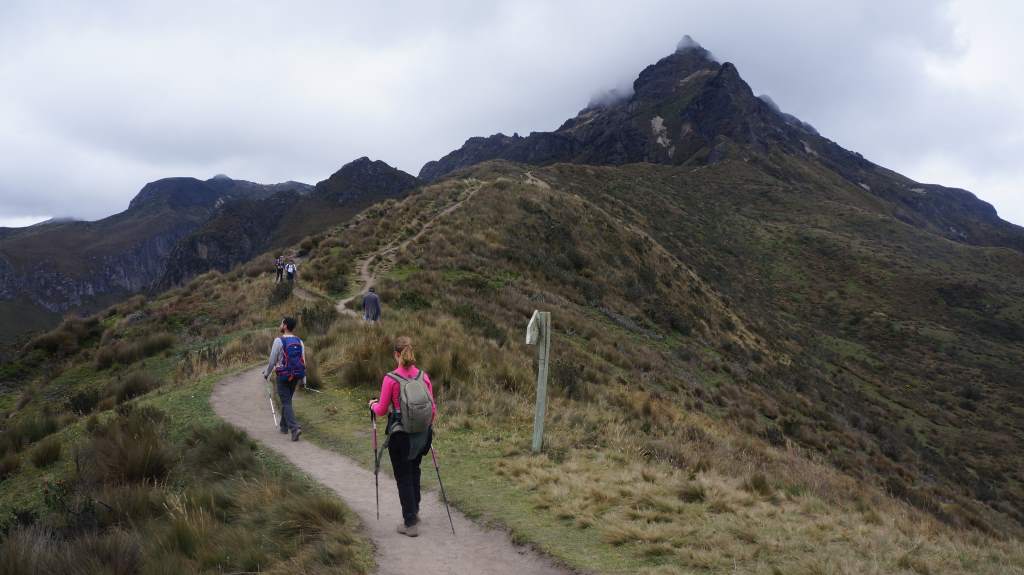 In our next update (sorry we got a bit behind): visiting an Ecuadorian market town, a dire mechanical problem, and entering our final country.