This post is solely about our bicycles and their components. Read on to find out some gritty details.
Frame: We chose to get Surly Long Haul Trucker (LHT) frames. Daisy has a 46 cm, and I have a 60 cm. Needless to say, we don't fit very well if we try to ride each others' bikes! LHTs are known in the touring community as very reliable. We wanted to go a little above and beyond the basic model to upgrade some components. Daisy likes to have things, as she says, "bomb-proof." This will be useful so we don't have to worry about maintenance mishaps in remote areas. The combination of various upgrades meant it would actually be easier to just custom-build the bikes starting from the LHT frame. Our local bike shop, Freeze Thaw Cycles was very happy to oblige.

Wheels: We wanted sealed bearings, a dynamo hub, and extra sturdy wheels. Justin (from Freeze Thaw) made a custom build – with 36 spokes per wheel. We chose 26″ wheels because that is the standard size for bikes in Central and South America, which will allow us to get new parts as needed. Sealed bearing hubs allow for less maintenance.
Tires: We are big fans of Schwalbe Marathon tires. This line of tires lasts a loooong time, and they don't flat easily. In the summer of 2012 we rode about 2500 miles without flats – border-to-border from Mexico to Canada on ACA's Sierra Cascades route. Also, once we get out of the US and Canada, we expect all sorts of flat-inducing road hazards. I hear cactus needles are bad in Mexico…
Lights: We each got a Schmidt dynamo hub for electricity generation and LED front and rear lights. The rear Seculight plus light is on all the time to increase visibility (for safety). The front Planet Bike light has 3 settings: off, on, and blink. The LHT frame has a nicely positioned eyelet on the front fork so you can mount the front light easily. We're excited about the lights because you never know when may be caught in the dark. In fact, they sure came in handy when we were cycle-touring the outer banks in late November!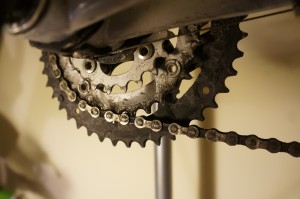 Gears: We like it low for those steep hills while fully loaded for touring. Our smallest-largest chainring combo is 22-34, giving a ratio of 0.65. That means three pedal rotations are only 2 wheel rotations. Add that to the fact that the 26″ wheels are smaller than 700C wheels. What you have is a gear that is so low there is no question that walking is faster!
Racks: We went with something very sturdy – Tubus front and rear racks. The outer diameter of tubes on these racks is about 3/8″, and the front rack has a tube that is over 1/2″. That seems pretty sturdy to me. Plus, since they are made of steel, we can get a weld job south of the border, if for some reason they do break. (Note: Aluminum racks are not so easy to weld.)
Bags: Ortleib is the touring standard for waterproof cycling bags. We each have 2 front, 2 rear, a rack pack, and a handlebar bag. When you'll be on the road for a long time, you end up carrying a lot of stuff. We also wanted space to store 2 or three bear canisters worth of extra food, cooking supplies, and other smellables for when we'll be several days between towns in remote bear country in Alaska and Canada. We bought our bags from thetouringstore.com, which was relatively inexpensive, and chatting with Wayne to place your order is a riot. Of course we'll have some bungee cords to strap on other items, as necessary.