Success!  We made it to Maryland, and are still wrestling with our stuff and getting the bikes ready for shipping.  Now, I will write a little bit about the past three days riding.  We encountered a perfect day, a stormy day, and a hot day, but here we are!
Last time we checked in, we were at Standing Stone Coffee Company, our favorite coffee roaster / laundromat in Huntingdon.  I (Daisy) also got the unfortunate news that I will have to defend my PhD dissertation in September, instead of in February as I had planned. This means that I have to write my dissertation during the next three months, on tour, so if Jason does most of the updates… you'll know why!
The ride from Huntingdon south was so pleasant and peaceful that it was almost boring.  We stopped for lunch in the shade of a tree and had a kind man offer us water, and the climb to the campground we stayed in was winding and not too steep.  We stayed the night in Cowan's Gap State Park campground, nestled in a high valley between two mountain ridges. It is a lovely spot, and we reaped the rewards of a Tuesday in May: No campers whatsoever. The only hiccup – once dinner was made we realized we had forgotten salt! Noooo!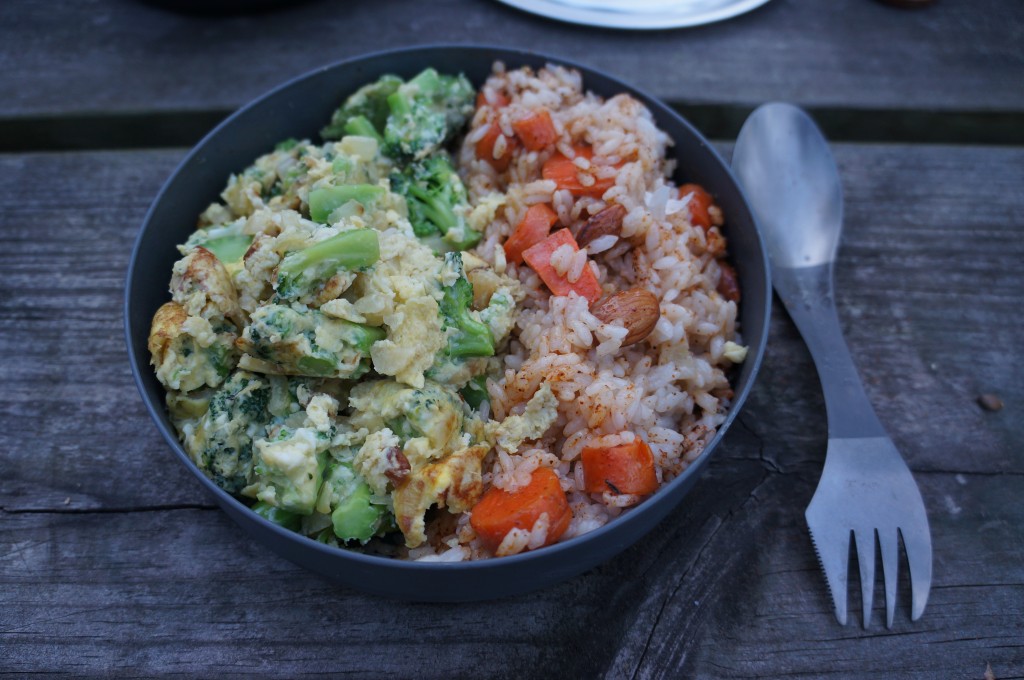 We got up earlier on Wednesday, and had a better time packing up. The first-day panic was behind us! We were on the road by 8:30, and proudly, until we realized we had taken a wrong turn out of the campground and climbed uphill for half a mile before we realized it. Once we turned around, it was a beautiful descent into the next valley. Pennsylvania is full of ridges and valleys, and we enjoyed seeing spring blooms and new leaves on our descent.
From here, the hills became much more rolling, and we traveled through farmlands for most of the day. Jason decided to start counting the number of roadkill we saw next to the road. It was determined that the creature had to be at least palm-sized to count (i.e. no earthworms or tiny frogs). He got to twenty over the course of the day! I had no idea the backroads of PA were so deadly.
Around 11 a thunderstorm rolled in over us. We threw on our rain gear and rode until finding the first covered area for lunch. It turned out to be a pretty abandoned picnic pavilion adjacent to a rifle range, but it was perfect for us. The temperature dropped, and we bundled up over lunch. The rain got harder, so we put on the full rain kit – booties, pants, coat, and handcovers I made out of shower curtains. Just as we rolled out of the tent… the clouds lifted and the rain practically stopped. Ha!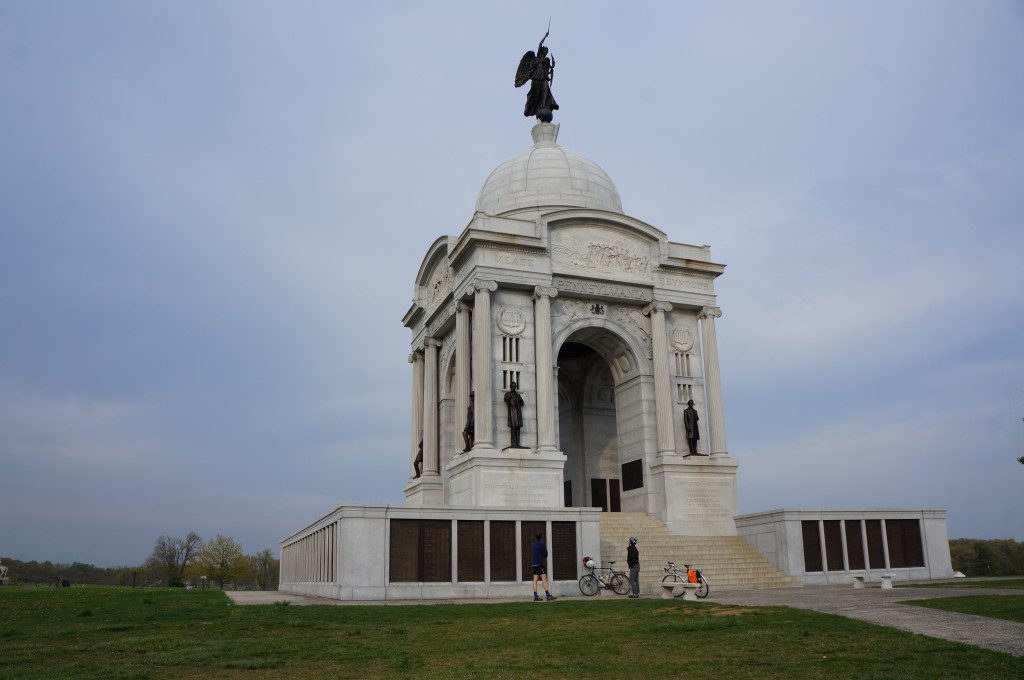 We arrived in Gettysburg around 4, where a friend of ours from Harrisburg met us. We got a (pricey) tent site, bought salt and pepper (!), ate a snack, and set up the tent. Our friend had brought his bicycle, and we set out to ride the 'auto tour' through the battlefield.  It was peaceful and quiet, with stone monuments everywhere.
That night, there was a giant college group in the tenting area next to us, at least 40, and some of them also had big vehicles with loud sound systems, so you can imagine how the evening went. We had imagined earlier in the day that the tents next to us belonged to some wonderful church group who would quietly cook dinner and offer us corn on the cob. In the end, though, the earplugs went in and we were quickly asleep.
Today we wiggled through Pennsylvania for a few miles, following Google map directions, and rode past a 'road closed' sign. We have learned to mostly ignore these signs, and this time was no different. A small crew was digging a culvert of some sort, which we easily rode around through an innocent bystander's yard. Just past this, we reached the Maryland line.
In Maryland we hit a few dirt roads. Every time we hit dirt we yell "Alaska!" because we are so excited about Denali Park road, and the Top of the World highway. Our favorite part of the day was on Sam's Creek Rd, which meandered through peaceful farms. It eventually entered a tiny, hidden valley and turned to dirt (Alaska!), before spitting us out on a busy highway. The highways were big and busy for the last 10 miles, but we made it despite the heat. It got up to 84 degrees today!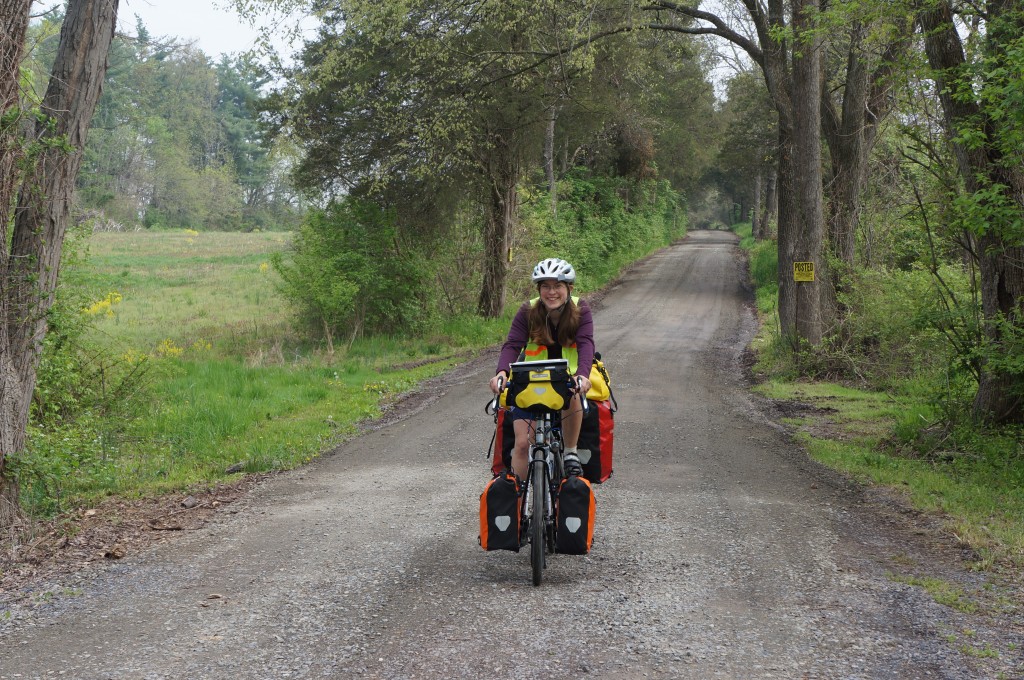 Now, we are at Jason's parent's house. We will rest for a day here packing up the bikes and doing a final reckoning with our gear. We already decided to ditch some of the seven pounds of rice we were carrying… oops. Next time we have a real update on this blog we will be in Alaska. Yippee!!