We have been on the road now for more than two months, so a moment for summary and reflection is certainly warranted.  Of course, it is particularly apt since we just left Canada for the final time on this trip, bringing to a close our time visiting with our northern neighbors.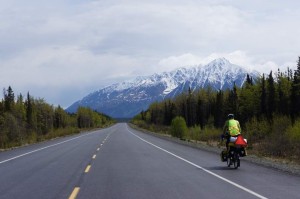 It seems like forever ago that we first crossed the border on the Top of the World Highway in the cold and snow,  and camping in fear of bears!  Below I summarize some of our challenges, joys, and highlights.
Challenges, particularly in the far north:
Distance between grocery stores. Carrying four days worth of groceries for two very hungry cyclists is always challenging, but it is extra challenging when they all have to fit into two bear-proof containers.  We did it, but we have decided that we are sick of rice and dehydrated beans.
Camping with bears. Ok, so we never really camped with  bears, but they were never far from our minds.  I knew that the probability of a bear attack was very low, and we took all the precautions to minimize it, but I still asked Jason every night before sleep:  'Do you think we're safe from the bears??'  Eventually, I had to start sleeping with ear plugs so I didn't spend all night being scared of the breeze and squirrels.  In all, we saw around 20 bears during our time in Canada.
Showers.  Actually, the lack of showers.  Towns and services were far apart, and the weather was cold.  Even in towns, showers were expensive ($10 per person in Tok!), so we found that we were perfectly content going without for up to 5 days.  You readers might say 'Yikes!', but realize that during most of these stretches we also never took off our long sleeve shirts and down vests, even in the tent, so it's not like we could smell each other!
Some things we loved.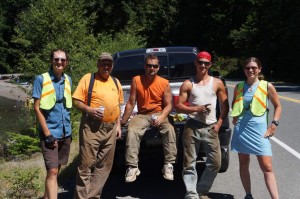 Friendly folks. We actually noticed a big difference in friendliness as soon as we crossed over from Alaska.  In Canada, we knew we were tourists, but were usually greeted as friends.  Folks we met were quick to offer help (remember the road worker who saved our bag of belongings??), and we never felt like we were intruding.  Best of all, we never worried that some hunter would find us camping in the woods and run us off the land with a shotgun.
Scenery. Both the Yukon and British Columbia are beyond words for scenery.  From sweeping vistas of plains, high mountains with glaciers, river valleys, ranches and cowboys, to quiet creeks, small lakes, fishing towns, and the signpost forest.  Both areas are true to their proclaimed slogans.  The Yukon claims to be 'Larger than Life', and it is.  British Columbia claims to be 'The Best Place on Earth', which is arguable, but it certainly lives up to its other slogan: Super, Natural, British Columbia.
Nanaimo Bars.  This distinctly Canadian dessert is divine.  While in the town of its birth, Nanaimo, we took a trip on the 'Nanaimo Bar Trail' and sampled six of them in one evening.  Daisy got sick on the sugar and butter, but Jason was in heaven.  He promises to make me Nanaimo bars for my PhD defense in September.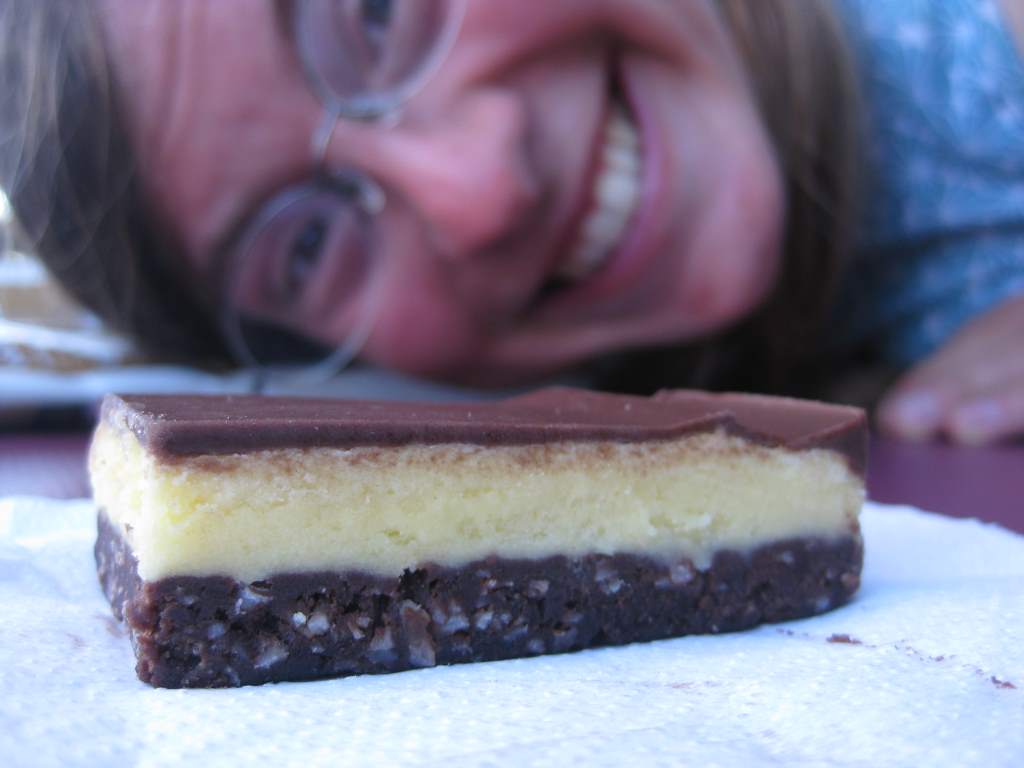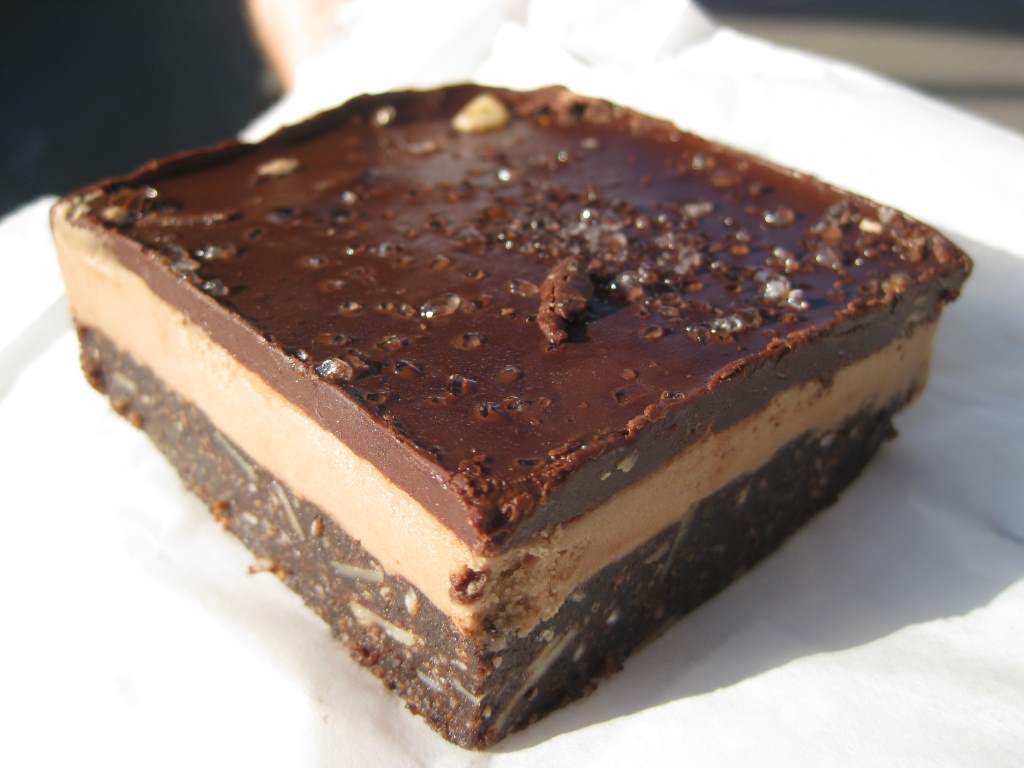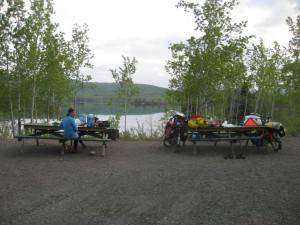 Yukon Government campgrounds. These campgrounds were invariably cheap ($12), clean, and well-equipped.  They were often in beautiful places next to rivers, lakes, or creeks, and they were free of giant RVs.  What more could we ask?  More often than not, there was firewood provided with the camp fee. Also, the larger-than-life picnic tables were great for spreading out all our stuff.
Canadian Money.  The US should take note!  The bills are beautiful, colorful, and made of plastic to be resilient.  There are no $1 bills, since $1 and $2 coins work better.  Best of all?  No pennies!  They no longer use them, so everyone knows how to round.
Highlights!
Dawson City:  This was our most northerly town for this trip at 64 degrees north.  It was also a clear highlight for both of us.  We loved the historical stories and tours, the friendly folks, and crossing the mighty Yukon river on the tiny ferry.  We stayed two days and three nights here.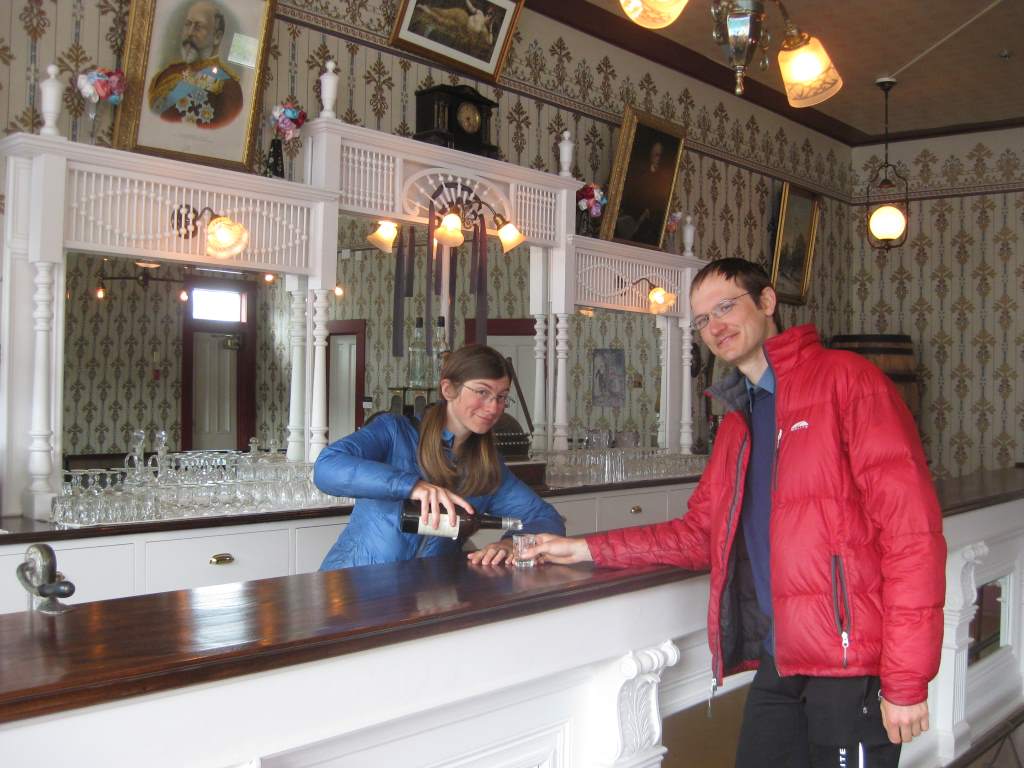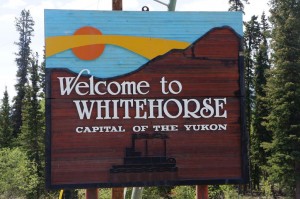 Whitehorse: The capital of the Yukon has excellent grocery stores and small-town / big-city feel, but it was a highlight for us because of our wonderful host Alice.  Her cooking, stories, and fantastic welcome made our days here very very special to us.
Bella Coola Valley and the ferry to Port Hardy:  The descent into the tiny hamlet of Bella Coola was spectacular, easily rivaling our visit to Yosemite a few years back.  The lack of tourism traffic, the abundance of mountains, glaciers, rivers, and salmon combined to make this stretch outstanding.  Combine these things with the petroglyphs, the bizarre ferry experience, and the cycling friends we made, and we easily place these two days in our list of 'top days'.
Time with Daisy's Parents:  Having family travel with us was quite a treat.  We felt like royalty every night when we were welcomed into camp by the squealing German shepherd, and fed a giant dinner with fresh vegetables.  We loved the evening conversations and the easy laughter.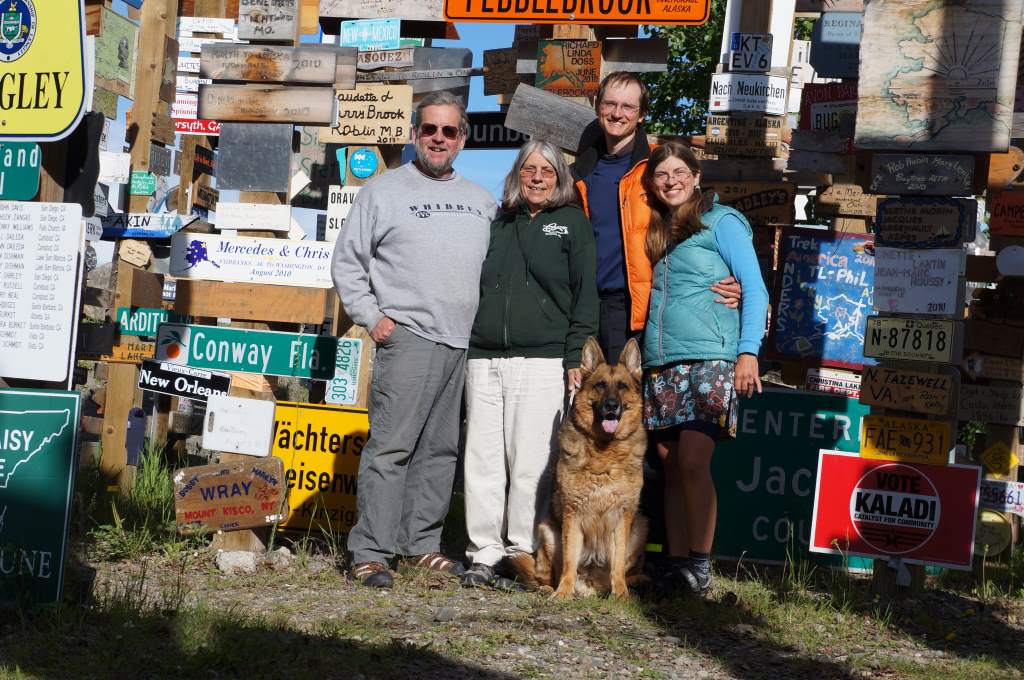 I could continue, but I suppose this update is long enough already!  USA here we come!