As I write this, we are in a small town just south of Mt. Rainier National Park.  We just spent the last few days riding away from the Seattle area and around Mt. Rainier.  Luckily, yesterday was a stunningly clear day and we were able to see the mountain in all its glory.  Pictures included, but after I talk about visiting family! This is kind of a long post, so bear with me!
We spent a wonderful rest day in Port Townsend with my (Daisy) cousin, Mimi.  I hadn't seen her in a decade (gasp!), and it was a blast to visit with her and her two sons.  We had a true rest day here – watching movies, playing with her adorable almost-two-year-old, and eating pizza.  Best of all, we had a blast getting to know her older son Anchor.  He has excellent taste in books so we happily took his recommendations for future reading material.  One thing is for certain, we won't wait another decade to visit!
From Port Townsend we spent a day riding south to Seattle.  The weather had been beautiful for the last two weeks in this area, but of course a drenching storm rolled over us.  Oh well, a typical Seattle welcome.  We took the ferry from the Olympic Peninsula straight into downtown Seattle, and it was so beautiful, even in the rain and wind.
We were quite overwhelmed when we rolled into the heart of a giant city.  We had to resort to pushing up the steep hills when traffic was too bad to be on the roads at our glacial pace.  Many folks stared, but only the crazy ones said anything!  It didn't take too long before we were out of the bustling center and into the neighborhoods where our host lives.  An incoming Penn State Statistics grad was kind enough to host us and tell us about his bicycle trips this summer.  It was great to see him!  We felt guilty about not taking the time to visit with our many many friends in Seattle, but we were so overwhelmed.  Please accept our apologies Seattle folks!
The next day my mom drove down from Bellingham to spend the day with us.  We had a blast at the flagship REI store (which is insanely large), and taking a tour of the Seattle underground.  Seattle has a really fun, gritty history complete with 'ladies of the night' that controlled most of the city's government for a few decades, a police chief that also was head of the rumrunner's in the area during prohibition, and an entire downtown that was slowly sinking into the tidelands.  The city rebuilt on top of itself, leaving an entire abandoned first story underneath modern street level.  It was really fun to go on the tour!
That night we rode a short but difficult 16 miles to visit Jason's extended family in Redmond.  They were so kind, welcoming us to their 30th anniversary party and getting everyone out on the street to cheer us as we rolled in.  At that point, we were happy to find food waiting for us!  Daisy snuck off to visit with a dear friend from college.  We spent two hours reminiscing about our days as super math nerds, and catching up on the days since.
We spent a leisurely morning at Jason's family's home, and then finally starting riding South again.  Finally!  Then… we got lost on the bicycle path.  Ha, serves us right for being so excited about getting out of Seattle.  We eventually made it to Enumclaw, where we saw a sign that indicated fairground camping.  Curious, we ventured over.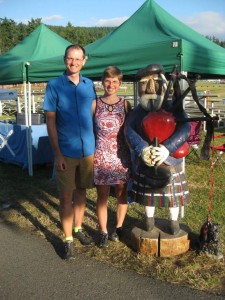 It was a giant gathering for the highland games!  We slowly rolled through the full camp, hoping to find a friendly face to share with.  We found it alright – a fellow and his adorable dog were camped in an REI tent with a bicycle nearby.  Perfect.  We set up, and ventured through the fairgrounds to listen to bagpipes and see the sights.  Another unexpectedly wonderful night of free camping!
The next morning we tried to roll out early to climb into Mt. Rainier national park, but were a little slow.  Eventually we did get on the road into the forest, only to find that construction had recently laid a large amount of gravel on the road.  As cars passed they transformed the gravel into projectiles.  Luckily, a cyclist in a car stopped and insisted that we get a ride through the construction.  Even as we loaded up the bicycles, we got hit by those damn gravel pieces.
She dropped us off quite a few miles up the road, and just past the end of the nasty gravel.  From there, it was all up up up to Chinook Pass.  The climbing was pretty easy, and the cars were very polite despite it being a sunny Saturday.  Our route took us to the south before the road's highpoint, but we decided to finish the climb and go to the top before returning back to our turn.  Good thing we did, because the pass was stunning!
It was still early when we got to our chosen destination – Ohanapecosh campground in the national park.  Of course, it was full, but we found a little spot that no one else was using and the rangers seemed to approve.  Somehow, we got another unexpectedly free night camping!  Daisy worked on her dissertation until her laptop ran out of batteries, and we were asleep early.
Next stop, Portland area to pick up Jason's cousin for our next leg heading south in earnest.  Yippee!