It was tough to pry ourselves away from the many delights of Durango, but we did it.  Many miles of open plains, small towns, and windy days awaited us.  Our route south from Durango took us over a few small mountains, but mostly kept us at about 6,000′ and riding through agricultural ranch lands.  As we made it farther south we started to pass through rich colonial mining towns with centuries of history and hundreds of thousands of people.  Our time in this area has been highlighted by wonderful hosts that we met through luck or Warmshowers (a touring cyclists hospitality network).
Our first few days out of Durango were a bit challenging mentally.  It rained for at least a bit for the first four days, and the wide open vistas just made us realize how far we had to ride between towns.  Luckily, there were decently sized towns every 50 to 60 miles where we could stay the night and resupply.  These towns were really neat for us to visit because they were so obviously off the tourist track.  We were able to find incredibly cheap hotels and ride through their streets looking for food and water.  Sure, everyone stared at us like we were crazy, but they were all friendly and, well, maybe we are a little crazy.
In the small agricultural town of Sain Alto we stayed in a completely unmarked hotel that was actually a one-bedroom apartment for $16.  We also reached another major milestone: 7000 miles!    Jason and I made celebratory beef stew for dinner, spending close to an hour riding through town searching for a carniceria (butcher-shop).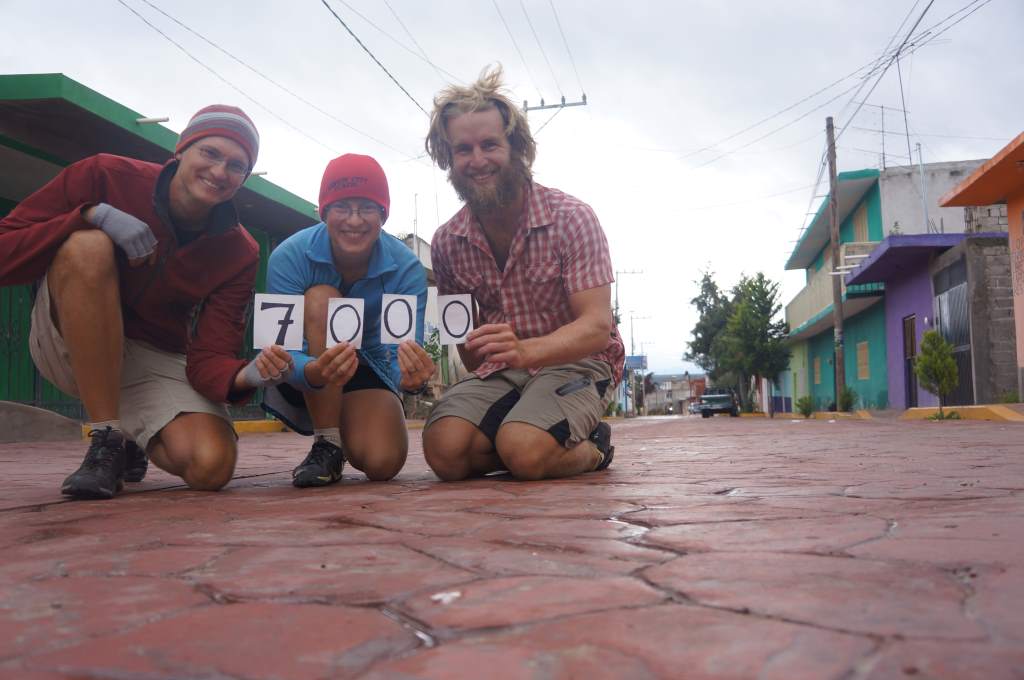 It was a few more days of crippling headwinds and occasional thunderstorms before we came to our next big city: Zacatecas.  This city is a UNESCO world heritage site, and for good reason.  The rich silver mines in the area made many folks rich, and in turn they built opulent buildings and created an unforgettable city center.  We spent an afternoon here and then flew out of town on the main highway.
We spend a lot of time on the busy roads in these big cities, and feel surprisingly safe doing so.  There are usually at least three lanes, and the cars seem to accept that we can take a whole lane for ourselves.  There was a distinct moment I (Daisy) remember from leaving Zacatecas.  We were riding downhill on a three-lane highway and I felt perfectly safe.  Since when does riding on the highway in a major Mexican city feel safe to me?  Well, since now I guess!
The only downside to Zacatecas was that we lost Tyler there, although not permanently.  He lost track of us and decided to stay in town for an extra day to buy a map, and we continued on to the next small town.  Tyler doesn't have a phone, and we didn't have any internet, so neither party knew what happened to the other.  It turned out just fine though, since we met again at our host's house in the next major city of Aguascalientes (Hotwaters).
MJ, our host for the night, is serving as a Peace Corps volunteer in this lovely city.  He treated us to a downtown walking tour and introduced us to Cafe de Olla: Mexican Coffee that is sweetened and flavored with a variety of spices.  He also gifted us a list of important Mexican vocabulary and slang that he has gathered over the last months – very useful!
The next night we had some impromptu hosts in the form of Mexican Red Cross first responders.  We saw their ambulance depot and asked if there was a spot for us to camp there for the night.  After they had absorbed our story (and called the boss!) they welcomed us in and showered us with questions.  They encouraged us to visit the town center and the nearby county cemetery, which was surprisingly lovely and peaceful.
The very next day we rode into the roaring metropolis of Leon, which has over 2 million people living in the metropolitan area.  We stayed with Fernando and Frida, two fantastic young high school teachers.  They warmly welcomed us into the home, and the following day we commuted to work with Fernando and spoke with his chemistry class.  For an hour we were peppered with questions by excited and giggly high-schoolers that wanted to know everything about our trips, our studies, and our lives.  This was absolutely a highlight of our trip, and we felt so honored to be given the opportunity to meet so many young people!
Fernando also arranged one more night with another host: his little sister.  We stayed with her for a night in the stunningly beautiful town of Guanajuato, another world heritage site that earns its status.  Laura is a first-year chemistry student at the university here, and we had a great time chatting with her in her home near the college.  After we left her house the next morning we didn't make it too far before being completely charmed by this city.  It is a city built into a deep ravine that is filled with tiny alleys, charming plazas, street venders, stairs, and colorful houses.  We decided to spend two days here to rest, wander, get lost, and plan our next couple weeks in Mexico.  This country just continues to charm us, and we are looking forward to what the next mountain range will bring.
In a day or two we'll put up a post filled with pictures of Guanajuato, this stunning city.  This post is already long enough!!  Of course though, there are many more photos to share.  Here are some of them: