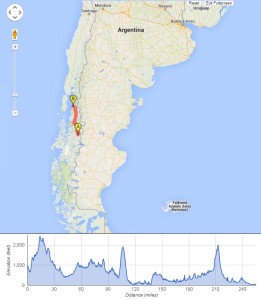 It's the end of our third week riding on the Carretera Austral, and we are in the comparatively large town of Chaiten.  This town is famous because in 2008 a nearby volcano erupted and buried it.  The inhabitants were vacated, and the town was relocated a few miles north of its previous location.  The volcano is clearly visible from almost anywhere in town, and it is still smoking.  Yikes!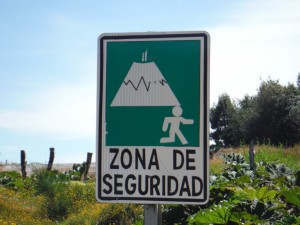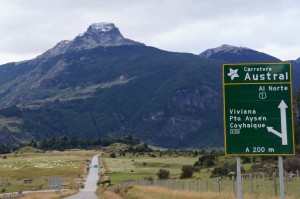 It's been an interesting and varied week.  We've been seeing tons of southbound cyclists – up to 30 each day.  It is the height of vacation season for the Chileans, so we meet many college students from Santiago out adventuring.  They are lucky to have such a fantastic area for adventuring just a few bus rides away.  For us, we've seen more mountains (of course), along with more towns.  There has been a series of construction areas that presented difficulties.  One in particular combined with a fierce storm and forced us to get our first ride since Washington State.
Leaving Coyhaique (where we last updated) there are two potential routes north: a paved route along the river, and a gravel road through the mountains.  You can guess which one we chose!  Despite some cold weather, a stiff breeze, and loose gravel, it was a phenomenal day of riding.  To illustrate: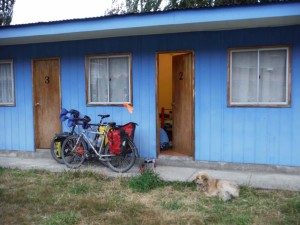 That night we stayed inside for the first time in weeks.  It was only $8 each to stay in a very simple hostel, but it was actually very nice.   There were about 5 blankets on each bed!  We were happy to be inside, since the wind and rain raged all night long.  It stayed pretty rainy for the next day, and we kept hoping it would clear.  We spent that night camping along a lovely river, still hoping for clear weather.
It was not to be, even though the following morning hinted at better conditions.  The rain was on and off as we rode through the early hours, but it was all 'on' as soon as we started the biggest climb of the day.
This climb coincided with some nasty road construction that had more or less destroyed the road surface and made everything more difficult.  It really started to pour as we got higher and higher into the hills.  We reached the top and realized that the wind was insanely strong directly into our faces.  The rain was actually sideways.
We stopped to get some warmer clothes on, but it took us too long and we ended up chilled, wet, and not willing to start a long descent.  The only shelter for us was a plastic port-a-potty, which we were actually very grateful to shelter in (ok, it was disgusting, be we were pretty desperate at this point).  I (Daisy) tried to flag down a truck to carry us the rest of the way through the construction site.  The really bad part was that the road was to be closed for traffic from 1 to 5 that day, and it was 12:30.
I frantically waved down every truck that went by until we finally convinced two German tourists to let us pile into their rental truck.  Good thing too, since the rain continued sideways and the road was just awful going down the hills.  Even the truck had to crawl along in 4 wheel drive.  After about a half hour we got stopped at another construction block that wouldn't open for two more hours.  The Germans decided they didn't want to wait, so we had to get all our stuff out of their truck.  Once again, we were in the pouring rain and cold.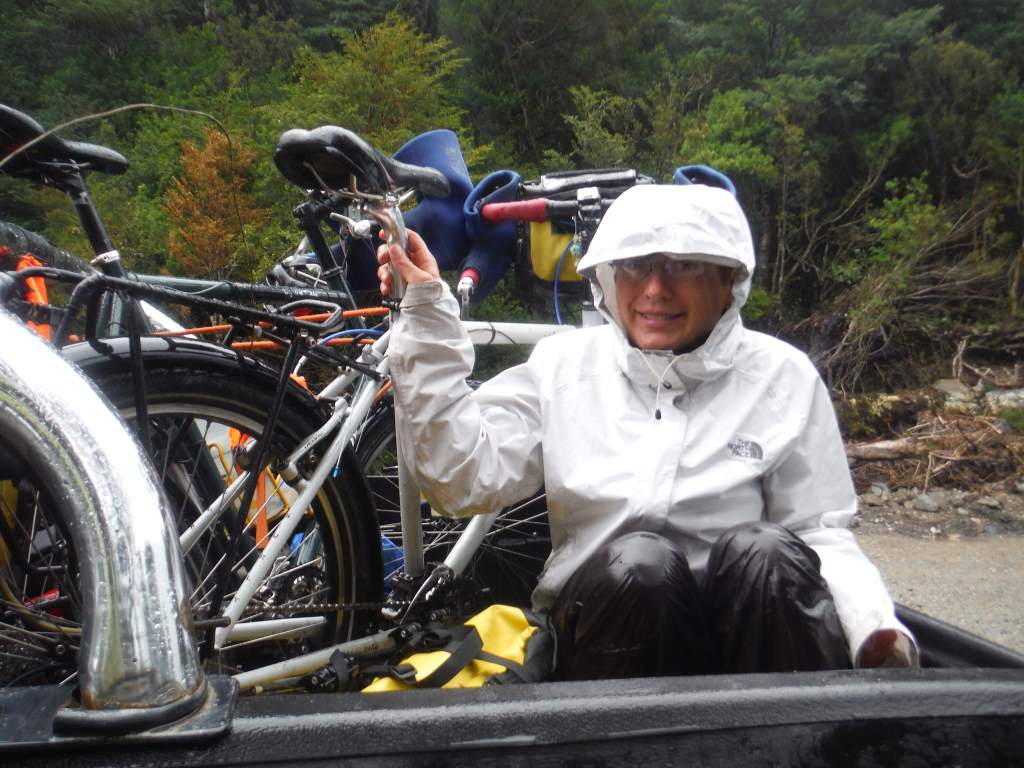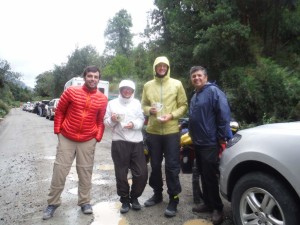 Luckily, a lovely family took pity on us and made us cups of hot, sweet coffee.  It warmed us to the core.  We also found a truck carrying hitch-hikers that was willing to take us through the construction.  Again, we were very grateful for the lift as the construction zone was in awful shape (they were blasting up the sheer cliffs on the side), and the weather was nasty.   That night we were incredibly grateful just to be warm and dry in a covered tent area.
Since then, we've had some easy days through pleasant scenery.  It certainly hasn't been spectacular by Carretera Austral standards, but it also hasn't been raining!  We rode through yet more construction, too.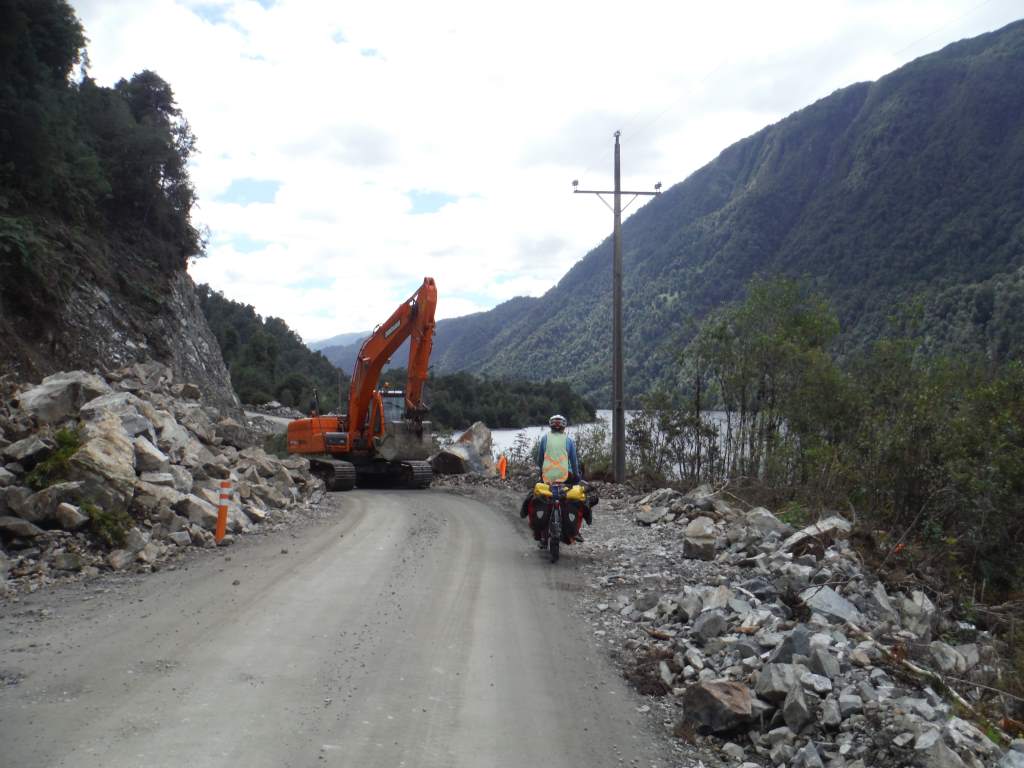 Last night we camped next to a glacial stream a little ways off the road, and the site seemed almost too perfect.  That is, until the giant bull came wandering into camp!  He was a bit upset that we were cooking dinner in his path, and he huffed at us a bit before sniffing the tent and rambling off into the bushes.  After that we used logs to build a fence around our sleeping area…
We have just a few more days left on the Carretera Austral.  It has been quite a ride for us so far, but we are looking forward to getting to know other parts of Chile.  A few more photos: