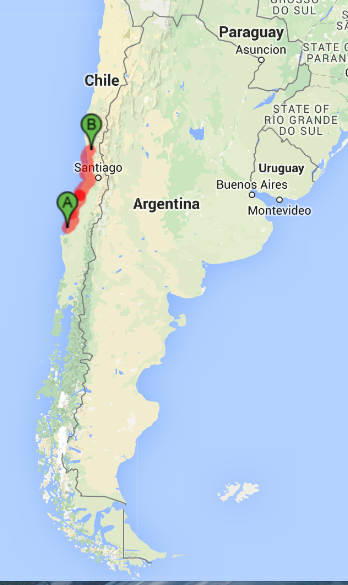 You might be wondering why it has been so long since we last updated.  Well, the reasons are two-fold.  First, we were travelling through comparatively dull scenery and we couldn't imagine filling an entire update with the following:  Tree farms and traffic.  Eventually the tree farms and traffic ended, but then we found ourselves in an internet void for many days.  Now, we're back on the interesting back roads of Chile and tonight we have internet!
Let's see, though.  Last time we updated we were just heading towards the coast.  As we neared the Pacific we began to see more and more plantations of perfectly lined up Eucalyptus and Oregon Pine trees.  The coastal road was rarely actually along the coast, and mostly wove through the hills a bit inland.  We did spent a few nice nights in campgrounds near water, listening to the crash of the waves.  The ocean here is not for swimming, but many people come here to surf.
One of our favorite days was mostly accidental.  We had planned to take the coastal road, but were low on gas for our cookstove so decided to take an inland route because we knew we'd find a gas station.  We bit off more than we could chew with this route!  There was a very steep, mostly unexpected hill.  Even though it was paved it was still too steep to ride and we had to resort to pushing.  The descent was just as steep, and we even saw a truck at the bottom with crazy smoking brakes.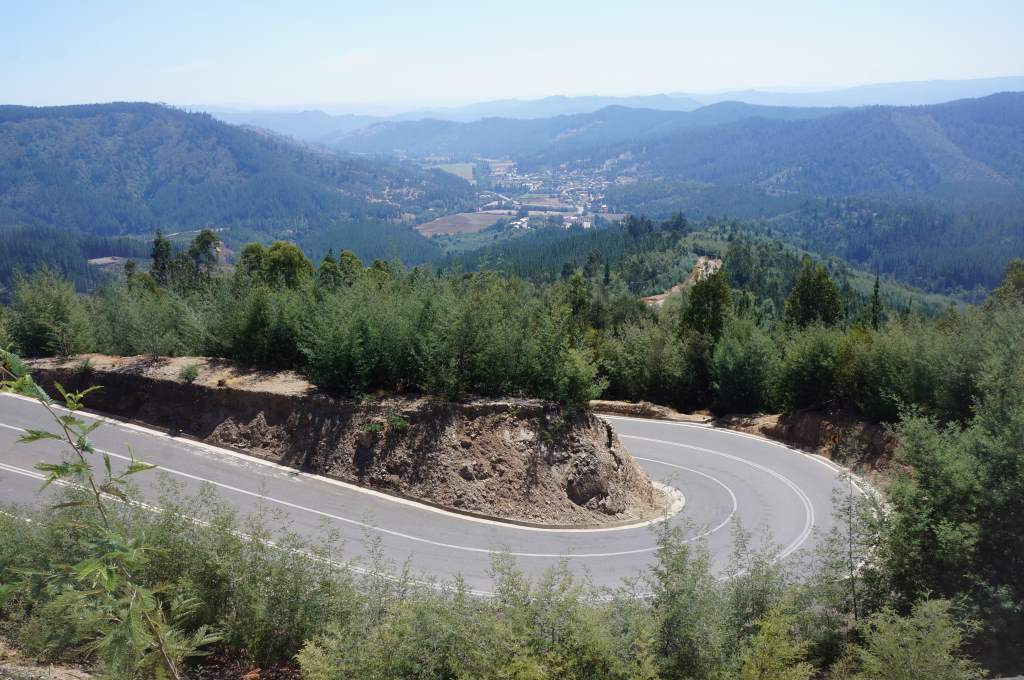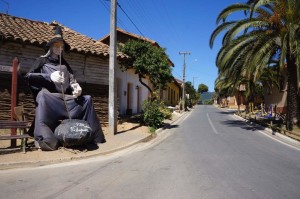 We ended up at this really charming town full of artisans and government buildings.  We also met a hilarious Australian kid of about 12 who was living there for a year.  He told us he was taking care of his grandparents there for a year, and that the town had a lot of legends about witches.  He informed us that he just tries to live his life without worrying about witches.  He also wanted to know if we had been to his favorite American city of… wait for it… Miami.  Obviously, this kid was a riot.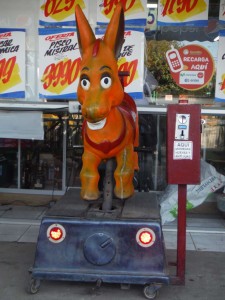 We spent a night in the surfer town of Pichilemu, which was most interesting for its super-scary grocery store donkey ride (see picture) and its 6-way intersections.  It seemed that at every stoplight we could turn most anywhere, but the road straight in front would be one way the wrong way.  After Pichilemu we headed back inland for a couple of days, and we were really happy we took this route.  From not-so-exciting and kind of busy coastal road we went onto a beautiful, low traffic roads through arid scenery that we call 'Scenic Western Country'.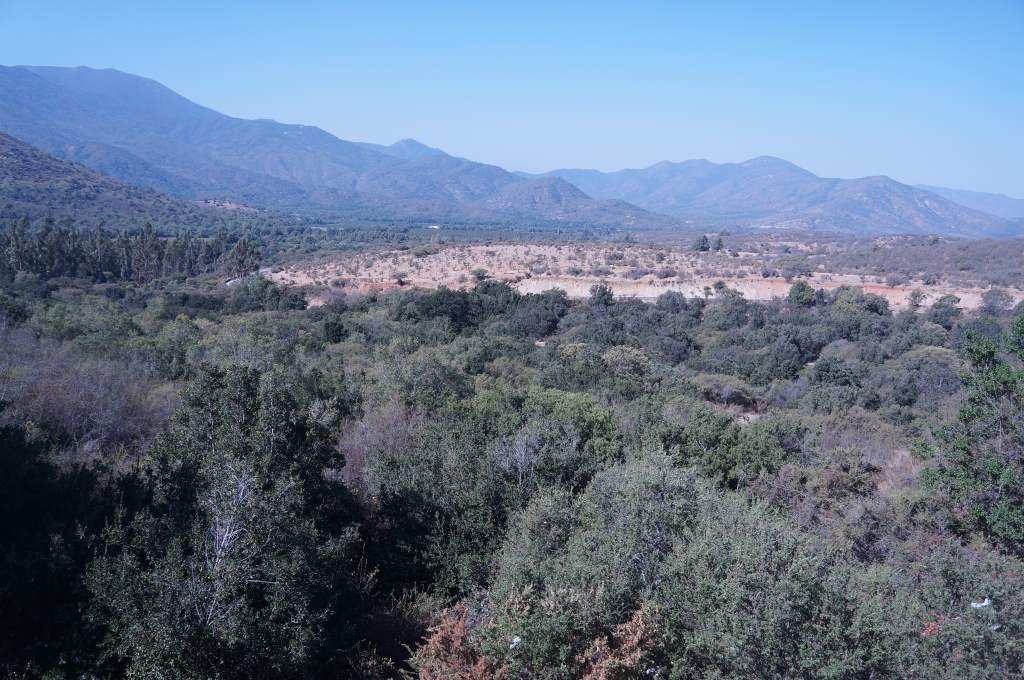 On this beautiful road we spent one of our scariest nights of the trip.  Near the end of a day's riding we entered a valley with a forest fire.  It was a pretty sparsely populated area, so there were no hotels or camping areas.  We asked about a safe place to camp at the police station, and they told us to just ask a local.  There was a mini-market next store, so we got permission from the family running it to camp next to their house.  That night the wind changed direction after dark, and blew the fire towards us.
The entire neighborhood came out to watch the smoke and flames near their houses.  The fire reached the hills directly behind us, within a 10 minute walk.  We could hear the firefighters yelling, see the flames, and our eyes burned from the smoke.  The ash fell like a bizarre snow.  The young son of the family stood with us to watch the fire, and he was so sweet and scared that he talked non-stop for about an hour.   Luckily for the whole neighborhood (and us!) the fire stayed up on the hill and didn't venture into the valley.  Even so, it was a restless night.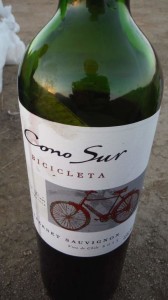 We spent a peaceful couple of days with my cousin in the surprisingly secluded valley of Tunquen.  It is so secluded (and internet free) that we actually couldn't find him!  No worries, we camped on the beach, watched the sun set, and drank the bottle of wine we had brought him.  The next day we headed into the big city to drop off our bikes at a shop and finally met up with my cuz.  We had such a super-relaxing time that we neglected to take photos… oops!
Now, we are once again heading into the unknown.  Right now we're in the semi-desert hills and mountains to the north of Santiago.  We've got a few more days of 'small' climbs (6,000′) before  we'll be tackling our first high altitude pass into Argentina.  The pass is gravel, and tops out at over 15,000′.  Neither of us have been that high in our entire lives, and now we're going to pedal our bikes up that high!  We'll keep you informed – the scenery promises to be absolutely stunning.
A lot of photos didn't make the cut for the narrative above.  Here are a few: