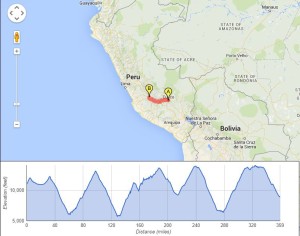 We've climbed a lot of mountains on this trip, but never before have we climbed this many mountains in this short of time.  I kid you not – in the last 6 days of riding we have climbed (and descended) over 30,000′ of elevation.  To put that into perspective, Mt. Everest is 29,035′.  In order to accomplish all this climbing the roads are more twisted and switchbacked than we thought possible.  For example, this section of road: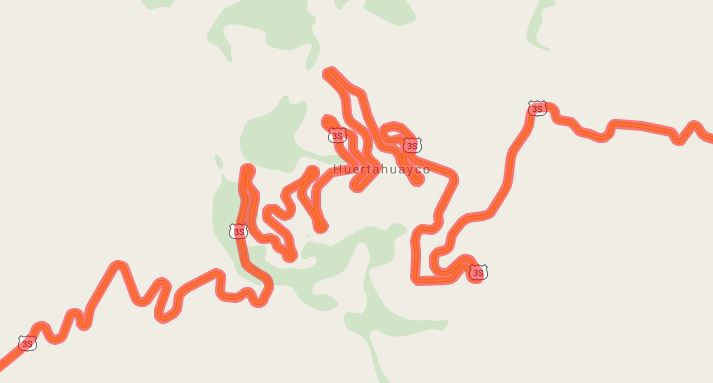 It has been absolutely incredible to climb into the clouds, far above the valleys, and then descend down to the steaming river valleys.  At the top of the climbs we see alpacas, llamas, and wild vicuna.  At the bottom we see sugar cane, mango trees, bananas, and avocados.  We have ridden through many tiny villages, and eaten out nearly every meal at small eateries that offer soup and one or two choices for a main.  Once, we even had cow stomach for breakfast!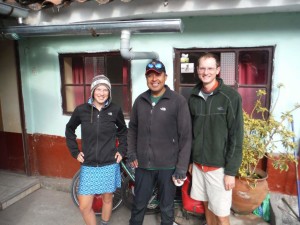 We left Cuzco on a Sunday morning to beat traffic, and it turned out to be an easy ride out of the city. During the day we met up with Jorge, another ultra-long distance touring cyclist that we knew from La Paz. We ended up riding with him for the next couple of days. That night we decided to ride a bit extra to stay at some hot springs we had heard about. Well, 'a bit extra' turned out to be nearly 20 miles, the last couple of which were steeply downhill on a rough dirt road. The 'hot' springs were barely lukewarm, and packed with Peruvian families bathing themselves with Head and Shoulders shampoo. It was certainly an experience!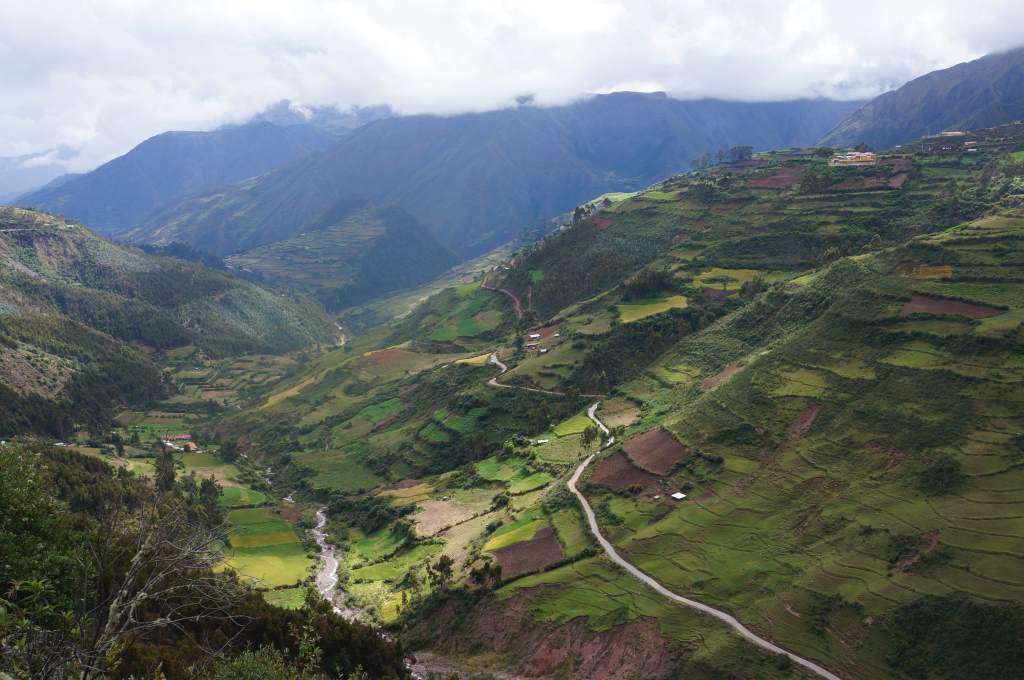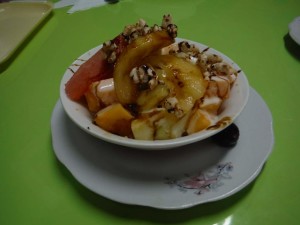 The next day we made a new record for the most climbing in a single day: over 7,000′ of elevation. We were on the bikes at dawn, and rode up and up and up for almost the entire day before plunging back down. That night we stayed in the city of Abancay. It was yet another bustling Peruvian town. Most notably, it had an amazing restaurant with vegetarian meals and massive, delicious fruit salads. We had both a dinner and a breakfast there!
We spent a rest day in the town of Andahuaylas, four days ride from Cuzco. We were pretty pooped, and spent all our time there eating out and reading articles on the internet. Sometimes we just get tired and overwhelmed from taking it all in. It's times like this that we just hole up for a day or two and relax. Especially in this land of giant climbs, hectic city streets, crazy markets, and restaurant foods.
We felt much better after our day of rest, and the following day was truly a pleasure. We climbed 5,000′ and it seemed easy! It is remarkable to watch the ecosystems slowly change from the hot river valleys to the fertile agricultural hillsides to the barren high lands. It also helps that we've been listening to a new young adult audiobook that keeps us entertained. We also met a couple of local schoolkids biking back to their village after school. At first they were shy, but we got them talking! Their names were Fidel and Ernesto.
Did I mention we hit 14,000 miles?!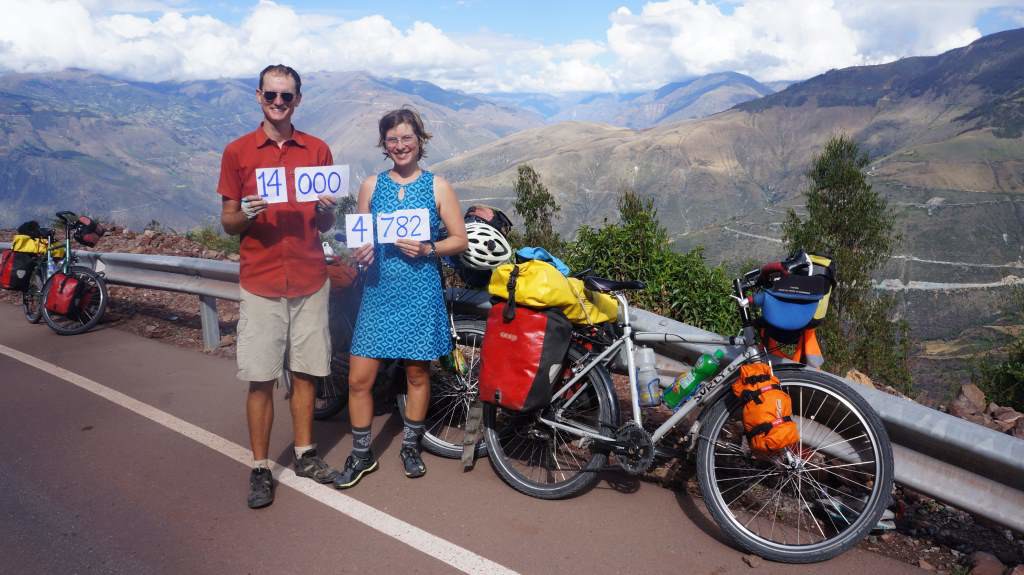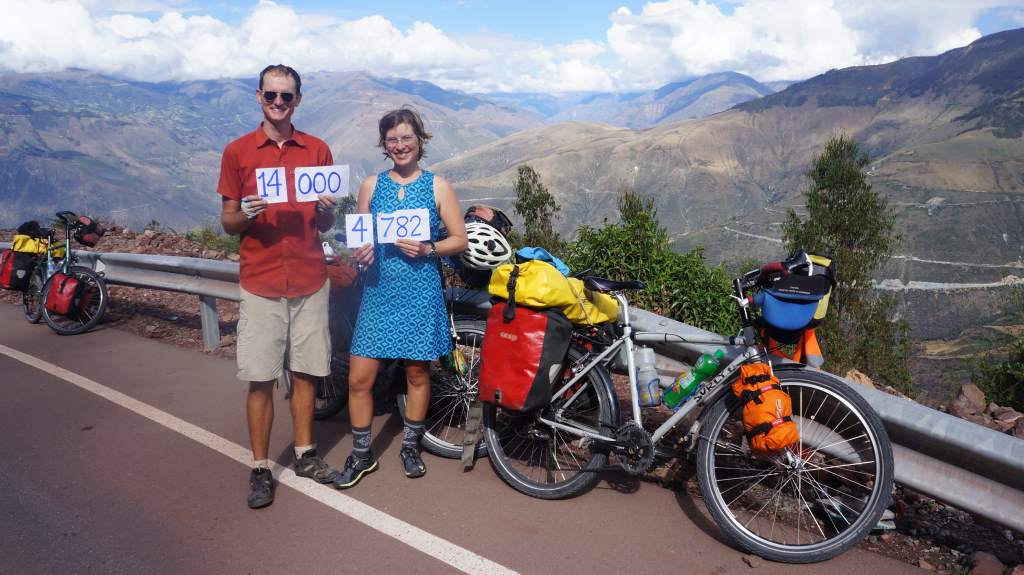 A couple more days of climbing followed before we arrived in the big city of Ayacucho. The city was the site of an armed uprising by the Maoist party called 'The Shining Path' in the 1980's and 90's. There was widespread violence against government officials, union organizers, and peasants. It was a dark and bloody time for Peru. We have found plaques in the city memorializing the fallen. Currently, however, Ayacucho is another lively Peruvian city with a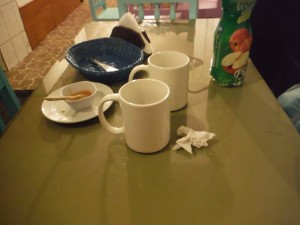 historical city center and lots of pedestrian streets. Most importantly for us, it's also known for its food. We are spending a rest day here to get ready for a few days of hilly dirt roads. Mainly, we are eating!
There are so many lovely pictures that we've taken these past few days, and it's hard to fit them all into the narrative.  Here are a few more for you!