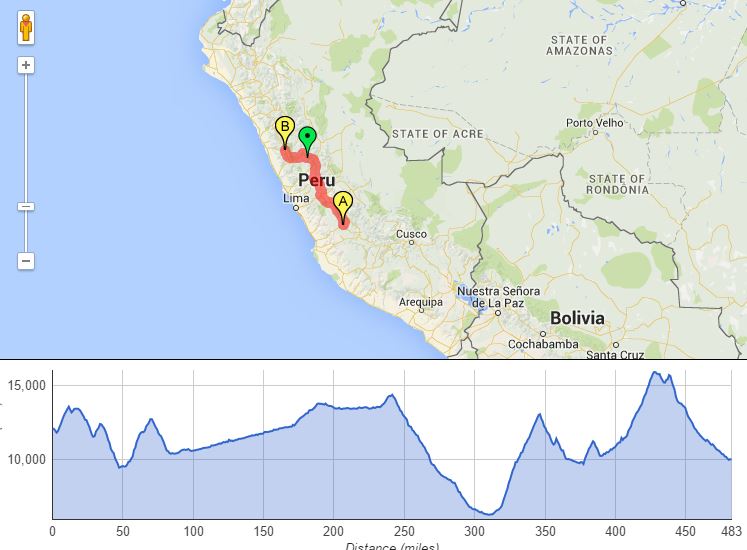 After recovering for three days in Huancavelica we were crawling up the walls of our (very nice) hotel room, and ready to get back on the road.  In the nine days since we started riding again, we spent five of them on the main route through the Peruvian Andes.  The scenery was great, but we shared the road with many mining trucks and a few tractor trailers.  We also passed through some pretty bleak high altitude mining towns, but more on that later.  There was a rest day in a hectic city, and three more days on quiet semi-paved and dirt roads.  We have now reached the highest tropical mountain range in the world!  There are glaciers here, and huge, beautiful peaks all around us.  It is definitely not what one expects to see when they think of the tropics.  Now, a few tidbits about what it took to get here.
Our first few days out of Huancavelica were lovely.  There was climbing, of course, but even more descent.  The landscape was different, and the hills a became a bit more gradual.  We enjoyed staying in small towns.  There was also some nearly flat riding along a river for most of two days.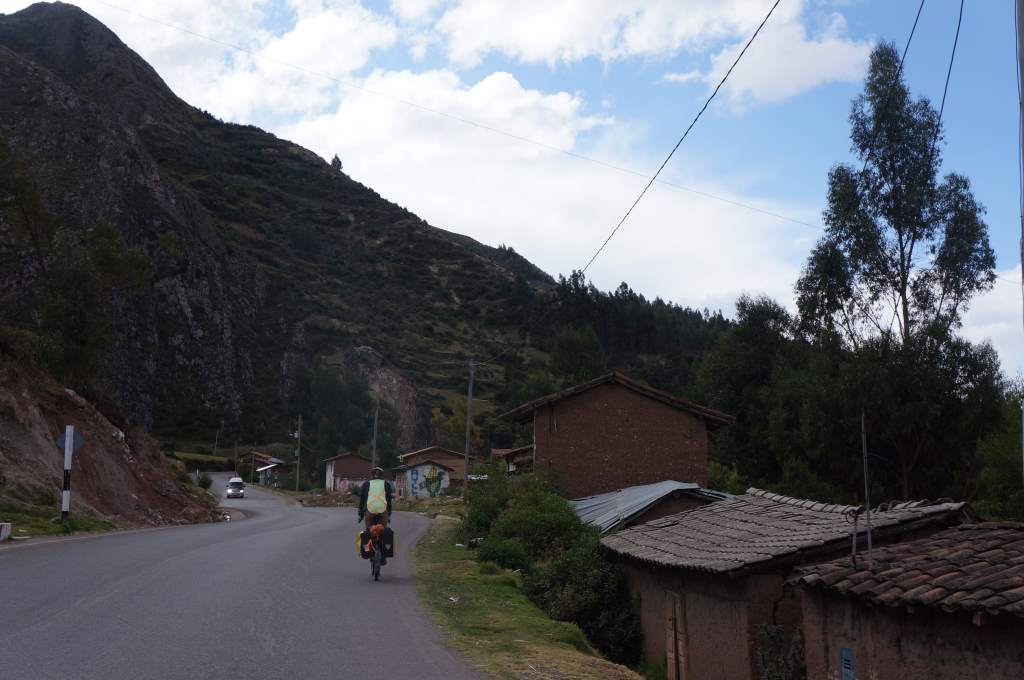 One day we stopped for lunch in a tiny town that wasn't even on the map.  There was no obvious restaurant, so we asked some ladies chatting on the street if there was any place to eat.  One of them stood up and told us to follow her to her house, where she had some soup and other food.  It turns out she runs a small, unmarked eatery where we had a lovely meal.  There were even three friendly dogs who were thrilled to eat the meat scraps that we couldn't stomach.  It was another meal of 'mondonguito', sauteed cow stomach with potatoes.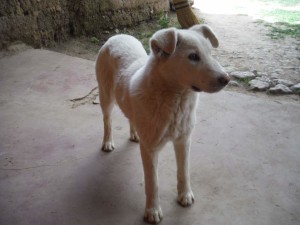 That same day we ended in a tiny town called Sincos, where it was difficult to find lodging.  In the nearly deserted main plaza we asked some older ladies, who told us about a guy who rents rooms in his house.  A pair of young brothers (about 6 and 8) took us across the village to the house.  One was on a bike and the other was running along behind him. It turned out to be our best value lodging for the whole trip!  We had a comfortable little room, a warm shower and clean bathroom, and egg sandwiches for breakfast.  All for a grand total of $4.75.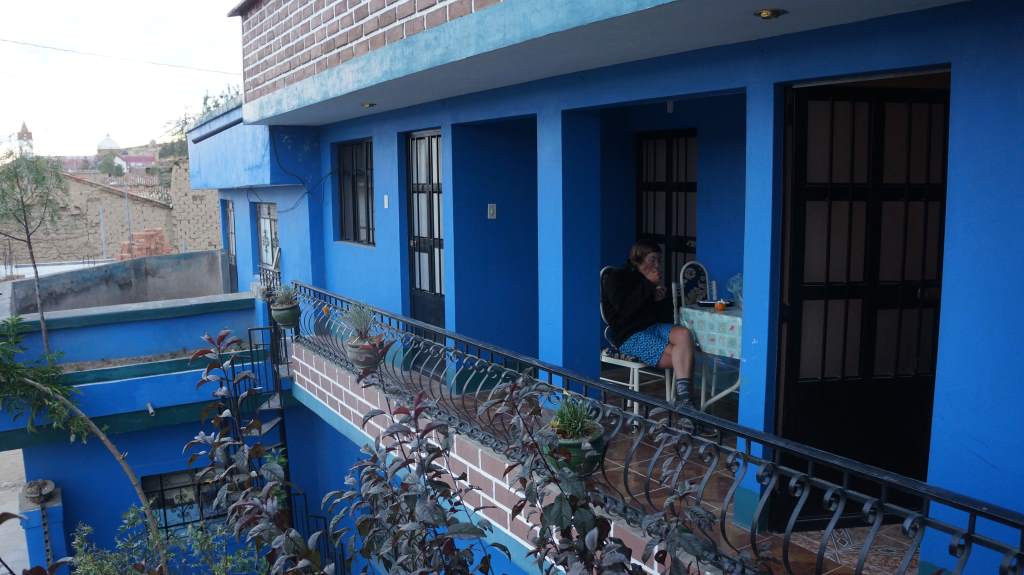 We also found a cafe serving pancakes!  Ok, so they were 'panqueques', and tasted just like elephant ears from the country fair.  In any case, it was a great change from the typical breakfast fare.  I mean really, I can only eat fried rice for breakfast so many times.
The road gently sloped upward and entered an amazing valley surrounded by sheer rock walls.  In the US this area would be a protected national park, and full of gawking tourists.  Here, it is an industrial corridor full of mining trucks.  Sure enough, we turned a corner to find a massive smelting facility and the dreary city of La Oroya. It has been declared one of the world's ten most polluted cities, so we didn't dawdle.
There was also an entire day of scattered showers at high altitude.  We really had a hard time keeping going in the cold and dreary surroundings.  The remedy?  Soda and coffee.  I know, not exactly a healthy choice, but on long grey days…
That night we slept in a bleak town immediately next to a giant, open pit mine at 14,000′.  It was cold and dreary.  The only lodging we could find was an incredibly basic hospedaje with cold, cell-like rooms.  We laid down on the narrow bed, and it immediately broke under us.  We had to put the mattress on the ground and sleep in our sleeping bags that night!
The next day we descended nearly 8,000′ over the course of 75 miles.  It was lovely to watch the ecosystem change from the barren high altitude plains to eucalyptus forests and farmlands.  At the bottom we entered the major city of Huanuco.  This city claims to have 'the best climate in the world'; it was pouring rain as we arrived.  Despite this minor discomfort, we took a lovely rest day wandering the hectic city and eating pizza.
From Huanuco we had to climb back out of the valley and into the (very) high mountains.  Luckily, we were on a much quieter road that alternated between potholed pavement and dirt.  We passed through many small villages, saw naughty little boys setting up roadblocks to charge tolls on the road, and got chased by lots of dogs.  We even met another cycletouring couple from Pennsylvania!
Our last notable day was very notable indeed.  We woke up at dawn to cross the Cordillera Blanca, Peru's most impressive mountain range, on a dirt road.  Most of the climbing was on pavement, but near the top we turned off onto a rough track that led us to some truly incredible views.  We spent most of the day up high, moving slowly on the dirt and gawking at the views.  On the descent we passed through a large stand of the Puya Raimondii, the largest bromeliad in the world.  When it flowers, the plant produces a stalk of flowers up to 30′ tall, and it does this only once before dying.  Jason calls them 'Pineapple trees' and was super excited to see them.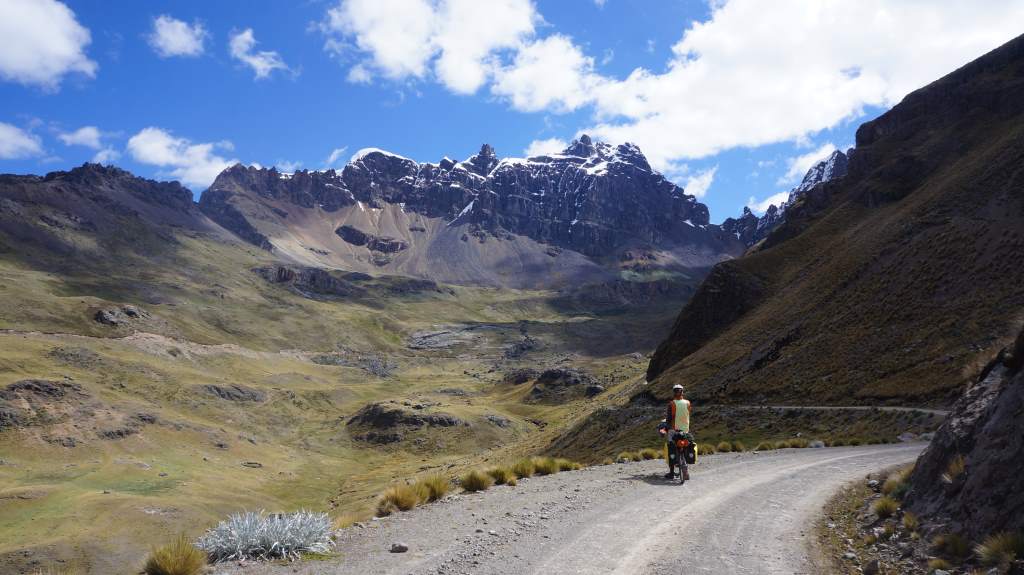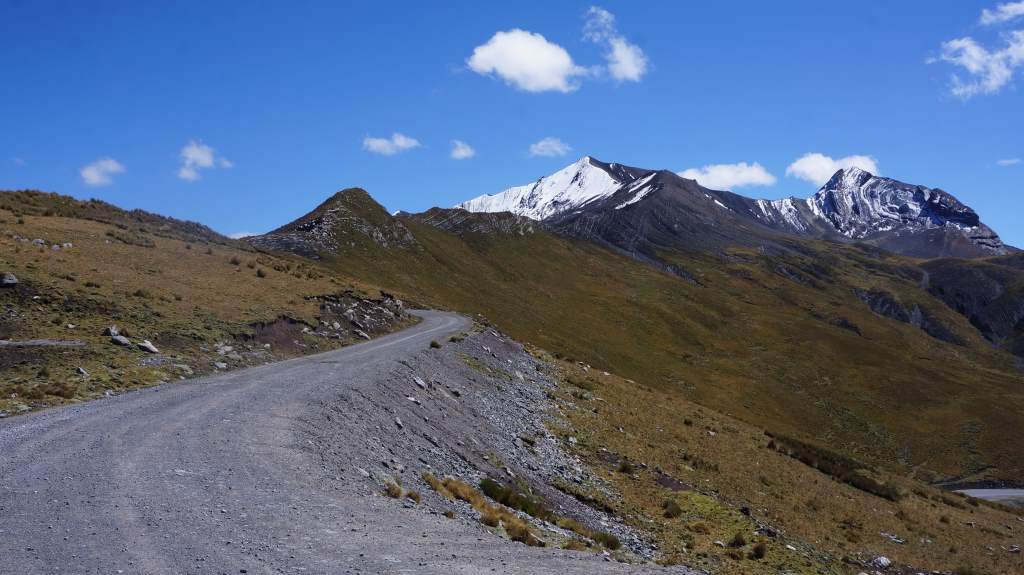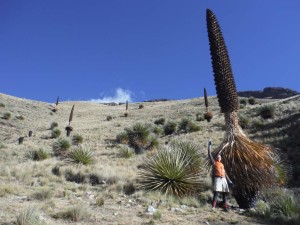 Now we are in the city of Huaraz, in the shadow of these incredible mountains.  For the next eleven days we will be hiking a circuit in the Huayhuash mountains to the south.  We are excited and nervous to be out hiking for so long, but the route promises to be beautiful and we have signed on with a group of 5 other hikers.  There will be a guide, a cook, and donkeys to carry all the gear.  We promise a full report once the hike is done!