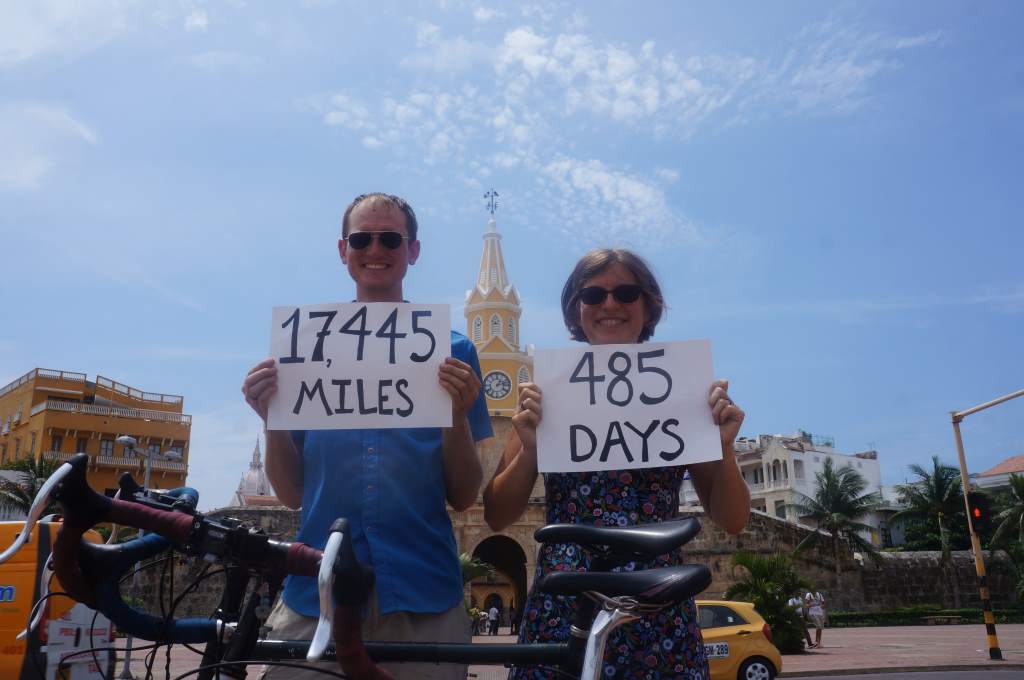 As many of you know (or suspect) we have made it to Cartagena, our final destination. In a later post we'll cover the 'oh wow, look what we've accomplished over the past 16 months' (and some best-of lists), but in this post we will describe the road from Salento to Cartagena. We conquered a few final mountain climbs, spent two eventful days in Medellin, then said goodbye to the Andes and descended into the hot, humid lowlands of Northern Colombia.
After we left Salento we were still in the magical coffee-land for most of two days. The coffee plantations hug the hills and are very well-cared for. It is a special experience for me to see where these plants are grown, since I am reasonably sure that without coffee I wouldn't have made it through my time as an undergraduate, not to mention my PhD!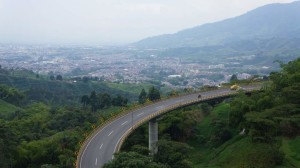 We also rode on a busy highway that literally corkscrewed up the mountain in a big circle. There was a tunnel and a long, round bridge that curled the traffic up. I guess it's hard to explain, so you should look at the picture. The little hill towns in this area are supremely hectic. There are dozens of motorcycles zipping past at any given moment, and many men drinking beer at informal 'bars' (guys with coolers full of beer ) set up in the main plaza. At least the hotels are cheap – usually about $5 for the both of us.
Just before entering Medellin we decided to visit a motorcycle repair shop to get our tires pumped up to full pressure, since our little $5 pump can't quite do the job. At first the guy kept trying to use the air hose, but the pressure in the tire was just going lower each time. Then he remembered to turn the air compressor on! Ha.
Entering the big city of Medellin was a little stressful. Medellin is the second largest city in Colombia, so as you can imagine there was a lot of traffic! We decided to stay on the main highway to avoid riding through more dangerous parts of town, and as luck would have it there were many lanes. This means we took an entire lane for ourselves and safely reached the downtown core.
We spent two days exploring Medellin, and we really enjoyed our time there. This city has a long, rough history, but it is currently vibrant, well-organized, and full of life. We took a walking tour on our first day there, and we learned so much of what this city has been through. Just 15 years ago the outlying neighborhoods were under curfew every night, there were bombings and killings in the streets, and rampant homelessness and drug addiction. In the past decade, however, things have dramatically changed for the better.
Through programs called 'Democratic Architecture' and ' Education with Dignity' the city has reclaimed crime-ridden areas and made them symbols of positive change for the city.. The poor, outlying neighborhoods of the city have been linked to the center with cable cars and metro lines. Huge, beautiful libraries have also been built in these neighborhoods. They are places where people can go to take free classes, use the internet, and of course – read books!
Something else we loved about Medellin is how folks from all different walks of life coexist in very close proximity. Businessmen share the streets with vendors pushing carts of avocados, old men sipping beers, and the down and out. The ladies of the night do business (in broad daylight) right against the front of the church! Other amazing contradictions exist too – there is a street that is technically open to traffic, but a few years back the vendors on either side slowly moved into the street. They inched just a bit further every day until one day they just set up smack in the middle. The police just gave up and let them have it.
The old justice building is now a shopping mall, and ground zero for counterfeit goods. Can you see why we liked this city?! We tried to go see an art museum, but it turned out that Tom Cruise and crew taken over the entire place to film Mission Impossible 6. It seemed that most of the city had also come out to try and get a glimpse of the star.
After Medellin we had two beautiful days in the mountains. At the top of the Andes here we were reminded on the hills of Pennsylvania – lots of rolling green and cows. We truly enjoyed these last days of cool riding. At the end of the second day we descended a steep, foggy, 8,000′ to end in the steamy lowlands. It was suddenly so hot that we were dripping sweat constantly.
It was from here on that we started to pay more for hotels, since we were adamant about getting air conditioning just to sleep comfortably. Knowing that the riding was going to be hot and sweatly until Cartagena, we started to wake up every day at 4:30 am. That way, we could be on the bikes and riding before 6 am, and off the bikes around noon. Each day we made excellent time in the gentle hills of the lowlands during the early morning, then our progress would inevitably slow as the day heated up and the sun came out. It was usually in the 90s before 10 am. We would spend all afternoon lazing about under the air conditioning unit in our hotel room.
The people in this part of the world are incredibly friendly, happy, and enthusiastic. We greeted everyone we passed, and they were almost always enthusiastic in their response. It become completely normal for us to see someone enthusiastically waving a machete at us in greeting! Pepole here get up early too – school classes start at 6 am and everyone is going about their chores as soon as the sky begins to lighten.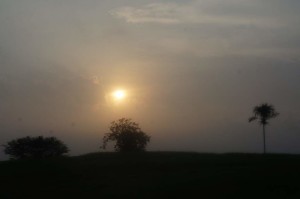 We went really fast in the low lands – doing 70, 80, or even 90 miles days. For this reason, our final approach into Cartagena happened a day earlier than we expected. Our entry into this last major Latin American city was just as hectic and crowded as any other. There were local buses that constantly stopped in the middle of the road, moto drivers that wove through the traffic like maniacs, kamikaze cab drivers, and even the occasional horse and buggy. It was chaos for about 7 miles! As we neared our final destination in Old Town we stopped for a quick lunch of the most delicious calamari we'd ever tasted, then we rode the final mile into the walled city.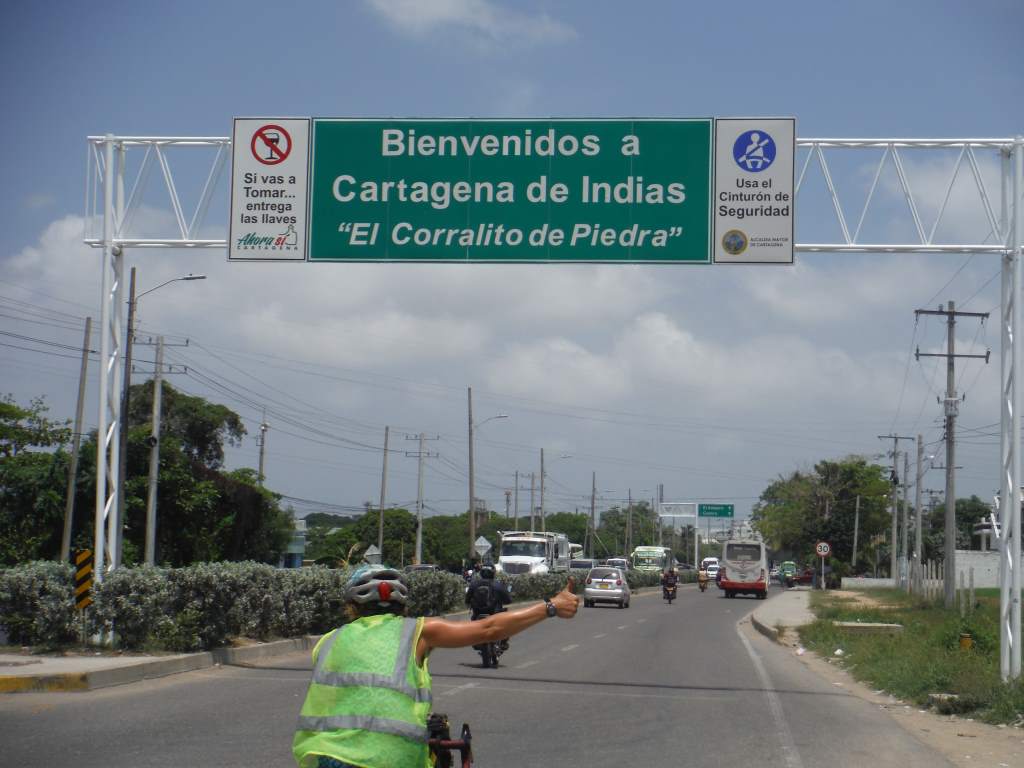 Cartagena is beautiful. The old part of town is very well preserved and picturesque. There are little cafes and restaurants tucked away, along with lines of street vendors selling fresh fruit and juices. Of course, it's also very hot and humid all day every day, so keep that in mind before you plan a trip here! We are at the end of our third day in this lovely city, and definitely feel like we are ready to get on that plane and head back to the US. Keep on the look out for a few big summary posts in the coming weeks. Thanks for following our journey with us!
Now, a few more bonus photos that didn't make it into the narrative: