The road from the base of the steep hill to the village of Bella Coola passes through absolutely stunning scenery that we believe rivals even Yosemite. There are sheer cliffs and mountains on either side of a swift river, with hanging glaciers towering above. The forest is lush because of the frequent rain, and there are healthy populations of salmon and bears. We were so in awe of the place that it took us all day to ride less than 40 miles downriver – we had to stop to take picture after picture.
We stopped for lunch at an elementary school, and made a phone call to see if there was room on the ferry for both of us. There was! Celebration!
We also managed to locate a very well-hidden site of ancient petroglyphs. The collection of more than 100 rock-carvings is at the end of a trail that starts at the end of an unmarked dirt road, which in turn starts at the end of a minimally marked side road. Once there, we chanced upon a first nations man giving a tour to a German guy, and we happily joined up. It was a wonderful experience to hear the stories from the carvings, and also to hear songs from their culture. He showed us how the English alphabet has been adapted to write their language down, and even let us read along as he sang the words.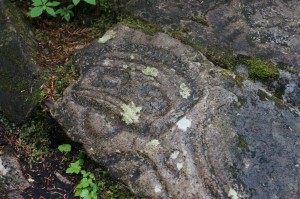 After leaving the petroglyph site we finally made it into Bella Coola proper. We arrived at 5:45 to learn that the grocery store closed at 5:30. No! It was ok though, because we had only wanted to buy muffins for the morning. We did locate the campground in town, which was a blast. It was just a field behind a motel with a few picnic tables and another pair of hilarious touring cyclists. The 'showerhouse' was actually a mostly-abandoned house with a funky bathroom and kitchen that all were free to use. We got set up, showered, chatted with the cyclists who are travelling in southwest British Columbia for a little more than a week, and finally went to sleep prepared for an early start to catch the ferry.
It truly was an early start for us – the alarm went off at 4:30 and we awoke to pouring rain again. It didn't take too long to pack up our soggy gear, eat a breakfast of oatmeal, and ride to the ferry dock. We were there at 6:00 as they told us to be, just so that we could hurry up and wait for boarding at 7:00. The ferry was small, with room for a maximum of about 13 cars. On this particular trip, however, there was a coach bus full of seniors on a travelling tour. It made for crowded seating on the boat, but hours of entertainment. They loved to talk! We talked about our trip, about Canadian government, about all sorts of things. It was a riot.
The tiny ferry carried us through deep fjords and we stopped in three small ports. At the first stop all the cars and bicycles were required to get off the ferry, turn around, and get back on. At the second stop, the bus and all the bicycles had to get off and on again to make room for an oncoming pick-up, and at the third stop everyone disembarked to change ferries. Holy cow! The second ferry was giant, and fast. It had multiple restaurants, state rooms, a bar, etc. We ate surprisingly good burgers with our new cyclist friends and also a pair of guys that had just completed an eight-day kayak trip.
After a nap on board, we finally arrived in Port Hardy at 11:00 pm. It was a 6-mile ride in the darkness from the ferry to our hostel, but we were very visible. As someone who passed us said, 'it was like a lightshow'. Ha! To our surprise, we were upgraded from hostel bunks to a bed and breakfast in the hostel owners home. We had our own room, a big, soft bed, and a shower. What a treat!
Now, we are in the little town of Port Hardy at the northern end of Vancouver island. There seems to be so much to see and do on this long island, and we are looking forward to exploring a bit. We found a place to buy Maple Smoked Salmon, and already devoured half a pound of it. We plan to buy more this afternoon…